If you're looking for a luxury summer getaway, Martha's Vineyard should be at the top of your list. The iconic destination has been on many travel wishlists for decades, and with the recent premiere of Bravo's "Summer House: Martha's Vineyard," we can see why. From decadent dinners to beachside vibes, the picturesque island located seven miles off the coast of Massachusetts is a great place to unwind and celebrate the splendor of summer with your friends and family.
Martha's Vineyard is known for its natural beauty, delicious fresh seafood dining options, and amazing shopping. It's also famous for attracting the likes of the Obamas, Kennedys, Clintons, and the Black elite. In fact, writer and poet Maya Angelou referred to Martha's Vineyard as "a safe place where we can go as we are and not be questioned."
While planning your trip to this dreamy summer escape, consider staying in an Airbnb instead of a traditional hotel. This allows you to fully immerse yourself in the island's character, live like a local, and experience a more personalized stay. Enjoy strolling through neighborhoods, popping into the local farmer's markets, and picking up artisanal goods and fresh produce. Airbnbs are also a great option if you're traveling with a group of people. You'll still have privacy while being close to your loved ones in a communal setting, creating special memories.
Airbnbs can also come with amenities you won't commonly find in hotels, like private gardens, outdoor grills, beach equipment, and more.
Whether you're looking for a cozy cottage, a home with ocean views, or a beachfront retreat, Airbnb will give you plenty of fabulous properties to choose from.
Keep reading if you're looking for an amazing Airbnb to stay in this summer while in Martha's Vineyard.
Jump to Products
---
Stunning Modern Home With Heated Pool
This contemporary coastal home is located on a private freshwater pond. The pond connects to a south shore beach and is surrounded by hundreds of acres of conservation land. Enjoy stunning views of sunrises and sunsets while staying in this Airbnb. There are spacious common rooms, which are perfect for entertaining and creating memories with your friends and family. The sliding glass doors in the home open to a deck overlooking the beautiful pond on one side and a screened porch on the other. Step into the screened porch to get a view of the heated pool. This Airbnb can house up to seven guests and has three bedrooms, five beds, and three baths.
Oceanfront Home With Private Beach
If you're looking for a private, relaxing property with breathtaking views of the Atlantic Ocean, this property is a great choice. This spacious home and guest house has a huge yard for laying out, playing games, having a picnic, and soaking up the sun and the views. Private stairs take you down to a private south shore beach. With beach access and lots of room, this property is the peace that you can buy. It's also a great choice to book if you're traveling with a large group. The property can house up to 11 guests and has six bedrooms, six beds, and 4.5 baths.
Edgartown Waterfront With Private Deep Water Dock 
This home is the definition of a luxurious summer getaway house. It's located on one of the most adored streets on Martha's Vineyard. Located on North Water Street, this property recently had a redesign and interior renovation. The house is gorgeous and has a large backyard and a private deep-water dock so that you can bring your boat. This home is great for housing a wedding party, birthday bash, or other celebration. It can house up to 14 guests and has a whopping eight bedrooms, eight beds, and 6.5 baths. This property is definitely a splurge, but one that will be priceless due to the memories made.
Lakefront Oasis, Stunning Modern Luxury House 
This modern luxury home is a great choice for travelers who love great design. The property has a private beach and is situated on two acres of land. Located less than 10 minutes away from ocean beaches, this home is a luxury retreat. The flat side yard is perfect for summer games, while the lakefront terraces are the perfect space to journal, meditate and soak up the outdoors. The recently renovated property has two floors, a high-ceiling living/dining room, and five bedrooms. There's also a dedicated playroom/exercise room and office space. The property can house up to 14 people. There's also a full-size crib if you're traveling with a child.
Cape Cod Private Beach
Family reunions, wedding parties, and celebratory moments are the perfect reasons to book this Airbnb. While you can't host parties on the property, attendees can stay in the home. The beautiful house overlooks the bay and has its own private beach. Every room is guaranteed a stunning view. It's a great property for family and friends to create memories, rest, have fun and play. This home sleeps up to 14 people and has parking for up to five cars. This property has six bedrooms, 10 beds, and seven baths, and a common area with great Wi-Fi. It's a great location if you're a digital nomad looking for a new location to work from.
Oceanfront Cottage With Relaxing Sunsets 
Stay in this beautiful cottage for a quiet, private experience with a delicious sea breeze. There is private access to the water, and the property is located on the secluded West Island. Take a walk to the beach and enjoy the 10-foot tall sea grass. Unwind and relax by lounging in the living room, admiring the calming water. This home oozes tranquility and is the perfect location for a retreat with your girls or a getaway with your family. The property can house up to eight guests and has three bedrooms, four beds, and 1.5 baths. This property is definitely a charming home away from home.
Waterfront Lakeside Home
Rise and shine to beautiful views right below your bedroom window. This open-designed home is located on the shores of a lake and feels like being in a personal luxury houseboat. There are wall-to-wall windows with a panoramic view of the lake. You can also enjoy the property's private beach, a new modern kitchen, a private office space, and more. It's a great property to stay in when looking for inspiration and a mental and physical reset. This property was once a boat house and has since been renovated and modernized. It's a great property for a solo stay or a romantic getaway with your significant other, as it fits up to two guests and has one bedroom, one bed, and one bathroom.
Our editors love finding you the best products and offers! If you purchase something by clicking on one of the affiliate links on our website, we may earn a commission at no extra cost to you.
---
---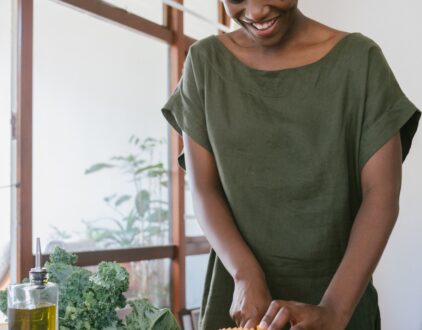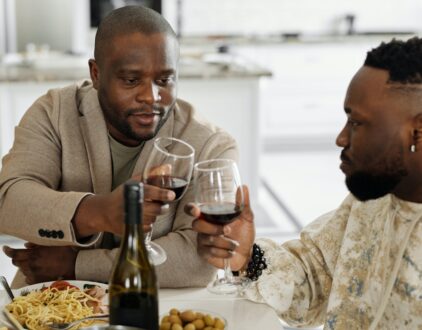 ---
Spaces
Whether it's luxury or ease, every area of your home should be as fabulous and unique as you.
FOLLOW ALONG ON INSTAGRAM
Find us on social for more home inspiration where culture, personal style, and sophisticated shopping intersect to help you create a home where you love to live.