While summer doesn't technically begin until June 21, Memorial Day is the unofficial ambassador that kickstarts the season. Planning to gather your loved ones to honor military heroes while savoring delectable dishes and creating cherished memories? Fire up the grill and be a flawless host with this ultimate Memorial Day barbecue guide.
Set the Date and Time
Memorial Day falls on the last Monday of May, so you might choose to host your barbecue on the holiday itself or over the weekend. Consider the availability of your guests and their schedules when deciding on the best date and time.
Create the Guest List
Compile a list of people you'd like to invite to your barbecue. This can include family members, close friends, and colleagues who would enjoy the event. Take into account the capacity of your outdoor space so everyone has enough room to fit without feeling cramped.
Send Out Invitations
Once you have finalized the guest list, send out invitations to notify everyone. You can choose to send digital invitations via email or create personalized paper invitations. Include essential details such as the date, time, location, and any special requests or instructions.
Organize the Menu
The best part of gatherings, and arguably the focal point, is the food. To create a well-rounded menu, include a variety of dishes to cater to different tastes and dietary preferences. You can always ask your guests to note any restrictions in their RSVP so everyone can enjoy.
Start things off right with tasty appetizers and finger foods. Try crowd-pleasers like chips and dip, vegetable platters, nachos, deviled eggs and bruschetta.
For the grilled course — AKA, the stars of the show — opt for a variety of proteins such as grilled chicken, hamburgers, hot dogs, or ribs as well as vegetarian and vegan options like Impossible burgers or Morning Star hotdogs.
Complement grilled items with an array of delicious sides and salads. Classic options include coleslaw, potato salad, mashed potatoes, macaroni and cheese, baked beans, corn on the cob, and mixed green salads.
Naturally, no barbecue is complete without a selection of tempting desserts. Go for favorites like fruit salad, pies, cookies, or a refreshing ice cream bar.
And finally, wash everything down with ice-cold drinks. The typical assortment of soft drinks, bottled water, iced tea, lemonade and alcoholic beverages like beer, chilled wine and seltzers are sure to satisfy all your guests. If you're feeling adventurous, you could also prepare a signature cocktail or mocktail for a special touch.
Make Sure You Have All the Supplies
Check that your grill is in good working order and clean. If needed, purchase any necessary replacement parts or accessories. Don't forget essential tools like tongs, spatulas, grill brushes, and skewers.
Stock up on cooking and serving utensils, including knives, cutting boards, mixing bowls, and platters. Make sure you have enough tools for food preparation and serving.
Opt for disposable plates, cups, and cutlery to minimize cleanup. Alternatively, use reusable options if you prefer an eco-friendly approach.
Have plenty of napkins and paper towels readily available for guests to clean up spills and messes. And don't forget the decorations— flowers, balloons, streamers, centerpieces, and tablecloths can instantly give your outdoor space a patriotic feel.
Ready the Grill
Thoroughly clean the grill grates and remove any residue from previous use. Check for any clogs in the burners and clean out the grease trap or tray.
Make sure you have an ample supply of charcoal, propane, or whatever fuel your grill requires. Running out of fuel in the middle of cooking can be a major inconvenience.
Set Up the Outdoor Space
Arrange seating areas where guests can relax and socialize comfortably. Provide enough tables for food, a beverage station and areas to kick back and relax.
You can also create a warm and inviting ambiance instantly by adding some simple lighting. String lights, lanterns, or solar-powered stakes can add a charming glow to your barbecue.
Keep the party going with traditional lawn games like corn hole, horseshoes or card games for adults. If kids are attending, set up a designated area with games and activities such as water balloons, a splash pad, bubbles, or a craft station.
Minimize Stress by Prepping the Day Before
Prepare dishes that can be made in advance and refrigerated. This will save you time and allow you to spend more quality moments with your loved ones. If your main focus is just the items on the grill, even better.
Sweep and tidy up the patio and yard areas. Remove any debris, arrange outdoor furniture, and check that the space is clean and inviting.
The vibe is set — almost! Prepare a playlist of upbeat songs or create a festive atmosphere with live music if possible. Set up games like corn hole or horseshoes to keep guests entertained throughout the day.
---
---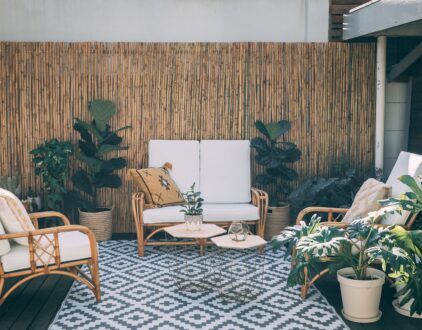 ---
Spaces
Whether it's luxury or ease, every area of your home should be as fabulous and unique as you.
FOLLOW ALONG ON INSTAGRAM
Find us on social for more home inspiration where culture, personal style, and sophisticated shopping intersect to help you create a home where you love to live.