When it comes to decorating your home, it can be easy to forget to tend to the space surrounding your residence. Your outdoor space can quickly become neglected with all the interior goals you are focused on. Even though you may not think about your yard until the weather breaks or when the holidays are around the corner, choosing your outdoor lighting can be stress-free. Beautiful outdoor lights aren't just reserved for wintery weather. Outdoor fixtures can have a permanent location that brings your home together for any occasion.
Prioritize Your Outdoor Space
Let's admit it, after decorating several rooms inside your home, your front and backyard may naturally fall to the bottom of your to-do list. While you are thinking about the future of your landscape, you might find yourself daydreaming about endless cookouts with your loved ones in your yard. Why wait until the last minute to find outdoor lights for just one occasion when you can invest in quality pendant lighting now? You can transform that dark yard or back porch and turn it into an unforgettable, elegant destination that's perfect for drinking iced teas and watching the stars at night.
Necessary Upgrades
When was the last time you changed your outdoor lamps? Are you still using the same outdoor lights that was installed at your home when you purchased it? You know the ones. Lights that buzz a little too loud and still have old insects on them. It's ok. We won't judge you (for now), but consider yourself lucky. We searched high and low for pendant lighting fixtures that accommodate your porch, garage, patio, or any space outside your home.
Trust us, the pendant lights we found will make you anticipate returning home with a beautiful lightscape to greet you. These outdoor lights provide instant gratification for homeowners that need a quick makeover. One that is flexible for any season or celebration.
1
Black Modern Glass Pendant
This cost-effective penchant lighting fixture by Emliviar is ideal for patios or porches you want to appear lively without adding much effort. With plastic light bulbs, you won't be in danger of breaking these lights anytime soon. It is packed with eight sockets to add more lights at your leisure and it's a total of twenty-five feet long. When lit, it will give your outdoor area a beautiful, serene touch that will make your home feel welcoming and cozy. With a contemporary feel and a vintage-inspired look, your lights will be a sight for sore eyes. Your neighbors and visitors will never mistake your home for anyone else's again.
2
Modern Bistro Pendant Lights
These budget-friendly lights from YULETIME offer a penchant fixture that's ideal for pergolas. Want to give guests a memorable impression when they come over? This fixture will do just that. You'll be able to host plenty of cocktail parties outside under these festive lights. The fixtures come with plastic light bulbs, therefore you'll be in no danger of breaking these anytime soon. It comes equipped with eight sockets and it's a grand total of twenty-five feet. When lit, it will give your area a beautiful, serene ambiance that will make your home feel more welcoming and cozy. These weather-resistant pendant lights are a must for homeowners who want quality without breaking the bank.
3
Contemporary Caged Chained Pendant
Embrace your cottage-core dreams with this well-crafted, glass-globed pendant by designer LALUZ. This hanging lamp has an antique-inspired finish, with a welcoming rustic feel that pairs well with just about any housing exterior option. If you take a closer look, you will be mesmerized by the small, textured bubbles inside of the globe that gives it a warm, relic aesthetic. You'd never guess that this lamp is made with a weather-resistant composite which will give it a long life in your living quarters. This pendant will arrive at your doorstep with all the tools you need to hang it up—as long as you follow the directions, you should be fine.
4
Globe Electric Glass Shade Pendant
Combined with both a modern look matched with a contemporary flair, this outdoor light by Globe Electric is perfect for homeowners who want a classic pendant fixture. Big, bright and crystal clear, you can hang this pendant anywhere from the gazebo, to the garage or the front porch. This beautiful fixture will give your home the much-needed curb appeal that you are looking to achieve. Now, for homeowners that live in regions with unpredictable weather, you can trust this pendant lighting will not disappoint. The sharp colonial look will brighten any outdoor space and the matte, black finish will add enough flair to spruce even the most modest home.
5
Renaissance Italian Bronze Farmhouse Lamp
Make a bold, classy statement with this bronzed, hanging lamp by John Timberland. Set with elite craftsmanship glass that emits a beautiful, luminous light, you can put the pendant anywhere to bring life to a particular area. Your eyes will sparkle once you glance at the champagne-hammered glass that gives it unlimited character. The farmhouse structure makes it a practical outdoor lamp that can be placed in the gazebo or any outside entryway. You'll enjoy the slightly gothic, but romantic vibes this pendant lamp delivers allowing you the versatility you need to give your outside area a much-needed upgrade.
6
Luxurious Timeless Stainless Steel Pendant Lamp
If you are looking for a statement piece that does not disappoint then this Quoizel outdoor lamp is the pendant lighting you have been waiting for. This fixture comes in four different colors that range from Earth Black to Antique Brass. Having these options will give you the freedom to mix and match these beautiful fixtures at your discretion. The lamp can also be adjusted to a sloped ceiling to maximize your exterior design needs. You will certainly beam with pride each and every time you host because your pendant will speak for itself. This pendant has the look of a high-end fixture but without the guilt of paying a high-end price.
Our editors love finding you the best products and offers! If you purchase something by clicking on one of the affiliate links on our website, we may earn a commission at no extra cost to you. 
---
---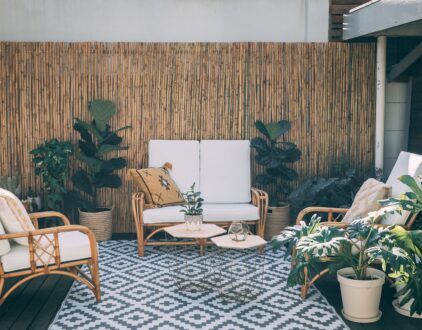 FOLLOW ALONG ON INSTAGRAM
Find us on social for more home inspiration where culture, personal style, and sophisticated shopping intersect to help you create a home where you love to live.