Memorial Day is just around the corner, and with it comes a fantastic opportunity to find the best mattress sales. Whether you've been struggling to get a good night's sleep or simply want to upgrade your current mattress, this is the perfect time to make a purchase. Get ready to sleep in comfort while saving with these top Memorial Day deals on mattresses.
Factors To Consider When Choosing a Mattress
Comfort and support should be at the top of your priority list when selecting a mattress. Look for options offering both plushness and adequate support to align your spine correctly.
Additionally, if you share your bed with a partner or pet, motion isolation becomes crucial. A mattress with excellent motion isolation will minimize disturbances caused by movement, allowing you to sleep peacefully.
You also want to look for mattresses made from high-quality materials, and don't forget to check for warranties to guarantee longevity.
And finally, while Memorial Day sales offer great deals, it's essential to set a budget before you start shopping. Determine how much you're willing to spend and focus on finding the best value within your price range.
Tips for Making the Most of Your Memorial Day Shopping
Do thorough research on different brands, models, and prices. Reading customer reviews especially provides valuable insights into the comfort, durability, and overall quality of a mattress. Look for feedback from individuals who share similar preferences or challenges.
Some brands may also offer additional accessories, such as linens, pillows, or mattress protectors as part of their Memorial Day promotions. Consider these extras and their value when making your decision.
The Benefits of a Good Night's Sleep
Getting a new mattress comes with the promise of getting a better night's sleep. But how important is sleep for our well-being?
Adequate sleep enhances cognitive function, including attention, concentration, and problem-solving abilities. When you wake up refreshed, you're more alert, focused, and able to process information efficiently.
Sufficient sleep is also particularly crucial for memory formation and learning. Whether you're learning a new skill or simply trying to remember important details, a good night's sleep can significantly enhance your memory and retention capabilities.
Lack of sleep often leads to irritability, mood swings, and increased susceptibility to stress. On the other hand, quality sleep can help regulate emotions and stabilize your mood.
Keep scrolling for the top Memorial Day mattress sales so you can drift off to sleep comfortably without breaking the bank.
Jump to Products
---
1
Casper Snow Mattress
Crafted with meticulous attention to detail and innovative features, this mattress offers a harmonious blend of support, pressure relief, and temperature regulation. It combines layers of premium materials to create a sleep oasis that cradles your body and relieves pressure points. The memory foam layers conform to your body's contours, providing personalized support and cushioning. Meanwhile, the coils deliver targeted support and help maintain optimal spinal alignment for a comfy, restorative sleep. It also features a breathable, open-cell foam layer that promotes airflow and dissipates heat, allowing you to sleep cool throughout the night.
2
Nolah Evolution 15
Innovation meets unparalleled comfort in the Nolah Evolution 15, which offers a truly elevated sleep sanctuary. This mattress takes luxury and support to new heights with its cutting-edge technology and premium foam. At the heart of this mattress lies the revolutionary AirFoamICE™️, a proprietary foam that delivers superior cooling and pressure relief. This innovative foam is infused with billions of cooling gel beads, ensuring a temperature-neutral sleep surface that dissipates heat and keeps you comfortably cool throughout the night. Say goodbye to overheating and hello to uninterrupted, restful sleep! It features a multi-layered construction that includes high-density foam, supportive transition foam, and an advanced coil system. The combination of these layers delivers optimal spinal alignment, alleviates pressure points, and minimizes motion transfer.
3
The DreamCloud Hybrid Mattress
Experience the sensation of sleeping on a cloud as you sink into the plush comfort of this mattress. It features a combination of premium foams, cashmere blend fabric, and individually wrapped coils. This hybrid construction creates a perfect balance of softness and support, cradling your body while maintaining optimal spinal alignment. One of its standout features is its EuroTop design. This provides an extra layer of cushioning and luxury, enhancing the overall comfort and plushness of the mattress. Sink into the sumptuous quilted cover and feel the stress of the day melt away as you drift into a deep and restorative sleep.
4
Sleep Number Innovation Series
The Sleep Number Innovation Series mattresses redefine the concept of personalized sleep. With advanced technology and innovative features, these mattresses offer a truly customizable sleep experience tailored to your unique preferences. Each mattress is equipped with DualAir™️ adjustability, allowing you to personalize the firmness and support level on each side of the bed. With a simple touch of a button, you can effortlessly find your ideal Sleep Number setting, ensuring optimum comfort and alignment for your body. Additionally, integrated sensors track your sleep patterns, capturing data on your sleep quality, heart rate, and breathing rate. This information is then analyzed and translated into personalized insights to help you optimize your sleep routine and achieve your best possible rest.
5
Siena Memory Foam Mattress
With this mattress, comfort and affordability unite to create a truly exceptional sleep experience. The medium-firm feel appeals to a wide range of sleepers. Whether you prefer sleeping on your back, side, or stomach, this mattress offers the ideal balance of support and contouring. Enjoy a comfortable sleep surface that adapts to your body's unique curves, allowing for a more personalized and restorative sleep experience. Siena Sleep is committed to delivering exceptional value without compromising on comfort or durability. With this deal, you can also get a major discount on two cooling pillows, a sheet set and a mattress protector.
Our editors love finding you the best products and offers! If you purchase something by clicking on one of the affiliate links on our website, we may earn a commission at no extra cost to you.
---
---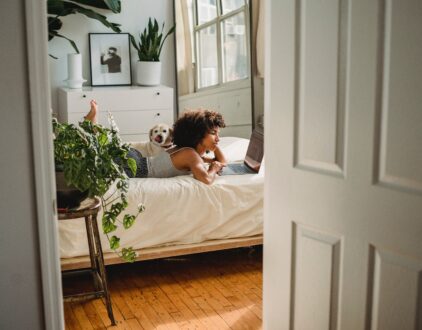 ---
Spaces
Whether it's luxury or ease, every area of your home should be as fabulous and unique as you.
FOLLOW ALONG ON INSTAGRAM
Find us on social for more home inspiration where culture, personal style, and sophisticated shopping intersect to help you create a home where you love to live.