When it comes to decor in your bedroom, nightstands are often overlooked. However, they are a crucial component of a functional and organized bedroom. It's not only a place to put your bedroom essentials but also adds an extra element of style and convenience to your bedroom. Check out these tips for keeping bedside clutter to a minimum plus five nightstands to keep your bedside essentials organized and accessible based on your personality and aesthetic!
Why You Need a Nightstand
A nightstand is a practical piece of furniture that can keep your bedroom tidy and organized. It can provide a designated space for items such as books, glasses, a phone charger, or a glass of water. More than practical, they can add to the aesthetic of your room and create a focal point in your sleeping area.
Traditional Nightstands
These come in various shapes and sizes and often have a drawer or two for storage. They are often made of wood and come in a range of finishes to match your bedroom decor.
Modern Nightstands
These feature sleek designs and clean lines, making them an excellent choice for contemporary bedrooms. They typically come in various materials such as metal, glass, and plastic, and offer a minimalist aesthetic. Sometimes, they come with modern tech features like charging ports or stations.
Floating Nightstands
These nightstands attach right to the wall. The bottom of the nightstand is not visible, giving the illusion that it is floating. They come in various finishes and materials and offer a modern and stylish look to any bedroom.
Tips for Keeping Bedside Essentials Organized
The first step to keeping your nightstand organized is to declutter regularly. Get rid of anything that you don't need, such as old magazines or empty water bottles.
Keeping a tray or plate on your nightstand can also help prevent items from rolling off or getting accidentally knocked over. It's also an excellent place to put items that you use frequently, such as a watch or jewelry.
Jump to Products
---
1
For the Mid-Century Modern Organizer: Nathan James Harper Nightstand
Minimalists will love this nightstand that's simple, but far from basic. It features spacious and easy-to-access drawers to keep all your belongings tidy and within reach. It's also made of high-quality engineered wood that can be assembled in just 15 minutes. The nightstand has a mid-century modern design, with clean lines and a sleek aesthetic. It comes in a range of finishes, including dark brown, white, and light brown, allowing you to choose the perfect color to match your bedroom decor.
2
For the Rustic, Coastal Organizer: South Shore Sazena Floating Nightstand
This nightstand is designed to maximize space and enhance the look of your bedroom without taking up floor space. It attaches directly to the wall, creating a minimalist and modern look. The floating design also makes it easy to clean underneath. The weathered oak finish adds rustic charm to the nightstand, making it an excellent choice if you want to add unique character to your room. The finish also makes the nightstand resistant to scratches and stains. It has a spacious open shelf, and open drawer, so you can keep items like books and candles on display. The open design of the shelf also adds to the aesthetic of the nightstand, creating a sense of airiness and lightness.
3
For the Tech-Forward Organizer: OLD CAPTAIN Nightstand with Wireless Charging Station
This unique and innovative nightstand combines style, functionality, and technology. It's ideal for both keeping your items organized while conveniently charging your phone. It has a handleless design that will give your room a modern, elegant look. It has a wireless charging pad that is compatible with most smartphones and devices that support wireless charging, and can hold up to 35 lbs on its surface. This means that you can charge your phone or tablet while you sleep, without the need for messy cords or cables. Another unique feature of this nightstand is its three spacious storage drawers, which can be used to keep clothing and personal belongingings tucked away.
4
For the Classic and Traditional Organizer: Signature Design by Ashley Traditional Nightstand
This is a classic and timeless piece of furniture that offers functionality and elegance to your bedroom. Made by Ashley Furniture Industries, one of the largest furniture manufacturers in the world, this nightstand has an impressive construction quality and excellent design. The traditional design of the nightstand features intricate details and ornate hardware that add to its classic appeal. It has spacious drawers that allow you to store and organize items, giving a sophisticated silhouette to your bedroom. It's made of high-quality wood veneers and engineered wood, which make it sturdy and durable. It also features bun feet and brass-toned hardware that adds to the classic feel.
5
For the Glamorous Organizer: COZAYH Modern Contemporary Mirrored Nightstand
Glamour and elegance come together in this stunning nightstand. The geometric overlays are carefully designed to complement the overall design of the nightstand. The structure itself is made from engineered wood which make it extremely durable and long-lasting. The intricate geometric patterns on its front panels are eye-catching and add can bring together a modern bedroom by adding a twist of flair. Mirrors add an additional layer of unique design. The nightstand has a weight capacity of up to 40 lbs, making it suitable for holding heavier items such as lamps or decorative items.
Our editors love finding you the best products and offers! If you purchase something by clicking on one of the affiliate links on our website, we may earn a commission at no extra cost to you.
---
---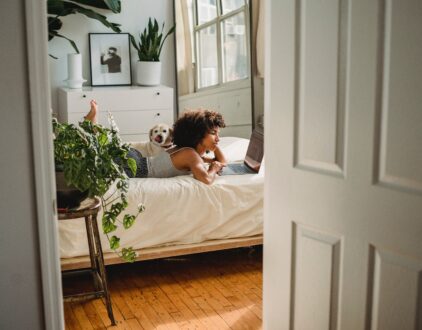 ---
Spaces
Whether it's luxury or ease, every area of your home should be as fabulous and unique as you.
FOLLOW ALONG ON INSTAGRAM
Find us on social for more home inspiration where culture, personal style, and sophisticated shopping intersect to help you create a home where you love to live.