Satisfying bedroom gadgets are great for unwinding after a long day. There are many products to choose from, allowing you to customize your space according to your desires. This is important for ensuring that your bedroom is a space where you can feel comfortable, as it serves as your personal sanctuary, a place to escape from the outside world and be yourself.
The Benefits of an Inviting Bedroom
Because your bedroom is a space meant to put your mind at ease, it should reflect what makes you happy. When you curate your bedroom to align with your preferences, you create a sense of ownership and belonging. This results in a space that feels like yours, allowing you to express your individuality and find solace in a demanding world.
A bedroom that provides comfort can be beneficial to your emotional well-being. At the end of a tiring day, having a cozy space to look forward to can significantly affect your mental state. You can achieve this by incorporating soft textures, plush bedding, and calming colors to your room, creating a peaceful environment, free from stress.
Your bedroom is an important space for self-care as well. Here, you can do things that make you happy such reading, practicing yoga, or meditating. A comfortable bedroom is perfect for self-reflection, allowing you to prioritize your mental and emotional health by engaging in activities that nurture your mind, body, and soul. It becomes a safe haven where you can take care of yourself.
The Most Satisfying Bedroom Gadgets To Shop
Having a peaceful space to call your own is important to your overall well-being. And fortunately, there are many satisfying bedroom gadgets that can enhance your sleep environment and help you feel more relaxed. Take a look at our list of the most satisfying bedroom gadgets to shop now:
Jump to Products
---
1
Floating Plant Pot
Enjoy the beauty of your houseplant as it floats in mid-air. This innovative floating plant pot from LEVINA is the perfect way to add a touch of greenery to your bedroom. Featuring a modern, sleek design, this plant pot can support your small houseplant in style. Place it near your window, set your plant inside, then plug it in for a beautiful way to display your decor. It rotates as it suspends to allow your plant to receive 360 degrees of sunlight exposure for maximum growth. The best part? Due to its small size, you can transport it anywhere.
2
Bedside Lamp
The Bedside Lamp is a versatile addition to your nighttime routine. It features a 10W fast wireless charger and a USB charging port, so you can charge your devices while you relax or sleep. There's also a clock function, so you don't need an additional clock in your space. This lamp has a touch feature that allows you to switch between three light modes and adjust the brightness, making it suitable for any scene or activity. It also has a base made of original wood that adds elegance for a practical and stylish gift. You can enhance your bedside experience with this multifunctional lamp that seamlessly combines functionality, convenience, and aesthetics.
3
LED Crescent Moon Lamp
This LED Crescent Moon Lamp is a sleek and modern way to add style to your home decor. Its curved moon design is made with a white acrylic lamp body and an aluminum finish base, creating a contemporary look that adds charm and warmth to any room. This table lamp not only provides light but also serves as a decorative piece that enhances the beauty of your space. This cool, little lamp is designed to save energy and provide a comfortable light environment with its built-in LED light source. Its high-quality aluminum and acrylic materials guarantee durability, corrosion resistance, and fade resistance, keeping its sleek appearance intact for a long time. Get your hands on this perfect lighting solution for your space today.
4
Jellyfish Lava Lamp
This Jellyfish Lava Lamp is a beautiful addition to any room. It features life-like jellyfish that float serenely in a stream of water created by a gentle motor. The lamp creates a calming atmosphere and is perfect for use as a night light. All you have to do is put water in the aquarium, add the jellyfish, and watch them gracefully move around. Plus, its color-changing light adds to the relaxing atmosphere, making it ideal for when you feel tired or stressed. Just plug in the USB cable, turn off the lights in the room, and enjoy a calming space whenever you need it.
5
Motion Activated Bed Light
This Motion Activated Bed Light is designed to help you move safely in the dark without disturbing others. It provides a warm, gentle glow that guides you without causing any disruptive glare. This bed light is also energy-efficient, as it only turns on when it detects your movement and turns off automatically when you leave. Each bed light has a built-in human body passive infrared (PIR) motion sensor and an adjustable timer. And it can be used in a number of areas such as under the bed, stairways, cabinets, cupboards, sofas, or furniture. This light makes it easy to find your way in the dark and provides safety. So say goodbye to struggling in low light and say hello to the ease and security provided by this Motion Activated Bed Light.
---
---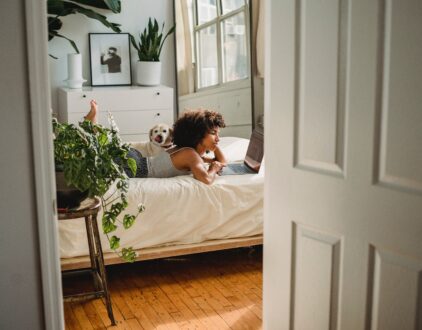 ---
Spaces
Whether it's luxury or ease, every area of your home should be as fabulous and unique as you.
FOLLOW ALONG ON INSTAGRAM
Find us on social for more home inspiration where culture, personal style, and sophisticated shopping intersect to help you create a home where you love to live.