Contemporary design has gotten more adventurous, with designers opting for personal design styles over traditional rules. Mixing wood tones has become popular in the design world, with people choosing to skip traditional matchy-matchy furniture and opting for a more personalized, curated look. The key to mixing wood is to ensure the pieces flow and create a cohesive space. We love mixing woods in home decor and design because they can add depth, visual interest, and a sense of warmth to your home.
To help you get started with mixing woods in your home decor, here are some tips:
Start With a Dominant Wood
Select a dominant wood tone that will serve as the anchor for your space. The tone can be the color of the larger furniture pieces, such as your bed frame or dining table. Choose a wood tone that sets the overall aesthetic of your space.
Establish a Color Scheme
Create a cohesive look by establishing a color scheme that complements the various wood tones you plan to use. Take into consideration the undertones of the woods and select colors that flow with them. A neutral color palette with white, beige, or gray works well with a variety of wood tones.
Vary the Wood Species
Mix woods from different species to add dimension and visual interest to your home. Choose wood pieces with various grain patterns, finishes, and textures. This can look like pairing a smooth, light maple with a vintage, dark walnut to create an interesting contrast.
Consider Wood Intensity
Consider the intensity of the colors when mixing wood tones. Mix light, medium, and dark tones to create a beautiful balance without the space feeling overwhelmed by one wood shade. This will add depth and appeal to your space.
Add a Unifying Element
Add a unifying element like artwork, a rug, or an accent piece that has a color palette that ties the different wood tones together. This element acts as a bridge when creating a cohesive look. This is a great opportunity to incorporate other textures and materials, such as glass, metal, or fabric, into your space.
Balance the Placement
Avoid clustering similar wood tones together. Distribute the different wood tones evenly throughout the space to create a harmonious flow. Pair light furniture with dark flooring to create a striking contrast.
Don't be afraid to experiment with different combinations to see which looks best. Test out arranging different furniture pieces, decor, and wood tones in your space before committing to a specific layout. The beautiful thing about mixing wood tones is that it's your space and should reflect your preferences and style.
---
---
Decorate
Access design inspiration that infuses personality and culture into your spaces.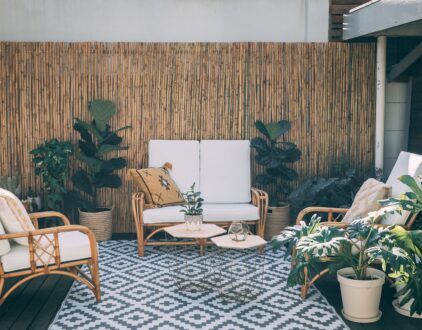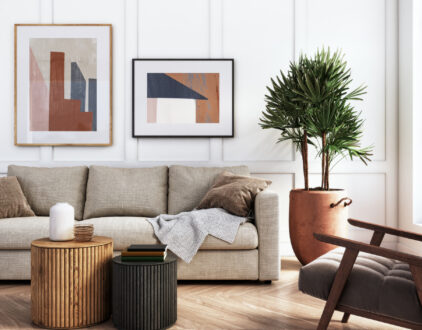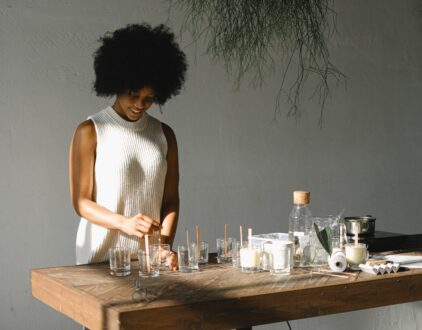 ---
Spaces
Whether it's luxury or ease, every area of your home should be as fabulous and unique as you.
FOLLOW ALONG ON INSTAGRAM
Find us on social for more home inspiration where culture, personal style, and sophisticated shopping intersect to help you create a home where you love to live.