Your bed is more than the space where you end your nights and begin your mornings. It's the one place in your home that should make you feel the most comfortable, relaxed, and cozy. While you can buy any bed frame to fit your mattress, your headboard is the visual spot for showing off your style and personality. Though you might not think of it this way, many interior designers recommend centering your bed. So any time someone walks into your bedroom, your bed and, particularly, your headboard catches their eye. Just from their bed, if someone has a wooden frame, you could assume they prefer the boho interior design style. You might even surmise that they like the outdoors. Similarly, you might view someone with a leather headboard as sophisticated and fashionable.
Though tons of bedroom design trends emerge every year, it's safe to say you're not changing your headboard that often. Nevertheless, you want to avoid a bed that quickly looks outdated by choosing a timeless, modern style. When you purchase a bed with a built-in headboard, there will eventually come a time when you don't like it anymore. Or perhaps you're changing your room's design, and your current bed isn't a great match. Buying a separate bed frame and headboard is a clever strategy for having a quality bed you can update every few years.
Details, Details, Details
But what comes first, the headboard or the bed frame? That's entirely up to you, but here are a few things to consider:
Shape
Style
Dimensions
Placement
Color
Fabric
Budget
Comfort
Since a good night's rest begins with your bed, in addition to these key points, take time to evaluate your wants and needs. Is your bed only for sleeping, or do you binge your favorite show every night with a nice snack? Will you sit upright and rest your back against the headboard, or is it solely decorative? Home and Texture curated a list of gorgeous modern headboards that make us *audibly gasp* when we see them. Take a peek.
Arvada 54″ Camel Brown Upholstered Queen Headboard
The Arvada Upholstered Queen Headboard is made just for you. Like most of Crate and Barrel's furniture, this headboard's versatility is one of its highlights. Shown here in camel brown, it's available in 11 other colors. Offering pillow-like comfort with a casual look, the Arvada headboard is upholstered in faux mohair and features a relaxed flange border. With such a gorgeous silhouette, this headboard will stand out best with a simplistic bed frame.
Almelo Serrano Green King Headboard
How stunning is this deep green headboard named after the Serrano pepper? Inspired by the speakeasies of the roaring 20s, this Scandinavian-style arch is upholstered in channeled velvet. It features built-in twin shelves for sitting objects like drinks, bedside lamps, or your nightly read. Not only is this fanciful headboard made of soft velvet but it's also foam-filled for ultimate comfort. Also available in Sumac red, you can get this headboard in King and Queen sizes.
King Baltimore Modern And Contemporary Faux Leather Upholstered Headboard
Come through, Target! The King Baltimore Modern And Contemporary Faux Leather Upholstered Headboard is affordable, modern, and chic. Constructed with tufted buttons and foam padding for extra comfort, this headboard is fully upholstered in faux leather. Designed to demonstrate a strong sense of style, you need this accessory for your bedroom. Although you can use this headboard with any interior design style, we recommend placing it against a painted or wallpapered wall for maximum visual appeal.
Quinn Headboard
The Quinn Headboard is a bestseller. The streamlined shape with mixed materials — a contrast of smooth lacquer and fluted wood — will instantly elevate your bedroom. Crafted with rich texture, the glossy finish adds a luxurious feel to this headboard. It features solid mahogany legs, an outer frame in a white finish, and a front panel in a natural finish. You won't need to worry about this headboard lasting since the wood is kiln-dried for added durability.
Deco Sun Headboard
Wake up to golden hour every day with the Deco Sun Headboard. The wooden panel in a metallic finish features an arced design with detailed etching. Unlike other headboards, this one mounts to the wall instead of a frame. Versatile and highly rated, you can place this piece directly above your bed or closer to the ceiling. Available in queen, if you ever change your bed size, you can also use it as wall art in your living room.
Ruby Layered Queen Storage Headboard
Where do we begin with the Ruby Layered Queen Storage Headboard? Available in ivory, black, and olive, it features a storage shelf across the top and two built-in cubbies on each side. Perfect for small spaces or anyone who doesn't want to buy a nightstand to hold their bedside essentials. While we wish this headboard fit more bed frames, it's designed to touch the ground, so you'll need a platform frame to enjoy it.
Our editors love finding you the best products and offers! If you purchase something by clicking on one of the affiliate links on our website, we may earn a commission at no extra cost to you.
---
---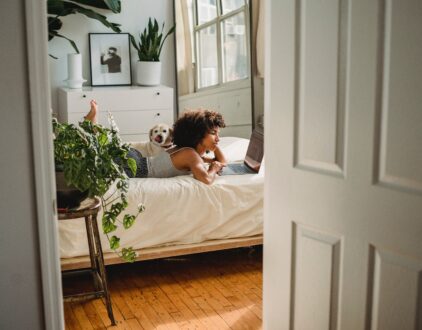 ---
Spaces
Whether it's luxury or ease, every area of your home should be as fabulous and unique as you.
FOLLOW ALONG ON INSTAGRAM
Find us on social for more home inspiration where culture, personal style, and sophisticated shopping intersect to help you create a home where you love to live.