Before you set your clocks ahead to officially welcome Spring, you should open up the Nordstrom app or go to their store to check out their last buys for the season.
When seasons change, especially after a major holiday, you can always count on plenty of sales, especially for home goods. Now is the time to browse the virtual aisles of Nordstrom to see what you can grab before it's too late.
View this post on Instagram
Shopping At Nordstrom
Whether you shop at Nordstrom or Nordstrom Rack, you know their sales can be quite generous when you least expect it. The home decor section at both stores may tempt you to save everything on their apps as a future buy.
Each store combines a mix of high-end home decor and now, sustainable products for consumers who strive to be smarter and eco-conscious shoppers. They also highlight BIPOC and women-owned brands as well.
With such a variety of items, it would be hard not to find anything that will liven up your abode. If you've always wanted to try designer or high-end bedding and bath towels, catching these seasonal clearance sales is a must.
Buy Something Adventurous
You should approach seasonal sales as an opportunity to try items you wouldn't normally don't buy. Even if it's just one or two items for your home that only serve as decor – try to indulge in something new. There's nothing wrong with buying an elegant tray, some photo frames, or extra throw blankets.
You'll likely be so excited about your new finds, it will be hard to wait to show them off to your family and friends. Besides, being a homeowner basically give you permission to shop for your home all the time, right?! Check out our favorite last buy items at Nordstrom and Nordstrom Rack right now!
Jump to Products
---
Metropolitan Tea Light Candleholder
Talk about a statement home decor piece! This Metropolitan Tea Light Candleholder by Reflections Copenhagen, will definitely be a conversation starter. This tea light candleholder is hand-cut into an intricate design of facets that will turn an ordinary tea light or candle into a work of art. The facets allow the candles to shine with a diamond-like effect that will create a warm and welcoming glow in any room. The candle holder is made out of crystal, so it is something you can keep for a long time. It's festive enough to use during the holidays and glamorous enough for everyday usage, too.
Brushed Cotton Duvet Cover
Who doesn't deserve a soft, plush cotton duvet that feels like a big hug? This Brushed Cotton Duvet Cover from Parachute, is made from materials that make it warm and cozy. This duvet comes in two sizes; full/queen and king. It also comes in three colors: latte, dusk, and white. These could be part of your regular bedding rotation, or you can save this for your guest bedroom. Because of the warmth that it provides, it would also be suitable for the cooler months. No matter what you choose, you will be happy with the comfort this duvet provides.
ProBond 3-Piece Cookware Set
Now, this is a deal! Feast your eyes on this ProBond 3-Piece Cookware set by Hestan. This set is made of Italian stainless steel that has a natural sheen giving the feel and look of culinary luxury. Legend has it that the best food comes from quality cookware and with over fifty percent off, you will have a hard time convincing yourself that this set isn't worth it. The three pieces include an 11-inch skillet as well as a 2-quart saucepan with a cover. This cookware set can handle some heat, too. With the ability to broil, and cook your food in the oven, you will want to incorporate this beautiful set into your everyday meals.
5-Piece Desktop Planter
Finally, you can put your small, plant babies on one stand! This rotating 5-Piece Desktop Planter from Umbra can fit in any room. If you are a fan of succulents and have a hard time finding space for them to all thrive together, then this is your answer. Because this planter can rotate, you can arrange your greenery in whatever direction you need. This is the ultimate buy for people who have succulents that might have different lighting needs. This stand is less than four pounds, so you don't have to worry about lifting and hauling a planter stand when you want to move it to a new location.
Japonica French Cade Lavender Lidded Hearth Candle
If you have been wanting a luxurious candle then today is your lucky day. This 3-Wick Japonica French Cade Lavender Lidded Hearth Candle from Voluspa is the top of the line. The candle is enclosed in a stunning Japanese vessel that is adorned with impressive floral designs all over. This awe-inspiring candle is made with French cade wood along with verbena and Bulgarian lavender. The candle is made with coconut wax which makes the fragrance linger longer than the average candle. It has the capability to burn for up to 80 hours so you can transform your bathroom or even your bedroom into a garden full of robust scents.
Our editors love finding you the best products and offers! If you purchase something by clicking on one of the affiliate links on our website, we may earn a commission at no extra cost to you.
---
---
Decorate
Access design inspiration that infuses personality and culture into your spaces.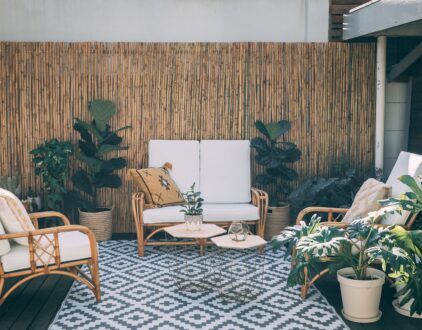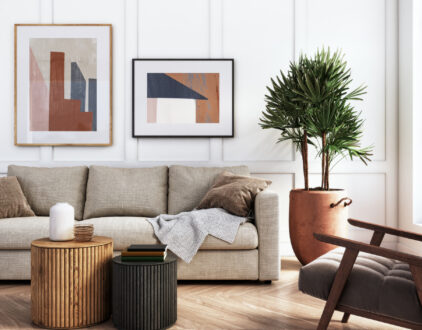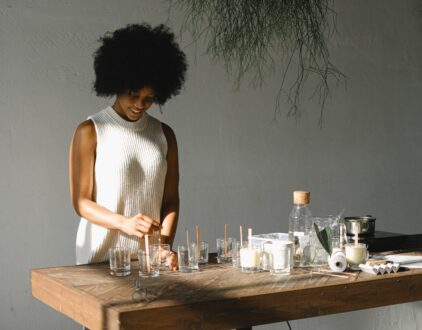 ---
Spaces
Whether it's luxury or ease, every area of your home should be as fabulous and unique as you.
FOLLOW ALONG ON INSTAGRAM
Find us on social for more home inspiration where culture, personal style, and sophisticated shopping intersect to help you create a home where you love to live.