Fall is fast approaching, and with it comes frigid weather that a lot of people dread. From raking leaves to tending to your garden, being out in the cold for too long is easily one of the most annoying things about cuddle season. But luckily, this is where outdoor patio heaters can help.
Outdoor patio heaters are the perfect tool to provide warmth even in the coldest months. Even better, not only do they help you stay warm, but they can also help you save on energy, too.
How To Choose an Outdoor Patio Heater
Because there are so many outdoor patio heaters available on the market, it can be difficult to find the right one for your home. Outdoor heaters come in a wide selection of styles to fit any and every outdoor space, from large and spacious patios to small balconies.
Portable models are a choice option for people who enjoy switching up their outdoor decor. With a portable heater, you can transport it from one area to the next to create the perfect atmosphere anywhere in your backyard. Plus, they can be easily stored away when not in use, making them convenient for reducing clutter.
And if you plan to host for the holidays, a tabletop propane heater is the perfect choice. Tabletop heaters are small heaters that you can place atop a table to provide cozy warmth during movie nights or backyard dinners.
The Best Outdoor Patio Heaters for Chilly, Fall Nights
Another summer is coming to a close, which means cooler nights are soon approaching. But even if the weather outside is frightful, you can stay warm and cozy with an outdoor patio heater. Whether you plan to host friends or star gaze underneath a canopy, a quality heater can ensure your warmth and comfort. To find out which heaters are a fit for your needs, here are seven outdoor patio heaters for chilly, fall nights:
1
2500W Patio Heater Bar
If you enjoy spending your days outside, this patio heating bar can be a great companion. Made from aluminum, this powerful heater has a whopping 2500 wattage range so you can stay warm no matter how chilly your patio is. Plus, this Halogen heater never emits harmful CO2 gas, making it super safe to use.
2
Stainless Steel Electric Patio Heater
If you have plans to host this fall, consider this Stainless Steel Electric Patio Heater from TURBRO. Using an advanced carbon fiber infrared technology, this heater provides a lot of warmth without drying out your skin. Plus, it includes extra special features — dual heating modes and a timer — that you can easily adjust using its accompanying remote control.
3
1200 Watt Electric Tabletop Patio Heater
Measuring in at eight inches, this teeny tiny heater is great for hosting small, intimate gatherings. But don't let its size fool you — this small but mighty heater can heat up to 12 square feet! And if you forget to turn it off after one too many beverages, it includes an automatic shut-off feature to keep you and your guests safe.
4
Propane Tabletop Patio Heater
Host game night under the stars with this Propane Tabletop Patio Heater from Heatmaxx. Its 10,000 BTU heating system helps you easily transition from summer to fall. And if you accidentally tip it over, its flame failure device and anti-tilt switch automatically turns off the flame to keep you, your loved ones, and your home protected.
5
5100 BTU Hanging Patio Heater
For a stylish way to heat your outdoor space, consider this ZACHVO 5100 BTU Hanging Patio Heater. It includes dual power settings that you can adjust to your needs. You can also adjust its height to reach guests at farther distances.
6
17″ Pipestone Outdoor Fire Column
This matte gray outdoor fire column is a great way to promote a warm and inviting atmosphere. With its modern design, it can add a stylish touch to your patio space.
And as an added bonus, this fire column is also resistant to the elements so you can use it no matter the weather.
7
Infrared Electric Table Outdoor Heater
Transform the way you relax with this innovative outdoor heater that doubles as a table! Its central heated column adds a layer of warmth to your patio space. Plus, its cool-touch protection feature can help protect you and your guests from accidental burns.
Our editors love finding you the best products and offers! If you purchase something by clicking on one of the affiliate links on our website, we may earn a commission at no extra cost to you.
---
---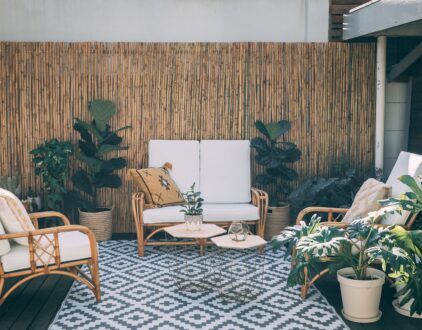 ---
Spaces
Whether it's luxury or ease, every area of your home should be as fabulous and unique as you.
FOLLOW ALONG ON INSTAGRAM
Find us on social for more home inspiration where culture, personal style, and sophisticated shopping intersect to help you create a home where you love to live.