Portable heaters are a great way to add warmth and comfort to your home. Your bedroom is an especially important space for comfort and relaxation, which is why having a portable heater can help enhance it.
How To Choose a Portable Heater
Portable heaters come in so many shapes and sizes, which makes it a lot easier to find a heater that suits your needs and lifestyle.
For example, if you're looking to save money, consider a ceramic space heater. Ceramic space heaters are designed to warm up small areas such as bathrooms or home office quickly. The best part, they use very little energy to do it so you can save money on your energy bills.
If you want to relax in your living room or den, an infrared heater is likely a great choice for you. This type of heater uses infrared waves — a type of electromagnetic radiation not visible to humans — to create a more consistent warmth output that won't dry out your skin.
And when it comes to deciding on the best size heater to meet your needs, consider the amount of space you need to heat up. For example, if you're looking for a powerful heater that can heat up large rooms quickly, shop for a heater with a high wattage rating. Or, if you want a heater to use in the bathroom to keep you warm as you hop in and out of the bathtub or shower, look for a more compact heater with a lower wattage rating.
No matter what your heating preference is, always make sure to read and carefully follow the safety instructions on the manufacturing label. This can help prevent accidents from happening and causing damage to your home.
The Best Portable Heaters for Your Bedroom
To learn more about which portable heaters are best for your needs, here are five portable heaters for your bedroom:
1
Electric Tower Space Heater
This space heater is the perfect way to relax and enjoy a nice warm ambiance. It comes with an adjustable thermostat so you can enjoy a more consistent temperature so you remain comfortable at all times.
2
High Efficiency Tower Space Heater
Sit back and relax with this High Efficiency Tower Space Heater from Duraflame Electric. You can use its convenient remote control to adjust its settings to your liking.
3
5500 BTU Electric Radiant Radiator Heater
To heat your space in style, try this 5500 BTU Electric Radiant Radiator Heater from Costway. This portable heater is perfect for your bedroom as it heats up quickly and efficiently.
4
HomCom Electric Radiator Space Heater
The small but mighty heater can heat up even the chilliest of rooms. And its remote control comes in handy on days when you feel like staying in bed.
5
Himimi High Efficiency Tower Space Heater
This high efficiency space heater includes an adjustable thermostat, making it super easy and convenient to customize the warmth of your space. Plus, it also comes with a digital display for easy reading.
Our editors love finding you the best products and offers! If you purchase something by clicking on one of the affiliate links on our website, we may earn a commission at no extra cost to you.
---
---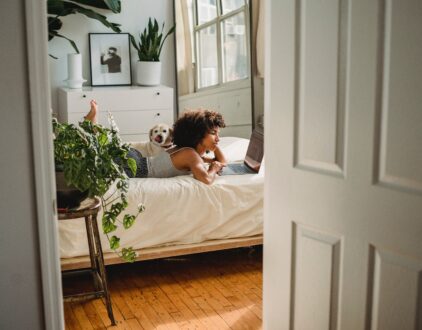 ---
Spaces
Whether it's luxury or ease, every area of your home should be as fabulous and unique as you.
FOLLOW ALONG ON INSTAGRAM
Find us on social for more home inspiration where culture, personal style, and sophisticated shopping intersect to help you create a home where you love to live.