In recent years, rattan chairs have seen a resurgence in popularity with homeowners and design lovers. These chairs are a great way to infuse your living space with a touch of casual yet chic comfort with their natural and laid-back aesthetic. Rattan chairs aren't just a trend—they are a timeless addition to your home, and they transform your space into a relaxing haven.
Effortless Elegance
Rattan chairs give off an effortlessly elegant vibe that is hard to match. The intricate, woven patterns and organic texture of the chair bring a touch of nature indoors. The soft, neutral tones of rattan complement a wide array of color palettes and design styles, allowing these chairs to integrate into your existing decor while adding a fresh layer of visual interest.
Versatility and Function
One of the main appeals of rattan chairs is their versatility. Whether you are into a bohemian, modern, minimalist, or eclectic vibe, these chairs adapt beautifully. Rattan chairs can be placed in your living room for additional seating, as a statement piece in your bedroom, or in a cozy reading nook. Their lightweight nature makes it easy to move these chairs around, adapting as your style evolves.
Comfort Meets Durability
Despite its delicate appearance, rattan chairs and extremely durable and can withstand years of use while maintaining their charm. They're surprisingly comfortable as well. With the addition of plush cushions, these chairs feel like a hug after a long day.
Sustainable Choice
If you prioritize sustainability as much as we do, rattan chairs are the perfect eco-friendly option. This fast-growing, renewable resource is less harmful to the environment compared to other materials.
Keep reading to discover five beautiful rattan chairs to add comfort and style to your living space.
Mid-Century Modern Rattan Dining Chairs, Set of Two
This stunning mid-century modern dining chair fuses minimalist elegance with industrial design. The chairs are crafted with tubular steel and are a great touch to contemporary interiors. The standout feature of this chair is the hand-woven rattan backseat, stained in a rich red oak tone. The backseat pairs beautifully with the plush velvet seat. These chairs ensure premium comfort and breathability. The rattan design not only offers aesthetic appeal but it promotes ventilation. Whether used in dining areas or living spaces, these chairs will elevate your room with ease. Easy to assemble, these rattan chairs are a chic style statement.
Retro Rattan Living Room Chair with Upholstered Velvet
Elevate your living space with this mid-century lounge chair. The plush velvet seat and rattan back seamlessly blend together to create a beautiful retro wooden chair. This chair is designed for versatile use — it's spacious enough to cuddle up with your little one, ideal for catching up on your favorite TV show, doing desk work, or bonding with guests. The high arms are built on a sturdy wood frame to ensure there is ample support and durability. Experience ultimate relaxation on the thick cushion. The skin-friendly fabric ensures that even the most sensitive of skin won't get irritated. If you face any issues with this chair, there is a hassle-free return policy.
Upholstered Mid-Century Modern Accent Chair with Rattan Armrest
Infuse your living space with a blend of classic mid-century aesthetics and contemporary appeal, courtesy of this upholstered mid-century modern accent chair with rattan armrests. The rattan armrests effortlessly elevate your room aesthetics while maximizing comfort during your most leisurely moments. A stable rubber wood leg foundation underlines the bamboo and solid wood fusion on the chair and ensures longevity and weight tolerance of 330 pounds. The chair's plush seating offers unparalleled relaxation. There is a 30-day replacement or money-back guarantee, a 1-year warranty, and a dedicated 24-hour customer support line. This chair is more than just seating — it's a statement piece and nod to vintage design.
Round Rattan Floor Chair with Ergonomic Backrest
If you're looking for a unique rattan addition to your living area, this beautiful floor chair is the perfect choice. Crafted from durable and eco-friendly rattan, the chair's backrest ensures longevity. The seat, interwoven with narcissus vine, guarantees breathability. The dimensions of this chair are designed to accommodate children and adults, with the ergonomic design molding perfectly to the spinal curve. The seat's wider seat area enhances comfort, and it's portable, perfect for easy repositioning to suit varied needs. With a round base, this chair promises stability without having to worry about tipping or sliding. It serves as a great chair for reading, meditation, or just lounging. Enhance your balcony, bedroom, office, or living room with this round rattan floor chair.
Modern Bohemian Natural Brown Rattan Flower Chair
This stunning modern bohemian natural brown rattan flower chair is a masterclass in modern bohemian design. Hailing from Indonesia, the chair encapsulates tranquility and is meticulously constructed from natural rattan, a material known for its eco-friendly quality and inherent beauty. The flora-inspired backrest interwoven with slender rattan rods curates a fanned-out silhouette that melds seamlessly with the chair's openwork design. The crisscross base complements the angled legs of the chair, enhancing the chair's stability and adding a dash of intricate detail. Each chair tells a unique story and varies in color, pattern, grain, and texture. This statement piece arrives fully assembled.
Our editors love finding you the best products and offers! If you purchase something by clicking on one of the affiliate links on our website, we may earn a commission at no extra cost to you.
---
---
Decorate
Access design inspiration that infuses personality and culture into your spaces.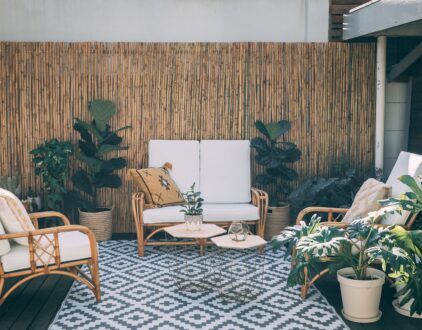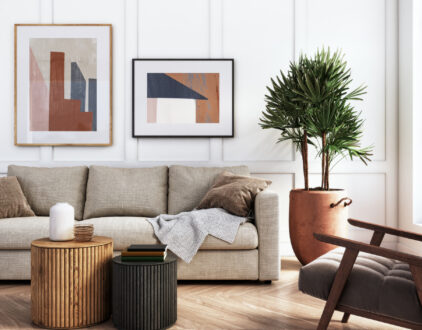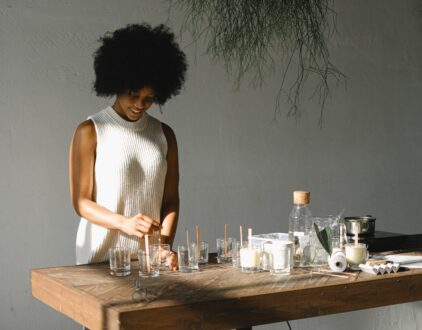 ---
Spaces
Whether it's luxury or ease, every area of your home should be as fabulous and unique as you.
FOLLOW ALONG ON INSTAGRAM
Find us on social for more home inspiration where culture, personal style, and sophisticated shopping intersect to help you create a home where you love to live.