Now that summer is upon us, it's time to consider refreshing your decor with a few rattan furniture must-haves. Don't fret, these aren't your auntie's rattan furniture pieces from back in the day. You will be blown away by the modern and contemporary looks that incorporate this classic and imported material.
What Is Rattan?
It is common for people to use the words wicker and rattan together and oftentimes, interchangeably. However, wicker is a particular style, whereas rattan is the material. Sometimes, rattan (which derives from a particular vine plant that is grown in Africa, Asia, and parts of Australia) can be constructed using the wicker method for items such as baskets and trays. But all wicker goods aren't made with rattan. It's important to understand the differences when looking for rattan furniture pieces.
How To Use Rattan Pieces in Your Home
View this post on Instagram
You don't have to revamp your entire home to accommodate the look and feel of rattan. Instead, focus on a few key pieces to bring a subtle but impressive natural and slightly boho look to your current interior aesthetics.
Try picking a piece that will complement what you already have established. Something like a rattan ottoman or storage bin can really pull your room together without making it look too busy.
Rattan furniture can also give your home a nice, warm nostalgic feeling. Sure, you may not have those old-school chairs that your aunts and uncles used to pose and take pictures with, but you can play with the rattan textures and natural colors to create a cozy, welcoming space.
Rattan Makes for Great Patio Furniture
Rattan is a must-have for outdoor furniture, too. They are sturdy enough to stand the heat and won't fade over time as the seasons change. They are also easy to clean, which makes them a must-have when you want to have more outdoor functions at your home.
Whether you are looking for indoor or outdoor furniture, these rattan furniture must-haves are a must for any home. Take a look at our favorites below—we're sure you'll love them as much as we do.
Jump to Products
---
Esme Upholstered Accent Chair with Rattan Arms
This beautiful, Esme Upholstered Accent Chair with Rattan Arms from Sand & Stable is a solid accent chair. Made with wood and rattan, this accent chair is easy on the eyes. This farmhouse-inspired chair is modern enough to place in any room if you need a more natural look. If you need a splash of color, this chair has several color options that range from a clean, linen color to a dainty blush color that is made out of polyester. You can select this accent chair as an individual piece, or you can purchase the entire set. We love it by itself and you will too.
Finnhomy Rattan Sideboard Buffet Cabinet
This Finnhomy Rattan Sideboard Buffet Cabinet is a gorgeous item than can also be your liquor cabinet. This cabinet combines a classic look with modern sophistication. This rattan cabinet also has a beautiful handmade weaving detail on the doors that will add a touch of charm to your room. Despite this cabinet being on the larger side of most cabinets, it is worth it. You can use it to store your aged wines, turntable and records, or use it just as a general storage space to keep your room tidy. This all-purpose cabinet will give you and your home the flexibility you desire.
Milliard Papasan Rattan Chair
This stunning Milliard Papasan Rattan Swivel Chair is ideal for homebodies who love comfort and style. Part rocking chair, part swing,  this chair will encourage you to daydream all day. Both enchanting and weather-resistant, this will easily be everyone's favorite chair in your home. This chair can also be used for both indoor and outdoor usage giving you even more options. The large cushion will appeal to children and adults alike, making it a cozy seat to sit on for long periods. The frame is made out of steel, giving it a more secure and quality foundation to ensure that this chair lasts for years to come.
South Shore Lilak Rattan Headboard
If you want a headboard that will make you feel like you are on vacation all the time, this South Shore Lilak Rattan Headboard will certainly inspire the wanderlust in you. Each headboard is handmade which gives this headboard an authentic look and feel. This unique headboard will transform your bed into a one-of-kind resting chamber that will not only look amazing but feel great, too. This headboard is easy to install so you won't have to worry about difficult instructions to put it together. If you have been looking for some home pieces that give you a little bit of a cottage-core aesthetic, this headboard is it.
Rattan-Wrapped Round Wood Dining Table
This sculptural rattan-wrapped round wood dining table perfectly combines nature and contemporary design. With a rounded edge and clean lines, this table invites you to dine, cultivate connection and enjoy life. The use of natural rattan was inspired by Brazilian midcentury design. You can comfortably seat up to six people at this table. It's a great addition to your dining room space and can be highlighted with an accent wall, a beautiful light fixture, modern dining room chairs, and of course – plants. This is the perfect table for hosting friends and family to show off your newly modern bohemian-designed dining room.
Our editors love finding you the best products and offers! If you purchase something by clicking on one of the affiliate links on our website, we may earn a commission at no extra cost to you.
---
---
Decorate
Access design inspiration that infuses personality and culture into your spaces.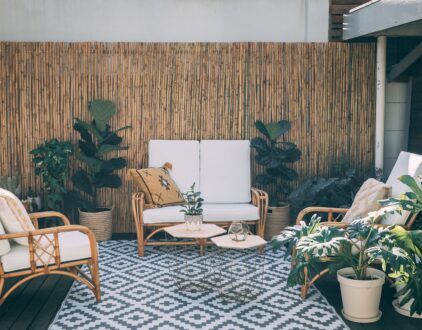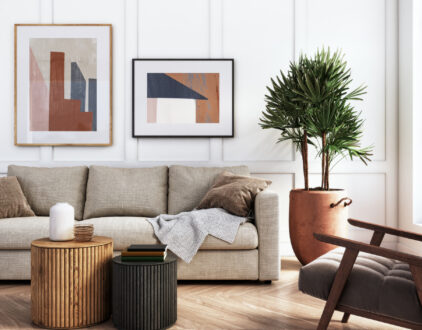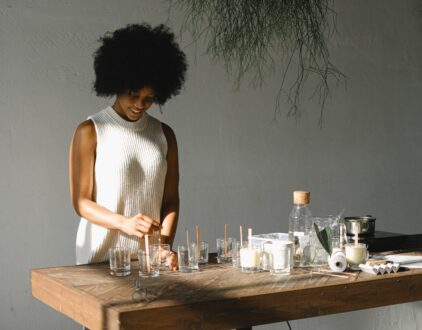 ---
Spaces
Whether it's luxury or ease, every area of your home should be as fabulous and unique as you.
FOLLOW ALONG ON INSTAGRAM
Find us on social for more home inspiration where culture, personal style, and sophisticated shopping intersect to help you create a home where you love to live.