A lot of people love the idea of having an old-century, rustic aesthetic to their home but not everyone knows how to achieve it. However, there are ways to make your home feel like a vacation house in the Mediterranean. If you truly want a rustic look, consider trying limewash paint.
Limewash paint isn't your typical paint. Limewash is more chalky, almost like caulk, and is meant to give your walls a more textured look and feel. If you want the romantic charm of a restaurant in Rome or a bed and breakfast in Greece, this is what you will need.
Here's How To Use Limewash To Achieve a Rustic Look
View this post on Instagram
First, you'll need to understand how to use this particular paint. Everything that makes limewash great starts with the paint stroke. You don't need to be a professional painter, but you do need to be consistent. Experts agree that you should choose between three paint strokes: vertical, horizontal, and a circular pattern that resembles a cloud. No matter which one you pick, you will get the desired romantic finish.
Homeowners may also appreciate that limewash is less toxic than standard paints. It's naturally non-toxic and eco-friendly with high pH levels that allow it to be bacteria-resistant. Additionally, limewash doesn't produce any chemical-like smell, which is a plus for homeowners who are more sensitive or allergic to strong chemicals.
East Hamptons, New York-based interior designer Dan Scotti gave Architectural Digest some of his tricks for using limewash to paint walls. "My preference is to use vertical strokes because the 'direction' of the limewashed walls will then be consistent both with the shape of the vertical doors and windows," he explained. "If you prefer a cloudlike pattern, the best approach is to create three or four clouds on separate portions of the wall, and then gradually merge them."
Limewash would look great in your living room or even dining area, but beware of using the paint on walls that are hard to get to because you might have to touch it up.
"Limewash paints are great to use pretty much anywhere, except in those spaces that are likely to take a beating, such as a kid's bedroom or behind a sink, as touch-ups can be difficult to blend," Scotti warns.
Giving limewash paint a try could give your home the fresh and timeless look you desire. Use these tips to help create your ideal living space.
---
---
---
Spaces
Whether it's luxury or ease, every area of your home should be as fabulous and unique as you.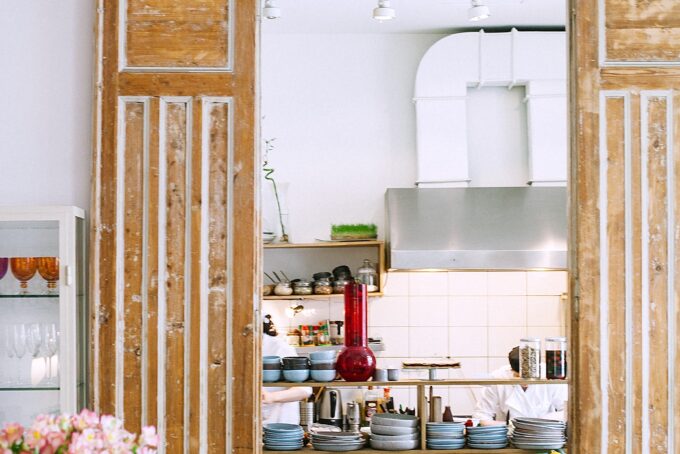 FOLLOW ALONG ON INSTAGRAM
Find us on social for more home inspiration where culture, personal style, and sophisticated shopping intersect to help you create a home where you love to live.