Who doesn't appreciate a little bit of luxury in their lives? While we don't all live the glamorous lifestyles of the rich and famous, there are small, mini luxuries that everyday homeowners can indulge in as well. Mini-luxury items can bring an eclectic flavor to your home to further express who you are. You will get the satisfaction of being 'bad and boujee' without destroying your savings, by investing in small, luxe decorations.
You can ball on just about any budget, too. Plus, you'd be surprised by the great deals at your favorite high-end retailers.
Mini Luxuries Can Make Your Home A Little Bit More Bougie
View this post on Instagram
The finer finds are not alawys attached to a designer label. Sometimes, the best quality can be seen in the craftsmanship, material and accessibility. Mini luxuries can be found almost anywhere! You can find hidden gems at thrift stores and yard sales and even through artisan artists online.
But who can resist a taste of the good life? If you think of luxury as the icing on the cake as opposed to the cake itself, you will find that you can really upgrade your living space with luxurious items that will separate your home from the rest.
Ultimately, what defines luxury is up for interpretation. Luxury to some means comfort. To others, luxury may mean style, brand recognition, or just overall personal preference.
No matter how you define luxury, just know that luxury goods are not far out of your reach. The goal is to make your home as charming and pleasant as possible on your terms.
We've done some digging and found a few mini-luxury items that will bring a certain je ne sais quoi to your home. Check out these home decor pieces we can't stop talking about.
Jump to Products
---
Breville Milk Café Electric Frother
If you are a coffee drinker and you find that the finer things in life must come with a latte, then this Breville Milk Café Electric Frother from Sur La Table will be right up your alley. Dedicated espresso drinkers know that good froth is what makes a great latte or cappuccino. This frother will create some of the creamiest, thickest and richest foam your mouth has ever tasted, giving you the perfect cup of steamed milk every time. Use it for both hot and cold drinks and it will immediately upgrade your kitchen cafe, so you can finally unleash your inner barista.
House of Hackney Artemis Wallpaper
This beautiful, posh wallpaper screams tea time. The House of Hackney line is available at Anthropologie, and their collection is a celebration of the Regency Era. It has a moody and atmospheric flair. If you are a big fan of Shonda Rhimes' "Bridgerton," you will fall in love with this wallpaper. You can add it to a single wall or fill an entire room. This wallpaper is a part of their Artemis collection, and has seven color designs.
Echo Organic Cotton Abstract Throw Pillow
No matter what color your living room, study, or bedroom is, this vivid and jaw-dropping pillow will certainly make heads turn. The Echo Organic Cotton Abstract Throw Pillow from Yaya & Co. is the perfect way to brighten up any room without doing any major makeovers. It's soft, full of fun, and embraces textures that will make it a favorite in your home. If you love this pillow, you will be thrilled to find out that it also comes in a puff to rest your feet on, and a throw blanket to hang over your couch.
Jonathan Adler Gala Cookie Jar
Who stole the cookie from the cookie jar? You will, especially once you get a load of this funky, playful design. This Jonathan Adler Gala Cookie Jar is pure white and stands approximately one foot tall. The cookie jar is decorated with silly pairs of lips all over, making it a fun jar that will stand out in your kitchen or dining room space. The top of the jar has a tongue-in-cheek expressive mouth that looks like it is sticking its tongue out at you. That's probably just a fun way of letting you know you shouldn't eat all the cookies at once!
Versace Prestige Gala Mug
Since we are talking about mini-luxury goods, we might as well include a high-end, notable designer to this list. This Versace Prestige Gala Mug is available at Neiman Marcus and it is absolutely stunning. This striking mug has the recognizable Versace logo and can hold up to eleven ounces. Its black and gold logo is set on pristine white porcelain. This mini-luxury can be used anytime you need a cup of bougie to lift your spirits. Buy it separately or splurge on the complete Versace dinner set. You will never want to put this mug down and we can't blame you because it is a beauty.
Our editors love finding you the best products and offers! If you purchase something by clicking on one of the affiliate links on our website, we may earn a commission at no extra cost to you.
---
---
Decorate
Access design inspiration that infuses personality and culture into your spaces.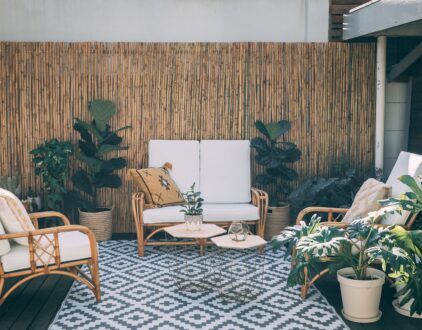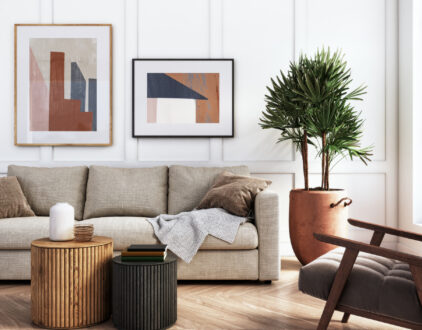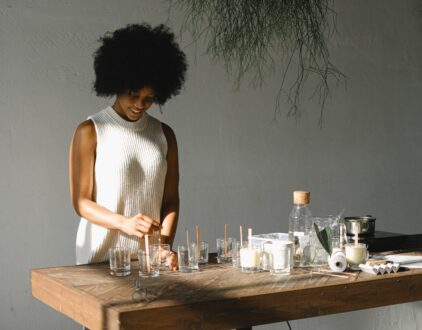 ---
Spaces
Whether it's luxury or ease, every area of your home should be as fabulous and unique as you.
FOLLOW ALONG ON INSTAGRAM
Find us on social for more home inspiration where culture, personal style, and sophisticated shopping intersect to help you create a home where you love to live.