We love a good lighting situation, and statement lamps are a great way to add character and ambiance to your home without overwhelming the space like a larger piece of furniture might. If you're ready to elevate your space, with the added bonus of functionality, explore the appeal of statement lamps and check out our top picks.
What are statement lamps?
Statement lamps are not your run-of-the-mill lighting fixtures. They are eye-catching, conversation-starting pieces that add personality to your home decor. Unlike ordinary lamps, statement lamps are designed to be a focal point in your home. They come in many shapes, sizes, and styles, so whether you want something classic with an antique look or modern and moody, you have plenty of options to choose from.
What are statement lamps made of?
There's no real guideline on what materials statement lamps should be made out of, and in reality, you'll know one exactly when you see one. But for some perspective, here are some materials commonly used in creating them.
1. Ceramic Elegance
Ceramic lamps add a certain softness and sophistication Their smooth, glossy finish adds a luxury feel to any room. These lamps often feature intricate patterns and designs that make them stand out as true works of art.
2. Crystal Clear Beauty
Crystal lamps are dramatic yet delicate. The prismatic play of light through crystal facets creates a dazzling display that can transform your space into a literal palace and is perfect for your living room or bedroom.
3. Wooden Wonders
For those who prefer a rustic or earthy feel, wooden lamps are an excellent choice. Made from various types of wood, these lamps bring a relaxed and natural vibe to your home.
4. Metal Marvels
Metal lamps are a fusion of contemporary design and durability. Whether it's sleek stainless steel or antique brass, these lamps can give your space an industrial-chic edge.
For inspiration, here are our top statement lamp picks to add that perfect finishing touch to any space:
1
WOXXX Industrial Black Floor Lamp
Made from durable metal with a striking black and gold finish, this floor lamp effortlessly combines durability with modern aesthetics. The gold and brass shades not only add a sophisticated look but also emit a warm and inviting white light. This floor lamp is perfect for enhancing various indoor settings, from festive occasions like Christmas, parties, Valentine's Day, weddings, and New Year celebrations to creating a cozy ambiance in your living room, bedroom, or office. Its unique design makes it a standout piece in modern, urban, minimalist, and contemporary interiors, and it's equally at home in a kid's room or dorm room. This floor lamp is designed for convenience, with a user-friendly step-on switch for easy on/off access.
2
Franklin Iron Works Marlowe Industrial Rustic Farmhouse Lamp
This is not only a functional lighting fixture but also a stylish addition to your space. It's not just about illumination; it's also a statement piece with a fabric inner shade and a metal outer shade. When it comes to lighting, this floor lamp doesn't disappoint. It can accommodate two maximum 100-watt standard-medium base bulbs, so you can tailor the brightness to your preference. Its user-friendly design features twin on-off pull chains, making it convenient and hassle-free to operate. The floor lamp hails from the esteemed Franklin Iron Works brand, known for its quality and style. The lamp boasts a bronze finish base and column, adding a vintage charm to your decor.
3
360 Lighting Milly Modern Bohemian Table Lamps
This stylish set of two lamps is designed to elevate your decor and provide functional lighting. The rectangular shades not only diffuse light effectively but also add a modern elegance to your interior. Each lamp can accommodate one maximum 150-watt standard-medium base bulb for plenty of brightness for your room. The convenience of on-off socket switches means you can easily control the lighting to suit your mood and needs. These designer lamps draw inspiration from bohemian and modern lighting trends, reflecting a blend of artistic influences. They proudly belong to the renowned 360 Lighting brand, known for its innovative and stylish lighting solutions.
4
Brightech Stix Floor Lamp
This modern tripod floor lamp seamlessly blends into a variety of decor themes, including minimalist, urban, and contemporary styles. Whether you place it in your living room, office, or bedroom, this lamp is designed to make a statement. Its sharp architectural lines add style, class, nuance, and depth to your space. This tall lamp offers stepless dimming, thanks to its LED pole light. It can stand on its own as a striking furniture piece or complement other similar pieces effortlessly. What's unique about it is its long-lasting design, featuring three cylindrical LED lights that snap into the lamp. These LED bulbs have an impressive lifespan of 20 years, totaling 20,000 hours. It beautifully fills spaces you didn't even realize needed filling, enhancing the overall ambiance of your room.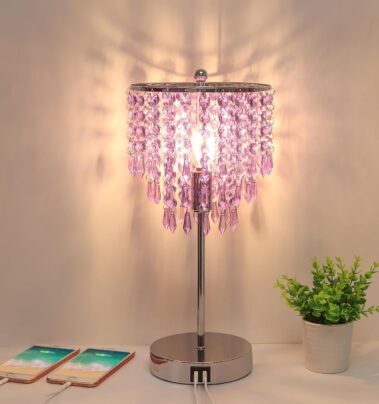 5
USB Bedside Crystal Lamp
Experience the magic of meticulous and unique design with this enchanting crystal table lamp. It casts stunning shadows on the wall, creating a romantic atmosphere in any room. Featuring three layers of lavender K9 crystal dangling strands and a gleaming metal base, this side table lamp is a statement piece that promises to add visual interest and sophistication to your space. In just two minutes, you can complete the installation without the need for tools. It's also designed with practicality in mind. The lamp base features two USB ports, so you can conveniently charge your mobile phones, tablets, or other electronic devices. Also, the USB ports function regardless of whether the lamp is turned on or off! Enjoy versatile lighting options with the 3-way dimmable touch control feature. This lamp offers three levels of illumination: low, medium, and high.
Our editors love finding you the best products and offers! If you purchase something by clicking on one of the affiliate links on our website, we may earn a commission at no extra cost to you.
---
---
---
Spaces
Whether it's luxury or ease, every area of your home should be as fabulous and unique as you.
FOLLOW ALONG ON INSTAGRAM
Find us on social for more home inspiration where culture, personal style, and sophisticated shopping intersect to help you create a home where you love to live.