Summer is still here, which means it's not too late to create your favorite summer food and drinks. Like any person who loves to spend time in the kitchen, having kitchen gadgets that are convenient, easy to use, and safe make cooking that much more enjoyable. From serving refreshing juices at your family cookout to chopping up your foods to serve dinner, there's a gadget for everything you'll need. Whether you're new in the kitchen or consider yourself a cooking veteran, you'll want the best gadgets for the best meals.
Why Kitchen Gadgets Are Necessary
Cooking a meal after a long day at work can be exhausting and discouraging. It's also time-consuming. Investing in kitchen gadgets can change your outlook and essentially make life in the kitchen easier. Here are a few reasons why investing in kitchen gadgets is a great idea.
Cleanliness
Cleaning foods, like fruits and veggies, is time-consuming. Clean-targeted kitchen gadgets can go the extra mile to purify your food items ensuring a clean and healthy meal.
Safety and Time Efficient
Gadgets also ensure safety in the kitchen. For example, manually juicing takes a lot of elbow grease and labor, and if you're doing it wrong, can be a safety risk. Investing in a juicer saves time, extra labor, and is a simpler step that offers more time that you could spend cooking or cleaning elsewhere in your kitchen space. Some items have built-in features for protection lowering the risks of accidents, too.
Style
Just because it's a gadget doesn't mean it can't add an elevated look and finish to your current home aesthetic. You spend a lot of time in the kitchen, so why not have appliances and gadgets that are nice to look at? Whether they are stainless steel or offer a beautiful shape or color, investing in gadgets that not only make your kitchen experience better but look nice while using is always a plus.
Le'raze 2 Gallon Glass Drink Dispenser
Hosting a large party? Drink dispensers are must have for anyone who loves to entertain, and the Le'raze 2-Gallon Glass Drink Dispenser won't disappoint. Crafted from high-grade, thick glass, this all-purpose liquid dispenser will be your go-to when serving up juices or dispensing alcohol. Features like a wide mouth lid ensure freshness, and the steel spigot is rust-resistant and leak-proof. You'll also find convenience in this gadget as it comes with a fruit infuser. Not to mention, the modern, artful shape offers an elegant look and adds to your home decor with beautiful finishes.
Fabinex Fruit and Vegetable Purifier and Cleaner
Ensure clean and healthy fruit and vegetables with the Fabinex Fruit and Vegetable Purifier and Cleaner. Think of a washing machine but for your food. This small hand-held device produces OH-ions to wash and kill away any residue and dirt from your daily foods like meat, fish, shrimp, fruits, and veggies. The food purification process takes about 10 minutes to start with just the press of a button and placing the food and veggies into 3-5 liters of water. Be confident in your foods knowing they're cleaned and purified, making it more of an enjoyable meal.
Crzoe Countertop Ice Maker
Compact in size and easy to carry, the Crzoe countertop ice maker takes no time to create the perfect rounded bullet ice cubes. No need to continue walking back and forth to your refrigerator for ice as this portable ice maker is lightweight and gives you the option to set it up anywhere. Whether you're having some guests over for drinks or hosting your family, this ice maker takes the cake on saving time with its self-cleaning feature. Feel confident in knowing your ice cubes are clean and healthy! Enjoy a cool summer within only six minutes and if needed, make up to 26 pounds in a day. You can also store ice for later with the two ice bags provided.
Breville Citrus Press Pro Electric Stainless Steel Juicer
Make summery drinks easy and fun with the Breville Citrus Press Pro Juicer. Whether alcoholic or non-alcoholic beverage, this juicer machine is great for starting off your summer drinks with a citrus base. With an innovative drip stop system, you can prevent spillage on your countertop. You can also spend less time cleaning as it is dishwasher friendly. The Breville Juicer features a die-cast stainless steel juicing cone and durable die cast body that is acid resistant.
Fullstar All in 1 Vegetable Chopper, Mandoline Slicer, and Cheese Grater
If you're a self-proclaimed chef in your home, then the Fullstar All-in-1 kitchen gadget will be your best friend. A vegetable chopper, mandoline slicer, and cheese grater are all included in this multifunctional device that is guaranteed to meet all of your chopping and grating needs. Unlike many kitchen appliances, this gadget is compact and lightweight making it easier to transport from one area to the other. Due to the high-quality stainless steel and razor-sharp blades, Fullstar emphasizes on safety by including a finger-guard and protective glove to keep you safe. No mess and no messing around. This item also features a catch tray that makes cooking cleaner and convenient.
Our editors love finding you the best products and offers! If you purchase something by clicking on one of the affiliate links on our website, we may earn a commission at no extra cost to you.
---
---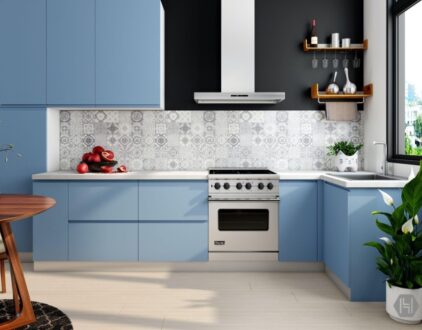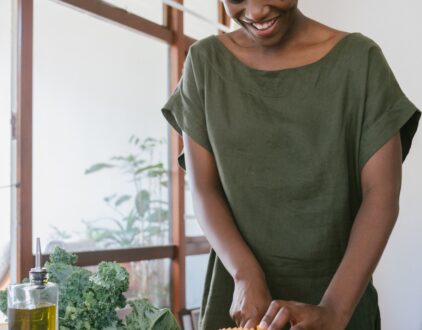 ---
Spaces
Whether it's luxury or ease, every area of your home should be as fabulous and unique as you.
FOLLOW ALONG ON INSTAGRAM
Find us on social for more home inspiration where culture, personal style, and sophisticated shopping intersect to help you create a home where you love to live.