You're the type that knows the perfect wine pairings for every meal—Cabernet Sauvignon, with white fish? Your advanced palate could never. Or, maybe you don't take things that seriously and just love a good pour, even better if it's with excellent company. Either way, you love wine, and as one who has naturally good taste, you know the importance of preserving those delicate flavors and making each bottle last to the final drop. Raise your glasses high, and consider adding these wine gadgets to your kitchen essentials.
Wine Refrigerators: Keeping it Cool
Being the number one wine girl in the group, you know one of the fundamental aspects of enjoying wine is serving it at the ideal temperature. Wine refrigerators, also known as wine coolers, are designed to store your wine collection at the perfect temperature. These appliances come in various sizes and styles, making it easy to find one that fits seamlessly into your home. Whether you prefer red, white, or a flirty rose, a wine refrigerator ensures that every bottle is chilled to perfection.
Aerator and Decanter: Unlocking Flavors
To fully appreciate the complex flavors and aromas of wine, proper aeration is essential. An aerator and decanter combo is a must-have for any wine enthusiast. This wine gadget allows your wine to breathe, softening harsh tannins and enhancing the bouquet. With a well-aerated wine, you'll notice a significant improvement in taste, making each sip a delightful experience.
Electric Corkscrew: Effortless Uncorking
Struggling with a traditional corkscrew to open your wine bottle? Neither are we, but now consider it a thing of the past. An electric corkscrew effortlessly removes corks in seconds, saving you time and effort. Okay, maybe it won't save you that much time, but why bother lifting a freshly manicured finger if you don't have to? It's convenient, effortless, and feels elegant.
Wine Preserver: Seal in the Freshness
Wine enthusiasts often find themselves faced with the dilemma of finishing a bottle or letting it go to waste. Enter the wine preserver. This ingenious gadget uses vacuum technology to remove air from opened bottles, effectively preserving the wine's freshness for days.
For more inspiration, explore and shop these five top wine gadgets:
1
Automatic Wine Bottle Opener and Preserver Set
It's way cooler and prettier than a regular wine opener, so you're really in for a treat with this two-in-one electric bottle opener set. It's the perfect companion for those who savor their wine. Imagine having an elegant charging station that not only recharges your opener but also feels sophisticated with its stainless steel exterior. Plus, a single charge can open and seal up to 40 bottles, and you'll always know when it's time to recharge thanks to the battery life display screen. And when you're done sipping, the set helps you preserve your wine for later with reusable stoppers and a vacuum sealer pump that keeps the flavors intact for up to a week.
2
Ivation Electric Wine Aerator and Dispenser
This device lets you decant and dispense your favorite red, white, or rosé directly from the bottle to your glass. It's a must-have for any wine lover and works with most standard bottle necks. With its precision dispenser featuring touch control, you won't have to worry about messy spills and overserved guests. Just remove the cap, insert the pourer into the bottle neck, and press the button for a smooth, steady stream of wine without lifting the bottle. It comes with an elegant acrylic spout and an adjustable extension tube for added convenience. This gadget also boasts a built-in aerator that enhances your wine's flavors, textures, and aromas like never before.
3
Wine Enthusiast – 20 Bottle Evolution Series Wine Cooler
This compact cooler offers an excellent way to showcase your wine investments with top-quality wine storing compressor technology scaled down to a convenient size. Whether you're looking to lay down a few cherished bottles or ensure your wines are stored at the perfect serving temperature, this series presents an affordable, form-meets-function solution. It delivers all the exceptional features found in larger, more expensive refrigerators but in space-saving dimensions. With stylish cabinets and well-appointed interiors, it keeps your wines in a gorgeous setting and also provides a stable cooling environment. This compact cellar also operates with a vibration-free, quiet, and energy-efficient design.
4
VoChill Stemmed Wine Glass Chiller
VoChill is the perfect companion for those moments of relaxation, whether you're indoors, outdoors, entertaining guests, cooking dinner, or anything in between. It's not just a wine accessory; it's a must-have for wine lovers, making it an excellent gift for yourself or any wine enthusiast in your life. What makes this chiller different is that it allows you to keep your cherished stemmed glassware. You don't need to switch to metal or plastic tumblers. VoChill fits a wide range of standard stemware glass shapes and sizes, adding to the pleasure of your wine-drinking experience. Consider trying it with a coupe glass for a touch of elegance with sparkling wine or champagne.
5
Wine Chiller
Enjoy wine at its best with this uniquely designed wine bottle chiller. Made with a high-quality brushed metal refrigerated inner barrel and stainless steel casing, it can accommodate a standard 750-milliliter wine bottle. Its portability and refined aesthetics make it a versatile addition to small kitchens, condos, cottages, RVs, bars, offices, and more. Unlike conventional ice buckets, this refrigerated barrel boasts alloy properties that excel in cold transfer. Plus, it eliminates the hassle of excessive water droplets for a cleaner and more convenient wine-chilling experience. It's designed to fit most traditional champagne bottles, including renowned brands like Veuve Clicquot, Moët & Chandon, Louis Roederer, and many others.
Our editors love finding you the best products and offers! If you purchase something by clicking on one of the affiliate links on our website, we may earn a commission at no extra cost to you.
---
---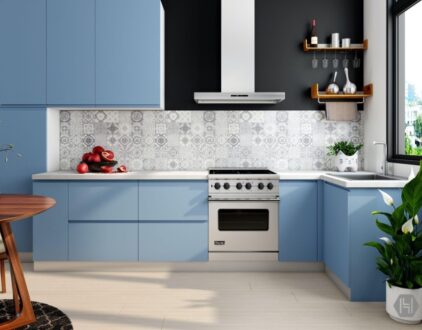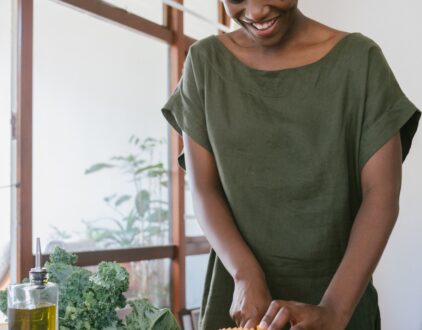 ---
Spaces
Whether it's luxury or ease, every area of your home should be as fabulous and unique as you.
FOLLOW ALONG ON INSTAGRAM
Find us on social for more home inspiration where culture, personal style, and sophisticated shopping intersect to help you create a home where you love to live.