According to a study conducted by Mintel in 2018, it was revealed that 55% of Americans prefer drinking at home. The study was done before the global pandemic in 2020. This forced many to spend more time at home, so it's likely that number has increased.  Whether you love spending time at home sharing a bottle of wine with a loved one or intimate parties, it's no surprise you'd want to set up your own home bar.
Bar carts are one of the many essentials that you need in your first home or apartment. They're great for displaying your wine stash, storage, and curating a cocktail area, but is the era of bar carts over? Yes, adding a bar cart to your home can be aesthetically pleasing and convenient, but only for so long. Once your cart becomes compact and crowded, it's time to upgrade your bar area space. Consider something that has more space for storage and is multifunctional, like a bar cabinet.
Reasons You Need a Bar Cabinet
The most obvious reason why a bar cabinet is a must-have is that they provide more than enough storage for you to display wine and spirits bottles, bar-related decor, and items needed to create the perfect drink. While it's great for bar storage, it's also multifunctional. Bar cabinets can double up as modern, sleek pieces of furniture that you can add to any place in your home to spark the interest of others.
Showing off your quirky decor, whether bar related or not, is another reason. A cabinet creates the illusion of just another piece of fine furniture. Use it to display meaningful items or adornments. Don't be afraid to pick and choose personal pieces with bar essentials to create something eye-catching.
Things To Consider
When choosing your bar cabinet, make sure it speaks to your personal style and matches your current home aesthetic. The finishes, shape, size, and material are all important. You want to make sure whatever cabinet you decide on doesn't clash with what's already in your home.
Think about how much glassware and wine and liquor bottles you already have. If you have a lot, consider bar cabinets that have fixings that allow you to display your glassware and bottles. One that has plenty of shelving and is adjustable might also interest you if you change things up pretty often.
Here are a few bar cabinet ideas that will take your bar area from messy and minuscule to grand, elegant, and ideal.
Bar Cabinet Ideas To Elevate Your Bar Area
Rustic Wooden Woven Bar Cabinet
Simple, small, but useful. If you have random wall space that needs to be filled, think about a small bar cabinet to place there. If your home's vibe is a classic and mid-century style, a rustic wooden woven cabinet is a must-have piece of furniture that can easily blend with your home. Slide it in your entryway, living room corner, or extra space that has no purpose (yet).
Wine Storage Bar Cabinet
A wine storage bar cabinet is great for those who love to show off their bar area and need extra storage space. If you're one who has a large living room area, find your bar area and consider a decent-sized bar cabinet that fits just right. The upside of a large bar cabinet is how versatile it is. Storage space with shelving, a mini bar top to make your drinks, and a smaller cabinet area are ideal essentials for the perfect bar cabinet.
Slatted Bar Cabinet
The slatted design screams elegance, sophistication, and modern sleekness. The overall exterior design is very minimal and will fit in any area of your home. It will attract attention and really bring the look of your home together.
Slim Corner Bar Cabinet
Just because it's small and slim doesn't mean it can't carry the weight of your wine bottles. If you have a small corner in your home, this is the perfect bar cabinet. When choosing something so slim, make sure it still can provide the extra storage and cubby space you'll need. This design is out of the way and also blends in.
Use these tips and designs to transform your home bar area. Out with the old cart and in with the new and stylish bar cabinet.
---
---
Decorate
Access design inspiration that infuses personality and culture into your spaces.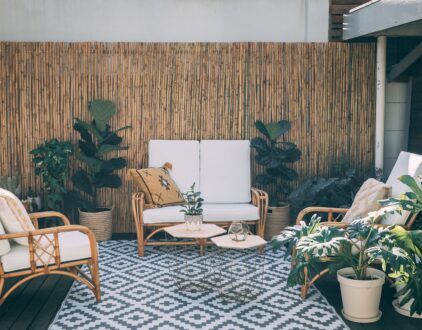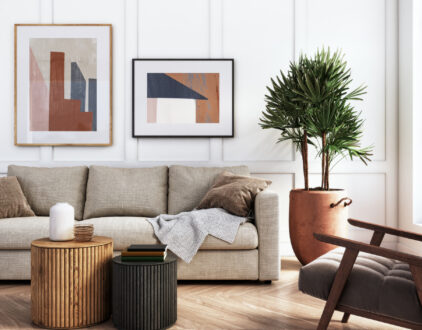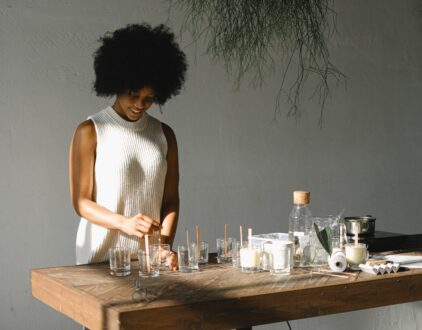 ---
Spaces
Whether it's luxury or ease, every area of your home should be as fabulous and unique as you.
FOLLOW ALONG ON INSTAGRAM
Find us on social for more home inspiration where culture, personal style, and sophisticated shopping intersect to help you create a home where you love to live.