Art has always been a source of inspiration and beauty. While collecting art can be an expensive hobby, it doesn't have to be. There are many unique and creative art finds that young collectors can acquire without breaking the bank. Art comes in many forms from paintings to sculptures and in unique styles, like Afro-Deco.
Street Art
You can find street art by exploring your city. Take a drive to get inspired by the unique styles and photograph your own. Farmer's markets and local art fairs tend to feature resident artists selling their work. Many street artists have also started selling their work online, so you can purchase a piece directly from them. Some popular Black street artists include Kehinde Wiley, Shepard Fairey and Invader.
Contemporary Prints
Contemporary prints are an affordable way to add some modern art to your collection. There are many Black artists who create limited edition prints of their work, which are more affordable than their original pieces. You can find prints online from galleries or directly from the artist. Some Black artists include Mickalene Thomas, Toyin Ojih Odutola and Kara Walker.
Vintage Posters
Vintage posters are a fun and affordable way to add some retro flair to your unique art collection. You can find posters from  different events, eras, concerts, movies, political campaigns and advertisements. Look for posters that are in good condition and have interesting graphics. Some popular vintage posters by Black artists include those from the Black Panther Party and Emory Douglas.
Sculpture Art
A sculpture is a beautiful and tactile unique art form that can add some depth to your collection. You don't have to purchase a large and expensive sculpture to appreciate this medium. Look for smaller sculptures that can fit on a bookshelf or coffee table. You can find sculptures at local art fairs or online. Some Black sculptors include Augusta Savage, David Hammons and Simone Leigh.
Jump to Products
---
1
Jean-Michel Bassquiat Graffiti Art Posters
The NOBRIM Jean-Michel Basquiat Decorative Poster is a stunning artwork that captures the unique and expressive style of the legendary artist Jean-Michel Basquiat. The canvas poster features one of Basquiat's signature works, which is characterized by its powerful brushstrokes, and layered imagery. The piece showcases Basquiat's raw and emotional style, which combines elements of graffiti, street art, and neo-expressionism. Jean-Michel Basquiat was a groundbreaking artist who rose to fame in the 1980s New York art scene. Basquiat's work often explored themes of identity, race, power, and social justice, and it challenged the conventional boundaries of the art world.
2
Baby Steps Art Print by Yvonne Burney
The print itself is by the talented artist Yvonne Coleman Burney. Her work has been exhibited in galleries and art shows around the world, and it is prized by collectors for its beauty and craftsmanship. Burney's art is inspired by her love of nature and her fascination with the beauty and complexity of the natural world. The print is framed with a stunning ornate frame and features double matting, which enhances the beauty of the piece. This print is a beautiful and timeless piece that is perfect for any art lover or collector. The ornate frame adds a touch of elegance and sophistication to the piece, making it a great addition to any room.
3
The Funeral Procession Matted and Ornate Framed Print by Ellis Wilson
This is a stunning piece of art that captures the emotional depth and rich cultural heritage. The print is double matted with an ornate, antique-style frame. It features a procession of mourners carrying a casket set against a vibrant and colorful background. The image evokes a sense of community and shared grief, while also celebrating rich cultural traditions and history. Ellis Wilson was a highly regarded Black artist who gained national recognition during the Harlem Renaissance.
4
Deco 79 Multi-Color Jazz Musician Figurines
This stunning set of sculptures celebrates the vibrant diversity of Black culture and heritage in jazz. These figurines are beautifully crafted with intricate details and colors that capture the essence of Black life and culture. It features four jazz musicians playing their instruments. The set is made of high-quality polyresin material, ensuring its durability and longevity. The Deco 79 Multi-Color African American Figurines are a wonderful way to celebrate and honor rich history and cultural heritage. They are perfect for displaying in a home, office or personal gallery. The set is a perfect thoughtful and meaningful gift.
5
3D Wood World Map Wall Art Decor
It's less a piece of collectible art as it is an artful way to collect the memories of your travels. This Wood World Wall Decor is a beautiful and unique piece of art that is perfect for adding a touch of rustic charm and global inspiration to any room. It is made of high-quality birch plywood that has been laser-cut and etched with intricate details. The design features a world map, with each country and continent finely carved with details and patterns. The map is set against a natural wood background and its highly detailed, making it a great tool for geography enthusiasts or anyone interested in world travel. The piece is also lightweight and easy to install.
6
JANXVII Black Vase Home Decor Ceramic Vase Set
The JANXVII Black Vase Home Decor Ceramic Vase Set is a beautiful and elegant collection of vases that is perfect for adding sophistication and style to your home. Each vase is made of high-quality ceramic material and finished in a beautiful matte black color. The vases are highly versatile and can be used to display a variety of items, such as flowers, plants or decorative branches. Their sleek and minimalist design makes them a great addition to any modern or contemporary home. They are sure to enhance the overall aesthetic of any room they are placed in.
7
1943 Children On The Street In Harlem New York City Photograph By Gordon Parks
This print is a powerful and evocative piece of art that captures a moment in history and celebrates the beauty and resilience of Black life. The print is a photograph taken by Gordon Parks, who is one of the most important photographers of the 20th century. It is part of his larger body of work documenting life in Harlem during the 1940s. The photograph celebrates the resilience and spirit of the Harlem community during a time of great social and political change. Parks was a groundbreaking photographer, writer and filmmaker who used his art to challenge stereotypes and expose social injustice. He was the first Black photographer to work for Life magazine where his work, which documented the civil rights movement and other important moments in history, had a lasting impact on the art world and beyond.
Our editors love finding you the best products and offers! If you purchase something by clicking on one of the affiliate links on our website, we may earn a commission at no extra cost to you.
---
---
Decorate
Access design inspiration that infuses personality and culture into your spaces.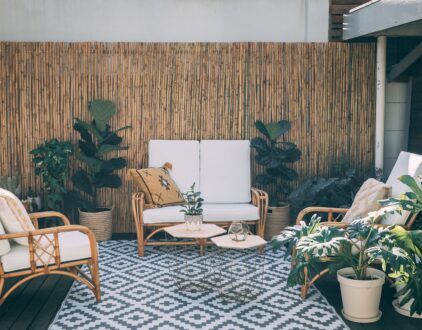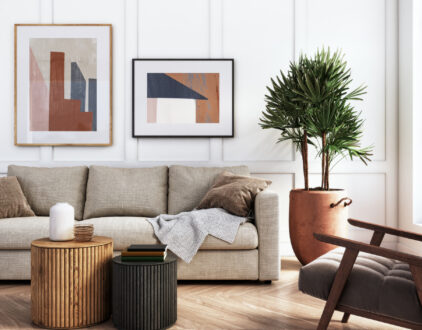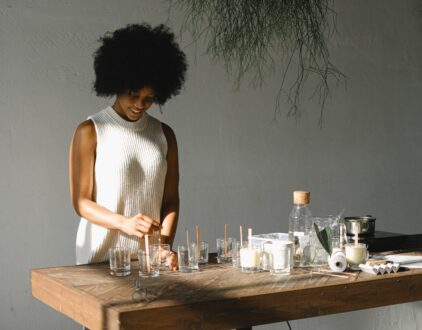 ---
Spaces
Whether it's luxury or ease, every area of your home should be as fabulous and unique as you.
FOLLOW ALONG ON INSTAGRAM
Find us on social for more home inspiration where culture, personal style, and sophisticated shopping intersect to help you create a home where you love to live.