Afro-Deco is a design aesthetic that combines vivacious, bold colors with the Black diaspora culture. The celebrated Baltimore artist Tom Miller, whose artwork is labeled as Afro-Deco said that the Afro-Deco movement is about the "joyful sides of the black experience."
With that being said, Afro-Deco isn't used as often as its mainstream counterpart Art-Deco. Art-Deco, which gained popularity with artists like Picasso, heavily relied on Black diaspora imagery and inspiration to create a more exotic style of art.
The History Of Afro-Deco
View this post on Instagram
In 1996, there was a New York Times article about the Deco movement that highlighted the unknown inspiration and influences behind the celebrated art style. As reported, Black architects such as Hilyard Robert Robinson, who was responsible for some of the original prototypes of public housing, were kept out of the movement despite their revolutionary engineering and urban design experience that set the tone for public housing as we know it.
But that's not all.
Visually, the Deco movement heavily relies on dashing, bold colors and intricate geometrics that can be found on African artifacts. So how did an African-inspired art movement become so whitewashed?
The Deco movement as we know is seen by some as a form of cultural appropriation. The Deco movement took Black expressions and art and packaged them as exotic forms of art that Europeans adored. Even Cubism is inspired by African art and artists.  You can see the African influence in celebrated Deco pieces such as Eileen Gray's "Rocket" lamp. Afro-Deco home decor has been popular for well over 100 years!
Black Creatives That Influenced The Art Deco Era
While we can't name every Black artist and creative that inspired the Deco movement, we can highlight a few. Josephine Baker, Aaron Douglass, Sargent Johnson, and most, if not all of the Black artists in the Harlem Renaissance.
From public buildings, gallery art, paintings, media, and literature, Black artists that lived during the Great Depression contributed (at times unknowingly) to what Europe and Western society deemed as the Deco style. During the Great Depression, there were Europeans that were forced to return to their home countries and the art world had to contend with acknowledging Black creatives for a spell.
This led to multiple Black creatives being sought out to fill the void in art during and post wartime.
Adding Afro-Deco Style To Your Home
View this post on Instagram
Chances are you already have AfroDeco home decor pieces in your home. Those Black girl magic paintings and those natural hair planters you love all reflect what Afro-Deco is. Afro-Deco home decor has an overt Black and African influence. Whether you purchase a painting or a vibrant table with African tribal printing on it, you are supporting the Afro-Deco movement.
Over the past several years, Black artists and creatives have been unapologetic about inserting their culture into their art. Lampshades made out of beautiful African wax print, throw pillows made out of different African cloths and of course, traditional African masks all suffice as various versions of Afro-Deco home decor.
Places To Shop For Afro-Deco Home Decor
Here is a short list of some of our favorite places to find Afro-Deco home decor.
While this list is not complete, you can use it as a starting point to find quality home pieces.
---
---
Decorate
Access design inspiration that infuses personality and culture into your spaces.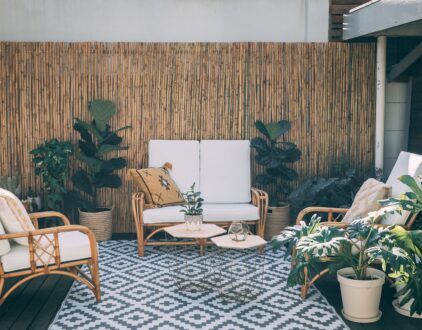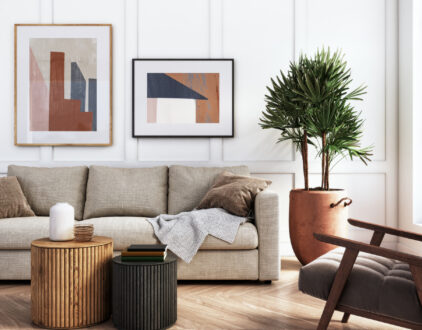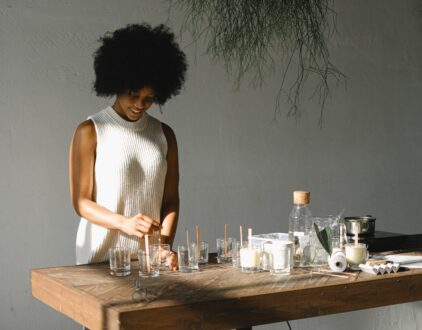 ---
Spaces
Whether it's luxury or ease, every area of your home should be as fabulous and unique as you.
FOLLOW ALONG ON INSTAGRAM
Find us on social for more home inspiration where culture, personal style, and sophisticated shopping intersect to help you create a home where you love to live.