Here's your chance to finally add some authentic and high-quality Jean-Michel Basquiat pieces to your home. The latest Ruggable x Jean-Michel Basquiat collaboration brings fine art to your home. These washable rugs are easy to clean and will swoon any art fan.
Why Everyone Is Obsessed With Jean-Michel Basquiat
Jean-Michel Basquiat remains the most lucrative and relevant artist in modern and contemporary art. He has been name-dropped multiple times in music and pop culture, solidifying himself as an icon in the art world. Owning an authentic Basquiat piece is a definitive social class symbol that comes with a hefty price tag. Basquiat's father used his foresight to realize that in order to keep his son's work relevant, he had to license his name. Eventually, his son's art weaved into pop culture and continued selling in the form of merchandise and other limited-edition items. Basquiat and his representation of Black artists and societal issues transformed how mainstream America views Black fine art.
Highlights From The Ruggable & Jean-Michel Basquiat Collab
This special collection features most of Basquiat's famous works. The doormats come in two sizes which include the cover and the mat. The rugs come in about eight different sizes that range from small area pieces that can fit right next to your door to runners and full-sized area carpets.
Now you can have a piece of Basquiat's art on an eco-friendly rug. This vibrant collaboration is ideal for anyone who loves interrupting color schemes in their favorite rooms. If you love a minimalistic look, these rugs will give you an unforgettable contrast.
Now, for those that love urban art and that feel of New York City in the '80s, these rugs will take you back to the days of graffiti and the famous hip-hop movie, Breakin'.
Check out what's available now from the Ruggable x Jean-Michel Basquiat collection while it still lasts.
Jump to Products
---
Jean-Michel Basquiat Dollars In Dimes Rug
If you want a beautiful piece of Basquiat in your home but want to stay with earth tones and muted colors, then this Jean-Michel Basquiat Dollars In Dimes Rug from the Ruggable collaboration has your name all over it. You can opt for the small, square doormat-shaped rug to fit inside your front or back door. If you choose this rug as a runner, it will fit perfectly in your hallways as the gray, black, and white tones offer a beautiful, chaotic aesthetic that can either warm up or cool down a room, depending on the decor you already have.
Jean-Michel Basquiat Electric Bones Doormat
Jean-Michel Basquiat has several well-known art designs, and the Electric Bones depiction is one of his most popular pieces. Even people who are not well-versed in Basquiat's work can easily identify this piece. This doormat is perfect as a welcoming mat for those who visit and enter your home. You have the option to buy this mat with or without the cover, and its vibrant detailing can be seen moments before you even stand over it. It is washable and fits in a standard washing machine which is a great convenience. If you are worried about damaging this doormat, you will be thrilled to know that this doormat traps dirt and other outside debris, so you won't be tracking anything in the home.
Jean-Michel Basquiat Beat Bop Rug
From a distance, this beautiful rug almost looks like a checkerboard. But once you see it up close and personal, you'll realize you're staring at Jean-Michel Basquiat's infamous Beat Bop cover art. Before the artist died he also dabbled in music, and this cover art is from a song he produced. Even though the colors are neutral, they are equally striking. This rug would make an exceptional area rug for any living room or dining area. At its largest size, you can buy this style rug in a 9x12 area size. This rug would complement wood, rattan, glass coffee tables, and leather furniture.
Jean-Michel Basquiat King Coir Doormat
Possibly one of the most recreated art pieces in urban and hip-hop culture, the Basquiat King is a classic signature look. From rapper Biggie to Jay-Z to even Netflix's "Luke Cage," Basquiat's crown remains synonymous with power and class. Now, you can have your own Jean-Michel Basquiat King Coir Doormat, available in two colors. Both the light and dark versions of this incredible Basquait statement piece can work for your curbside appeal. Your friends and neighbors will be in awe of this world-recognizable Basquiat motif that everyone loves. This stylish mat will stand the test of time every season.
Jean-Michel Basquiat Samo Skull Multicolor Rug
One thing about Basquiat is that he loved skulls, similar to his mentor Andy Warhol. This Samo Skull rug would look fantastic as a runner in the hallways of your home. The superabundant colors will blend with any color scheme you already have established in your home. With rich and warm colors such as a variety of reds, olives, gold, and dark brown, this runner will instantly bring more life to your room. If, for some reason, you find the multicolor option too busy for you, you can opt for the cool teal option available. The teal blue is perfect for the kitchen or library study.
Our editors love finding you the best products and offers! If you purchase something by clicking on one of the affiliate links on our website, we may earn a commission at no extra cost to you.
---
---
Decorate
Access design inspiration that infuses personality and culture into your spaces.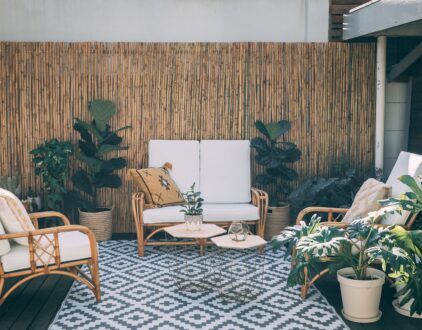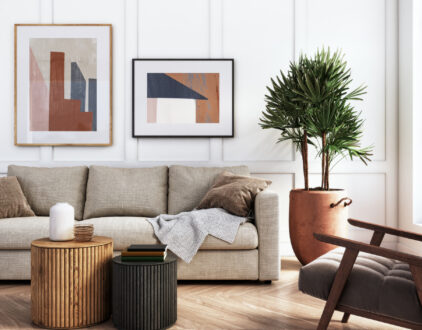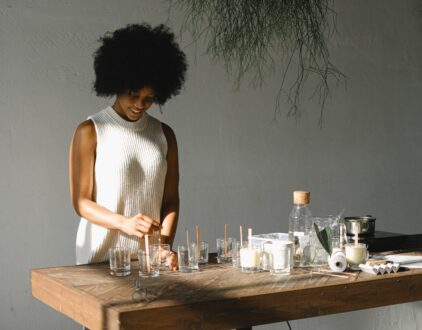 ---
Spaces
Whether it's luxury or ease, every area of your home should be as fabulous and unique as you.
FOLLOW ALONG ON INSTAGRAM
Find us on social for more home inspiration where culture, personal style, and sophisticated shopping intersect to help you create a home where you love to live.