Fall is here, and it's that cozy time of the year when we nest indoors until spring. As we enjoy the warmth of our homes, why not give our spaces a mini-makeover? Rugs have the magical power to instantly transform any room, making it more inviting and in tune with the season. The Perfect Rug, known for its customizable, high-quality, and affordable rugs, brings us this season's most irresistible rug trends.
Here are the top three styles you should consider when purchasing a rug this autumn.
Eco-conscious Living with Natural Rugs
With the world moving towards more sustainable living, it's no surprise that eco-friendly rugs are taking center stage this fall. The Perfect Rug's Bakari Jewel and Pathway designs are great picks for a fall eco-conscious home. Made from 100% hand-woven sisal, these rugs not only add a touch of nature to your interior but are also designed for durability. Their sturdy build ensures they remain in pristine condition, creating a peaceful vibe in your home.
Vintage Charm with Modern Cottagecore Rugs
There's a wave of nostalgia sweeping through home decor, with designs reminiscent of the classic English countryside. Known as the cottagecore trend, these rugs transport you back to simpler times. The Perfect Rug captures this essence beautifully with its Claudine and Alexander designs. Tap into nostalgic feels with a cottagecore rug this season.
Luxurious Patterns, Ornate Oriental Rugs
Luxury and fall go hand in hand. This season, opulent oriental rugs are in the spotlight, bringing with them a touch of elegance. While these rugs look pricey, The Perfect Rug proves that you don't have to break the bank for a touch of grandeur. Their Royalax II Scroll Stria and Royalax II New Keshan designs are made from a blend of wool and nylon and offer intricate patterns in rich colors. With a durable poly backing, these rugs are perfect for high-traffic areas in your home.
The best thing about The Perfect Rug's offerings is that each rug is fully customizable to fit every size and shape in your home.
Keep scrolling to discover the rugs we're adding to our carts this fall.
Bakari Jewel Rug
The Bakari Jewel rug is a standout piece this fall, crafted with a captivating diamond design and soft, understated hues. Made from sisal, this rug not only exudes natural elegance but is also a sustainable choice for eco-conscious homeowners. Its tone-on-tone aesthetic adds a touch of sophistication to any space, making it a perfect blend of style and environmental responsibility. Elevate your decor with this eco-friendly gem that's both stylish and in harmony with nature.
Pathway Rug
Embrace fall with the Pathway rug by The Perfect Rug. This rug is a testament to eco-friendly elegance. Made entirely from pure, natural sisal, this piece is more than just a rug; it's a statement in sustainable living. This rug is perfect for large spaces. It seamlessly offers style and an earthy touch to your interiors while championing environmental consciousness. Enhance your space this season with a rug that is as kind to the planet as it is easy on the eyes.
Claudine Rug
Elevate your space with the Claudine rug, tailored for the enchanting cottagecore aesthetic. Woven with 100% New Zealand wool, this luxurious patterned rug exudes both charm and comfort. Available in a variety of colorways, including Antique, Cornflower, Ebony, Sand, and Silvermine, it perfectly complements a rustic, homely ambiance. What makes the Claudine even more special is its customizable border. The recommended serging, done with either wool or cotton thread, accentuates the rug's beauty. Whether you opt for a thread that matches the primary rug color or choose from over 50 distinct shades, you're crafting a piece that's uniquely yours.
Alexander Rug
Infuse your home with the essence of cottagecore by adding the Alexander rug to your space. Masterfully crafted from 100% natural wool, its diamond/lattice pattern exudes an old-world charm while maintaining a fresh appeal. With regal colorways such as Beige, Black, River Rock, and Wine, it effortlessly elevates any room. To enhance its beauty and uniqueness, there's a serged border stitched meticulously with either wool or cotton thread.
Royalax II Scroll Stria Rug
Experience pure luxury this fall with the Royalax II Scroll Stria Rug by The Perfect Rug. With its romantic scroll pattern set against a solid base color, this rug instantly infuses luxury and warmth into your home. Crafted from a durable blend of 80% wool and 20% nylon, this rug is designed to withstand high-traffic areas while maintaining its stunning appeal. With five sophisticated colorways—Ebony Sky, Green Leaf, London Fog, Robin Eggs, and the rich Royal Blue—this rug promises a touch of elegance tailored to your taste.
Royalax II New Keshan Rug
The Royalax II New Keshan rug flawlessly blends modern and traditional Persian designs against a delicate stria backdrop. Crafted from a durable mix of 80% wool and 20% nylon, this rug promises to withstand heavy foot traffic while maintaining its rich aesthetic. Whether you're drawn to the deep tones of Ebony Sky, the misty allure of London Fog, the serene Robin Egg, or the regal Royal Blue, there's a colorway to enhance every space with timeless luxury.
Our editors love finding you the best products and offers! If you purchase something by clicking on one of the affiliate links on our website, we may earn a commission at no extra cost to you.
---
---
Decorate
Access design inspiration that infuses personality and culture into your spaces.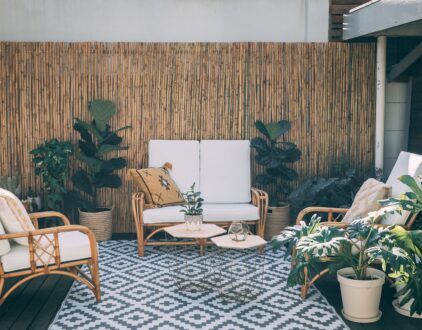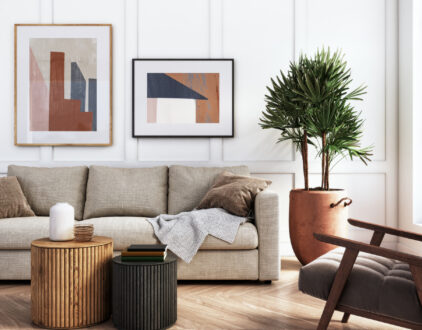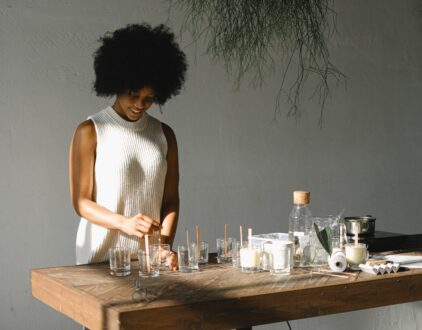 ---
Spaces
Whether it's luxury or ease, every area of your home should be as fabulous and unique as you.
FOLLOW ALONG ON INSTAGRAM
Find us on social for more home inspiration where culture, personal style, and sophisticated shopping intersect to help you create a home where you love to live.