Have you ever visited a tropical destination and wished you could bottle up the vibe and bring it home with you? Puerto Rico did just that. In January 2022, the island collaborated with Pantone Color Institute® in becoming the first tropical destination to create its own color. The color, Puerto Rico Sunshine, is a beautiful red-orange shade representing the vibrance and warmth of Puerto Rico. 
View this post on Instagram
"Puerto Rico Sunshine is the tangible embodiment of the sunlight in Puerto Rico. This undertaking permits those who cannot wake up to our beautiful sun the opportunity to bring a bit of it into their personal spaces," says Cristina Villalón, Principal Interior Designer and the Director of Álvarez-Díaz & Villalón® | Architecture & Interior Design. Villalón partnered with Discover Puerto Rico on interior design tips when the collaboration launched. 
If you live in the northeast, colder months can cause seasonal depression, especially if you work from home. Adding color to your environment is a great way to boost your mood and refresh your home's aesthetic. 
"Orange is a dynamic color often used to add energy to a room and make a space come alive. If you live in a cold place, adding an orange wall will automatically add warmth to the space," shares Villalón. 
Painting your walls in a vibrant color can be intimidating, especially if you lean on the minimalist side. Villalón recommends "Painting one wall in a room the brighter, statement-making color, and the rest a natural. Not only will the accent wall stand out and become a focal point, but it won't be overpowering."
Development process
Puerto Rico Sunshine, the island's official Pantone Color Institute shade, was scientifically developed by Héctor Jiménez, Ph.D. The Boricua physicist calculated the color of sunbeams throughout Puerto Rico when developing this warm and inspiring color. 
Puerto Rico Sunshine is currently available. You can find it here. 
Jump to Products
---
Feeling inspired? Shop these items.
2-Piece Ceramic Vase
Vases are great for adding character to any space. Vases are the finishing touch, whether used on a bookshelf in your office or on the mantle of your fireplace. If you're apprehensive about adding color to your home, having an accent orange vase is a good start.  With its hollowed-out middle, this vase is great for those who embody the contemporary design style. You can add flowers to it or use it for decoration as is. This 2-piece set comes in a taller vase and a shorter vase that can be placed next to each other or in different areas in your home. 
Mid-Century Modern Ottoman
Choosing a good ottoman is important as it's an extension of your chair or couch. They can be used to kick your feet up after a long day while watching TV or reading a book. They can also be used as a table and storage unit. These pieces of furniture are both functional and decorative.  This red-orange ottoman embodies Puerto Rican sunshine with a contemporary design style. It provides comfort and is a great conversational piece. Add this ottoman to a neutral color palette for a pop of color, or mix it with other colors and patterns for an eclectic twist. 
Velvet Curtains
Although used to block light from windows and drafts from window and door openings, curtains are decorative. This design choice adds intentionality to your home. Think of curtains as jewelry for your room. It's a subtle touch that makes a big difference. Curtains also add texture, color, style, and warmth to spaces.  Bring the sunshine of Puerto Rico into your room with these velvet red-orange curtains. They are thermal insulated curtains, perfect for keeping the light out while adding vibrance to your home. This curtain's fabric blocks up to 75% of light and goes with any design style. To clean, just machine wash cold and hang to dry. 
Tiffany-style Floor Lamp
Tiffany lamps are iconic in the design world, designed by Louis Comfort Tiffany. They are never machine made or mass-produced, making them extremely valuable. Authentic Tiffany lamps are hard to find, and the most expensive one was sold at a Christie's auction for $2.8 million.  This Tiffany-style lamp gives the same appeal at a more wallet-friendly price. It gives your room a glow and warmth. The dupe embodies Puerto Rico Sunshine and dazzles in any room. It adds a subtle pop of color to your office or living room. Since the glass shade has been protected with mineral oil, use a soft dry cloth when cleaning. 
Fuzzy Comforter Set
There's no better feeling than getting into a warm, cozy bed on a cold winter's night. This fuzzy comforter set is everything you would want from a comforter. The orange shade brings vibrance to your room and tempts you to hit the snooze button in the morning.  The soft, breathable fabric makes this comforter set especially great for cold areas and winter months. With a color as welcoming as the Puerto Rican sun, this comforter can be used for guest bedrooms and your own primary suite. To clean, wash in cold water on a gentle cycle with like colors. Air dry or tumble dry on low. 
Modern Handmade Wooden Wall Clock
This handmade wooden wall clock is unique and represents the Puerto Rico sun. Each part of the clock was hand-sanded, hand-painted, and hand-assembled. The clock is non-ticking and noiseless, perfect for your home office or areas where you want to feel inspired. Imagine being on back-to-back Zoom meetings and looking up at a sun-shaped clock to remind you that it's essential to go outside and soak up the vitamin D. Although a battery powers the clock, this analog wall clock does not include batteries. Whether you're a contemporary design style or eclectic, this clock will work perfectly in your home and will remind you of the happiness that the sun provides.
Large Fluffy Faux Pampas Grass
Pampas grass is a beautiful addition to any home. They're fun to look at and great in at-home social media content. This faux pampas comes in a color that instantly brightens your home and mood. There's no shedding, and it's made of high-quality silk. Each set is handcrafted, and the size is perfect for a large vase. This set will look incredible in a bohemian-style home as well as contemporary. It adds character and texture to any room and looks especially beautiful in your living room, bedroom, and kitchen. Adding colors to your home is a great way to add personality and flair.
Textured Throw Blanket with Tassels
The great thing about throw blankets is that they can be used all year, even during summer. They're perfect for curling up with a good book and a glass of wine or getting cozy while binge-watching your favorite television show. This textured throw blanket has a cashmere feel and is lightweight yet warm. It has a beautiful knitted zigzag design, adding style to any room it's in. When it's not in use, you can find it over the arm of your couch to add color and texture to your room. It's elegant and chic and works with all design styles.
Our editors love finding you the best products and offers! If you purchase something by clicking on one of the affiliate links on our website, we may earn a commission at no extra cost to you.
---
---
Decorate
Access design inspiration that infuses personality and culture into your spaces.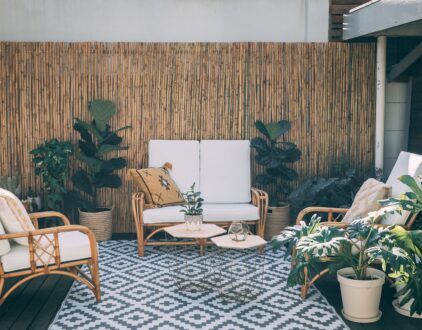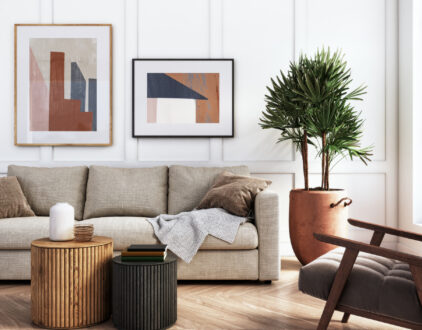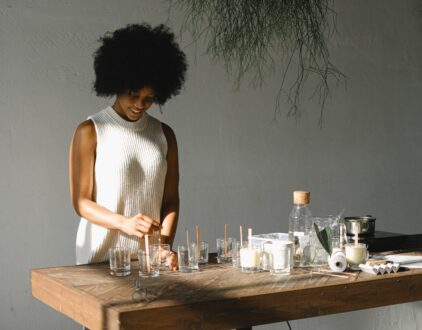 ---
Spaces
Whether it's luxury or ease, every area of your home should be as fabulous and unique as you.
FOLLOW ALONG ON INSTAGRAM
Find us on social for more home inspiration where culture, personal style, and sophisticated shopping intersect to help you create a home where you love to live.