After a long day of work, sometimes the best way to cope is by watching mind-numbing television. Oftentimes this includes a meal from our favorite local restaurant ordered on a meal delivery service app or thrown together quickly using ingredients in our refrigerator and pantry.
Eating in front of your tv can cause overeating and weight gain, but sometimes it's the easiest option. "It's fine to sometimes have a snack in front of the TV, but when it becomes a repeated pattern, or when eating and watching TV become cognitively linked, then it becomes an unhealthy pattern," says psychologist Susan Albers, PsyD to Cleveland Clinic.
According to a study by The American Journal of Clinical Nutrition, we eat more when distracted. "I think eating while watching TV also prolongs the time period that we're eating. If your show is an hour long, you might continue to eat throughout that time period," says Albers.
If you would like to limit the number of times you eat in front of the TV, a few things will help. To practice mindful eating, try to limit the time you snack in front of the TV, choose healthy snacks, like fruits and vegetables, and watch TV with someone else as we tend to eat less around other people. You can also try doing an activity while watching TV, such as coloring, knitting, and painting your nails.
We know that, at times, watching TV while eating is inevitable, so if you must indulge, why not do so in luxury?
TV trays remind us of the times growing up when we weren't allowed to eat in front of the TV. Being able to eat on a TV tray while catching up on our favorite shows is a reminder that we're adults now and can do as we please, no matter how "good" or "bad" it may be for us.
Jump to Products
---
Here are five chic trays to try when dining with a side of television.
Handwoven Rattan Serving Tray Stand
This handwoven rattan serving tray stand is great for bohemian design style enthusiasts. Using Burmese rattan, this tray is perfectly woven by local artisans in Myanmar and can be used for breakfast in bed while watching TV or in the evening with dinner and a glass of wine. If you're all about sustainability, this tray is made responsibly and celebrates the craft of the local artisans who made it. Best of all, it won't cramp your style. The tray can work in tandem with your living room interior decor. Store it on your coffee table and bring it out when you need a food and TV session. It's beautiful, functional, and easy to clean. What more could you want from a TV tray?
Modern Tray Table
New Yorkers and those who live in small spaces will love this modern tray table. Not only is the tray perfect for dining while watching TV, but it also has storage. The storage compartment can be used for your remote, hand lotion, lip balm, glasses, and anything else you may need while lounging on your couch.  The acacia wood C-table is sturdy and supports up to 30 pounds. It's great for sliding over the arm of your couch, making your at-home dining experience enjoyable and comfortable. You can also use the tray table to get work done, as it's comparable with most laptop sizes. 
Slim End Table With Charging Station
We love a multi-dimensional TV tray! This c-shaped tray table includes two USB ports and outlets, making it convenient and functional. Not only will you be able to dine while watching TV, but you'll also be able to charge your iPhone, iPad, and laptop from the comfort of your couch. The electrical cord attached to the tray table plugs into your wall and is 6.5 ft long.  The side shelves have a pocket and large bag that are great for storing your tablet, magazines, and newspapers. The two medium bags are great for storing notepads, and the three small cloth bags are perfect for your remote control and cell phone. 
Acrylic Bed Tray
This bed tray is a must-have if you're in on the acrylic decor trend. The great thing about acrylic home decor items is that they fit in with just about every design style. Whether you're into luxe legacy, contemporary, minimalist, eccentric, or even bohemian, this tray can work with your decor.  It fits perfectly over your lap, and the thick acrylic top ensures your food is stable while you dine and are entertained by the latest episode of your favorite tv series. This tray is incredibly easy to clean; just hand wash and dry with a soft cloth or paper towel. 
Walnut Side Table
A well-designed TV tray table is a must. Functionality is great, but a piece built to last is essential. This Portima Side Table has an adjustable height to ensure your comfort is at the forefront. Made with solid wood, it's big enough to hold your meal and drink. When you're not dining, it's great for holding your laptop and your beverage of choice. We love a piece that is versatile and stylish. The powder-coated steel base slides under your couch or chair, so your necessities are always at a comfortable arm's reach. This tray table works great with contemporary and minimalist design styles. 
Our editors love finding you the best products and offers! If you purchase something by clicking on one of the affiliate links on our website, we may earn a commission at no extra cost to you.
---
---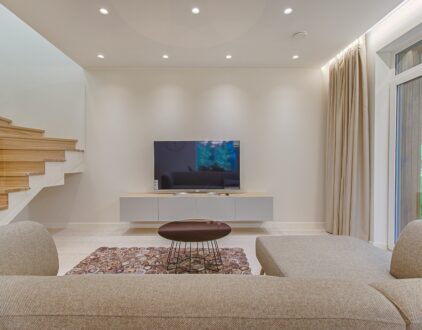 ---
Spaces
Whether it's luxury or ease, every area of your home should be as fabulous and unique as you.
FOLLOW ALONG ON INSTAGRAM
Find us on social for more home inspiration where culture, personal style, and sophisticated shopping intersect to help you create a home where you love to live.