A kitchen is the heart of every home, which is why it's important to have a well-stocked space with stylish and functional items you enjoy using. Beyond that, having these items on deck when you need them is so convenient, especially for busy homeowners. Whether you stock up on dish soap or storage containers, maintaining a full kitchen comes in handy when creating delicious meals and preserving food. The best part? You can do that and support a Black-owned business in the process. To help you get started, we've rounded up seven Black-owned kitchen staples you should know about.
The Benefits of Having Quality Kitchen Items
Beyond storage, kitchen items are useful for other tasks, from providing structure and organization to even helping you save money. You can make use of these items by organizing ingredients. This provides better visibility, keeping your ingredients readily accessible to anyone who needs them at any time. To take advantage of this space, add storage containers in varying shapes and sizes to your pantry to keep the area clean and tidy.
Did you know that having an organized kitchen can actually save you money? When your kitchen is orderly, you can easily check which ingredients you already have and preserve leftovers. As a result, you can avoid re-ordering foods on your grocery list because you overlooked them.
Keeping the area neat can also help you save money because you can clearly see what you have to create meals or snacks with what's already inside your kitchen. This also reduces food waste since you're less likely to lose or forget what's clearly visible to you.
Black-Owned Kitchen Items To Add To Your Home
Having kitchen items on deck when you need them is so convenient, especially for busy homeowners. Whether you stock up on stylish decor, spices, or baking supplies, maintaining a full kitchen comes in handy when hosting and creating delicious meals. Scroll to find our favorite items you should add to cart immediately.
1
Humpday White Table Runner
Add an artistic flair to your dinner table with this table runner from Rochelle Porter. Made from organic cotton and linen canvas, it features an assortment of arches in varying shapes and sizes to add visual interest. The fabric is dyed using eco-friendly materials, so not only are you helping a Black business, but the environment as well.
2
Parawood Round Wooden Salt and Spice Box
Spice up your pantry with this Parawood Round Salt and Spice Box from superstar Ayesha Curry. It includes two compartments for holding your salt, pepper, and other seasonings. And its matching swivel top is a stylish addition to your countertop.
3
Broad Curved Cutting Board
Crafted from premium wood, this cutting board is durable enough to handle your every chopping need. Its smooth surface and broad curving edges aren't just cool to look at, they're designed to make food prep a breeze. Plus, this cutting board is easy to clean so you can be sure you and your family are eating from a safe, sanitary surface.
4
Skin Sensitive Dish Soap
Enjoy squeaky clean dishes with this Black-owned dish soap for people with sensitive skin. Scented with lemongrass, this vegan dish is free of sulfates so your skin remains soft and supple after every cleanse.
5
Porter Ceramic Bowl
For a convenient way to store single meals, try this Porter Ceramic Bowl from ECOVIBE. It includes a protective silicon wrap for insulation and an innovative snap-tight lid for easy transport. Safe to place in dishwashers and microwaves, this ceramic container is the perfect complement to your lunchtime meal.
6
Food Storage Containers
Need a better way to organize your kitchen pantry? Try this set of five food storage containers from Clean Design Home. They come in a variety of sizes so you can store everything you need, from dried pasta to cereal. Plus, each container comes with an accompanying airtight lid, so you can keep your food fresh for longer.
7
Checkered Glass Coaster
This set of four glass coasters is a steal for homeowners who enjoy hosting. Place your hot and cold beverages on the coasters to keep your surfaces neat and clean. Available in multiple colors, this set is the perfect pantry staple to show off your personality and style.
Our editors love finding you the best products and offers! If you purchase something by clicking on one of the affiliate links on our website, we may earn a commission at no extra cost to you.
---
---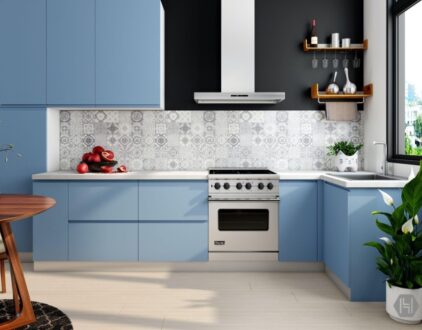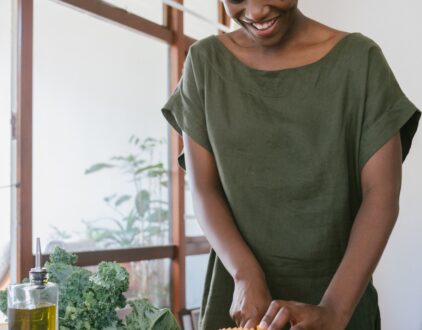 ---
Spaces
Whether it's luxury or ease, every area of your home should be as fabulous and unique as you.
FOLLOW ALONG ON INSTAGRAM
Find us on social for more home inspiration where culture, personal style, and sophisticated shopping intersect to help you create a home where you love to live.