Imagine sitting on the beach—as the salty smell of the ocean permeates the air, you twiddle grains of sand between your toes and feel the sun on your skin. You raise your eyes and take a deep breath: Nothing is in your view besides clear blue skies. Visualizing yourself on the beach is a relaxation technique in therapy, yoga, and other wellness activities, but have you ever considered why?
Color psychology, the study of the effects of colors on a person's mood, emotions, and behaviors, tells us that blue signals feelings of calmness and relaxation. Though blue is often associated with sadness, research has shown that people are more productive and creative when working in a blue environment. The positive effects of blue make it an ideal choice for your home's color scheme. Yet, which shades best complement this primary color other than white?
Consulting the Color Wheel
If you can't decide or are unsure which hues will match your blue decor, take a look at the color wheel. A color wheel is a tool that can help you pick a color combination that works for your space. It charts the relationships between the colors in the rainbow by dividing the spectrum into 12 shades and three categories: primary, secondary, and tertiary colors. Within those categories, hundreds of combinations exist.
Blue, red, and yellow are the primary colors. Subsequently, orange, green, and violet are secondary colors. Thirdly, tertiary colors are created by mixing primary colors with secondary colors. Remember, more blending equals less vivid hues.
For those needing quicker and simpler inspiration, keep reading for a few elegant colors to combine with blue that will take your home from singing the blues to a once-in-a-blue-moon interior wonderland.
Red
When combining red, white, and blue in your home, you want to ensure you're not constantly thinking of the American flag, especially in a main living space.
In this bedroom, the small touches of blue direct the eyes to objects you might often reach for with your hands: the phone, light switch, and curtain. Such styling gives the scarlet red a sense of purpose and necessity that feels charming and inviting.
Yellow
Blue is secondary in this colorful living room, making it stand out even more. Along with mixing styles and textures in the space, these vibrant blue ottomans are straight out of the interior design handbook. With such bold decor, you can't tell which seating piece is an accent and which isn't. Nevertheless, it's clear that the ottomans are front and center for maximum visual appeal.
Green
Deep blue and green blend into each other so flawlessly that the distinction between the pair is almost undetectable. A combination of nature, blue and green are perfect for one another. Similarly to how the sun and the sky nourish the trees, your home should nourish you.
Brown
A hint of blue surrounded by another color, such as brown, gives a taste of interior expertise. The blue bed frame and blue artwork are a cohesive pairing that keeps you from wanting more. It's just enough to satisfy your "blue tooth."
Gold
Elegance and sophistication are the focal points of this royal bedroom. From the plush velvet furniture and throw pillows to beautiful gold trimming and knobs, the use of multiple shades of blue sets this look over the top.
Orange
Orange is best for accent decor. These pillows offer the right amount of contrast to the navy bed frame, rug, and grayish-blue curtains. Likewise, the artwork points the eyes directly to the pillow and bed combination below it, while the orange footstools give the room a sense of coziness.
Pink
The most popular and traditional color match for blue: in comes pink. For a minimalistic brush of pink, go for accent decor. The subtle baby pink lamp shade, barely-there bubblegum table book, half-pink color-blocked rug, and dusty rose florals are simple touches that elevate this entryway. If you're into bold looks, pink furniture is always an eye-catcher, especially pink seating. Finally, for ultimate glamour, consider adding pink bar stools, ottomans, couches, and accent chairs in your kitchen or living room.
---
---
Decorate
Access design inspiration that infuses personality and culture into your spaces.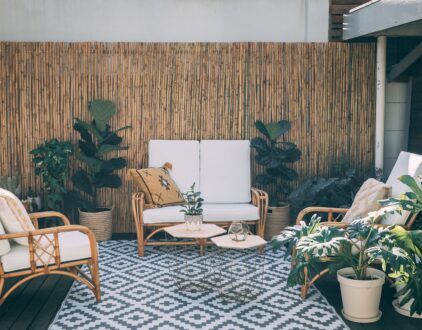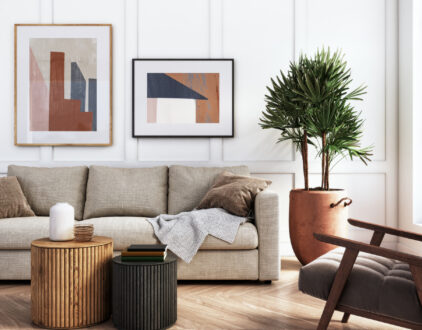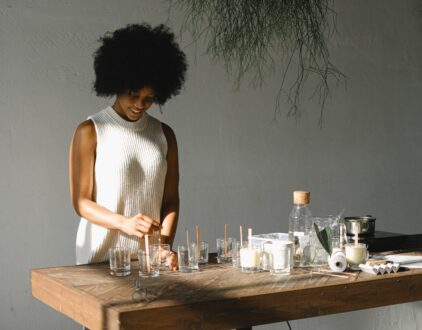 ---
Spaces
Whether it's luxury or ease, every area of your home should be as fabulous and unique as you.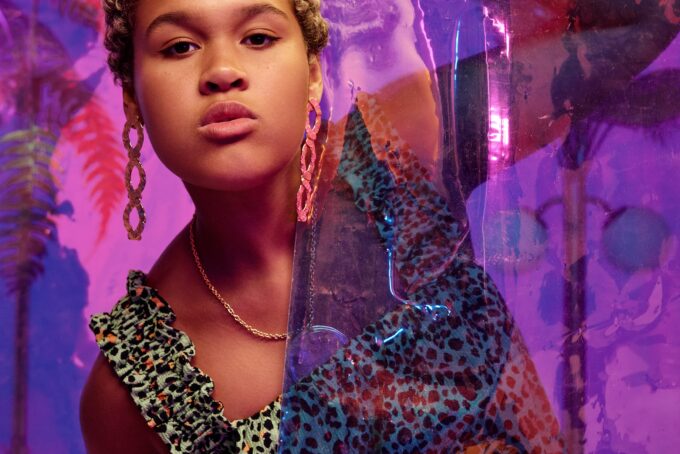 FOLLOW ALONG ON INSTAGRAM
Find us on social for more home inspiration where culture, personal style, and sophisticated shopping intersect to help you create a home where you love to live.