Canopy beds are a classic style of furniture that has been around for many years. Throughout history, they added a touch of sophistication to a space. The same still holds true today. In the realm of interior design, few furnishings possess the power to transform a bedroom into a sanctuary quite like canopy beds.
Canopy Beds: A Brief History
Canopy beds were used to provide privacy years ago. In the medieval days, heavy curtains or drapes covered the bed to prevent gusts of wind or even insects from ruining a sleep experience. Later, they became more decorative, symbolizing high status.
Today, they are celebrated for their beauty. They are known to create a dreamy, enchanting ambiance. The defining feature of a canopy bed is its decorative fabric covering, known as the canopy, which hangs above the bed frame. Many canopies are made from sheer fabrics such as chiffon or silk to provide an ethereal aesthetic. When made from heavier fabrics such as velvet or brocade, they produce a more dramatic effect.
The great thing about canopy beds is that they are available in multiple styles, from romantic to modern. Because of this, they are a great way to enhance the mood of a space. For example, a sheer canopy can promote an airy or whimsical aesthetic. And a thick canopy in a deep color can make a space feel quite opulent.
Beyond their attractiveness, they are also pretty practical. As stated before, they can provide a level of privacy depending on the style of your canopy. This can create a comfortable and tranquil space that you can make your own. It can also make the bed a focal point in the room, drawing even further attention to its attractiveness.
5 Canopy Beds for Easy, Breezy Beauty Rest
Whether you have a grand master suite or a welcoming guest room, canopy beds are an ideal choice for any bedroom. Here are five styles to shop to maximize your sleep quality:
1
Queen Canopy Bed Top
This Queen Canopy Bed Top is made from quality doubled cotton fabric to provide an airy, comfortable aesthetic. It is handmade using net tying techniques, which means you can bet that each canopy bed is made with immense care. This canopy bed includes 26-ply tassels to create an extraordinary 10, 12, or 15 inch drop length detail. And in addition to their beauty, they also come preshrunk so you can enjoy them for a very long time.
2
Wrought Iron Canopy Bed
This twisted canopy bed is the perfect way to get a taste of the Great Outdoors from the comfort of your home. It features winding timbers, flowing branches, and leaves forged by hand to take your beauty rest to new heights. You can also enjoy a taste of history as each canopy bed is handcrafted with tools and techniques that were used 150 years ago and counting. Even better, the beds are made from quality iron with a low VOC finish, making it sturdy and built to last.
3
Organic Cotton Canopy Bed
This ethereal canopy bed is sure to enhance your bedroom. It is made from organic cotton, making it soft and lightweight, perfect for promoting an airy, tranquil ambiance. Each canopy bed is made in Bali so you can be sure that it was handcrafted with the utmost care. It includes four openings that can be secured with tassels, making for a stunning escape from the hustle and bustle of everyday life.
4
The Mawar Canopy Bed
The Mawar canopy bed provides a dreamy way to fall asleep. Featuring ethereal double-hemmed cotton borders, this canopy bed is perfect for promoting a calm and tranquil ambiance for resting. Its light and airy style can keep you cool at night. And its double opening means two can tango in this bed. If you want a canopy bed that feels like you are sleeping in the clouds, this one is for you. The best part? It comes with an adorable accessories bag to store your belonging in style.
5
Black Gothic Canopy Bed
If you can appreciate a dark, vampy aesthetic, this Black Gothic Canopy Bed is perfect for you. Made from premium materials, this canopy bed is certainly built to last. It includes four corner posts complete with intricate carvings to transform for bedroom into a gothic wonderland. Its sheer, black curtains provide just the right amount of privacy. And its sturdy bed frame is sure to withstand wear and tear for many, many years.
Our editors love finding you the best products and offers! If you purchase something by clicking on one of the affiliate links on our website, we may earn a commission at no extra cost to you.
---
---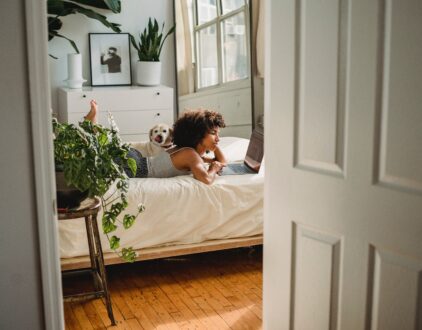 ---
Spaces
Whether it's luxury or ease, every area of your home should be as fabulous and unique as you.
FOLLOW ALONG ON INSTAGRAM
Find us on social for more home inspiration where culture, personal style, and sophisticated shopping intersect to help you create a home where you love to live.