In recent years, checkered decor has experienced a resurgence in popularity. We all know who brought it back in fashion (Hey, Vans), but interior designers cemented this classic trend in home styling decades ago. Timeless and nostalgic, checkered decor continues to captivate with its versatile and visually striking elements. From monochromatic black and white to vibrant retro hues, the pattern offers endless opportunities for creative expression for both the minimalist and maximalist.
Checkered decor effortlessly infuses a space with dynamic energy and personality. Whether floors, walls, or furnishings, the contrasting colors create an alluring visual appeal that can exude a sense of playfulness or elegance.
How To Do The Checkered Trend Right
In case you missed it, everything is available in checkered style now. Bath mats, towels, throw blankets, coffee tables, utensil holders, you name it. Yes, it's true. Nonetheless, when aiming for a minimalist or maximalist feel, you should create a harmonious balance between the pattern and complementary design elements.
One maximalist styling approach is using the checkered decor as a focal point. For instance, incorporating a bold checkered accent wall in a living room or dining area instantly draws attention and serves as a whimsical backdrop for other decor elements.
Likewise, minimalists might incorporate checkered elements as accents for a simplistic visual composition. In this approach, it's best to use checkered throw pillows, rugs, or curtains. Furthermore, choosing colors within your existing design palette helps to maintain a cohesive appearance.
Want in on the trend? Here are six checkered decor must-haves in our carts right now.
Check Bath Mat
The Check Bath Mat is on sale for 40% off, so catch this steal before it's gone. Available in pink, cappuccino, sky blue, and matcha, the mat is made of absorbent cotton with a soft texture. Ideal for mixing and matching, the patterned piece is part of a line of bathroom essentials. The colorways allow for a diverse pairing of muted and bold colors. And you're in luck—the matching towels are on sale, too!
Himachal Checkerboard Throw Blanket
The Himachal Checkerboard Throw Blanket's colorful whimsy is too hard to resist. The woven blanket features a shaggy texture for softness and comfort. A gorgeous checkered motif in vibrant colors complemented by finge tassels creates a textural element perfect for the maximalist. You won't find this UO Home exclusive anywhere else.
Backdrop Gambit Checkered Wallpaper
We love the two-toned detailing of the Backdrop Gambit Checkered Wallpaper. Shown here in the color pairing sage & deep green, it's also available in cocoa & charcoal and sky & deep navy. The design features shifts in color, paint marks, and ink washes to resemble a hand-tiled surface. Gorgeous for any room in the house, this wallpaper is minimalistic enough but could still grace a maximalist's home.
Sienna Checkered Bench
The Sienna Checkered Bench deserves a spot at the end of your bed or entryway. The upholstered piece is made to order and is available in taupe, black and white, burnt orange, and dark green. Though it doesn't take up much space, this bench is 30 pounds of wood, so you don't have to worry about its quality or durability.
Checkerboard Woven Shag Rag Rug
The Checkerboard Woven Shag Rag Rug is available in six sizes and seven colors, including honey, mocha, and cedar. It's already sold out in a few sizes and colors, so jump on this deal before it's gone. The fringing on each end is our favorite detail, creating an elevated yet fun look.
Check Utensil Holder
Get the Check Utensil Holder in blue, black, and white, or natural. Top-rated, this utensil holder is crafted from durable stoneware. The painted cylindrical silhouette belongs in a minimalist's home, especially for any designer looking for a hint of something bold. Dishwasher, microwave, and oven-safe, don't limit it's functionality to utensils. The possibilities are endless.
Our editors love finding you the best products and offers! If you purchase something by clicking on one of the affiliate links on our website, we may earn a commission at no extra cost to you.
---
---
Decorate
Access design inspiration that infuses personality and culture into your spaces.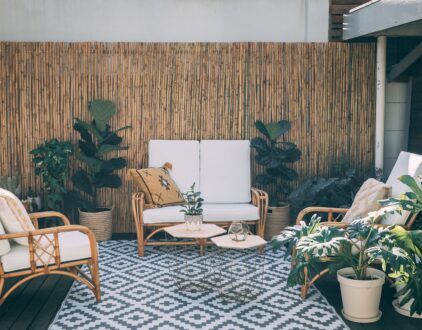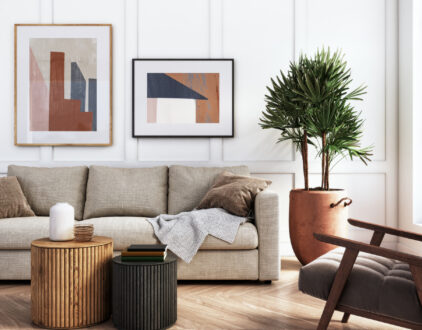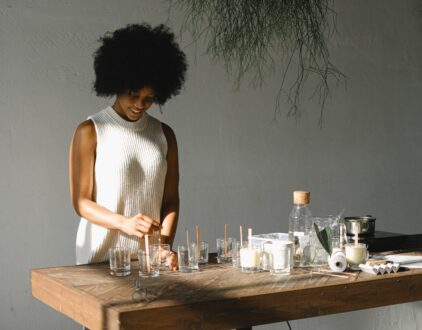 ---
Spaces
Whether it's luxury or ease, every area of your home should be as fabulous and unique as you.
FOLLOW ALONG ON INSTAGRAM
Find us on social for more home inspiration where culture, personal style, and sophisticated shopping intersect to help you create a home where you love to live.