Your home's interior is a chance to display your personality, tastes, and experiences without having to say a word. When choosing pieces for your home, you should choose unique ones that align with your personal design style. Coffee tables are a great way to add style and flair to your spaces without being overwhelming. It's a small piece of furniture that makes a big impact.
Here's why you should opt for a unique coffee table when designing a captivating and inviting space.
Sets The Tone for Your Room
A coffee table is a focal point of a room. It sets the tone and vibe in your space. Whether it's a bold, sculptural, or vintage coffee table, it can serve as a conversation starter and make a statement. Coffee tables are more than a surface to rest your magazines, remote control, and drinks on. They are a work of art that reflects your personal taste and design style.
Adds Personality and Character
Sure, you can get a coffee table that's mass-produced. However, it won't accurately reflect your unique style. Instead, consider choosing a coffee table with a unique shape and style or made from unconventional materials. Choices like industrial metal, artistic glass, or reclaimed wood can add a beautiful story to your space.
Enhances the Overall Vibe
Adding a unique coffee table to your room can add the finishing touch you need to your room. Select a piece that resonates with your desired mood to create a cohesive space that you look forward to being in.
Function and Style
Yes, having a unique coffee table oozes style and grace, but it can also be really functional too. Many unique designs have discreet storage compartments where you can store all of your living room needs, such as remote controls, magazines, books, coasters, and more.
Keep scrolling to discover unique coffee tables to update your living room space.
Jump to Products
---
Walnut Center Table With Wooden Balls
This coffee table will add an artful touch to your living room. With a wooden ball center, its unique look makes a statement and is a conversational piece. The piece is handmade with natural linden wood. Customize this table to your liking — you can purchase the wooden balls and glass individually. You can also purchase them as a set and use one ball or both. The wooden balls are solid and can be paired with a marble, travertine, wood, or glass tabletop. The bottom and upper surfaces of the wooden balls are flattened to ensure more stability. You can choose from different wood colors: walnut, natural, matte black, matte white, and raw. This allows you to choose a color that aligns with your aesthetic.
Modern Coffee Table With U-Shaped Legs
With a lift-top design, this coffee table is a masterpiece in its own right. It exudes modern beauty and contemporary techniques. It's a great table for writing and a beautiful resting surface for your drinks and books—the top lifts, giving you extra height as well as access to a storage compartment. The table comes with three ottomans, which can be stored under the table to optimize the space in your living room. When the ottomans are pulled out, they provide comfortable seating for you to work, read, and sip your morning coffee. The table top is made of a solid slate with a marble texture.
Handmade Wood Art Coffee Table
If you're looking to add furniture to your home that is a literal work of art, look no further than this magnificent coffee table. The design is unique and patented, so you can only find it from the designer. The intricate details and angles paired with the glass top makes this piece visually interesting. It's made of aged and inefficient beech trees, so no trees were harmed in the process. It's resistant to water, moisture, and impact and can last for many years. The product comes disassembled but is easy to install in your home. It looks great in modern, eclectic, and contemporary designed homes.
Shimmer Coffee Table
The iridescent finish on this table gives it a whimsical look. It's a striking piece, but not overwhelmingly so. Don't be fooled by this table's slim silhouette; it's very durable and a piece that will last for years. The table is made with laminated glass and round corners that are visually welcoming to guests. It adds subtle color to your space and can be paired with pieces with a neutral color palette for a minimalist look or layered with colorful pieces for an eclectic vibe. The piece is made in Italy and is the perfect way to ground your living room space while adding character and style. You won't have to worry about assembling because this table comes fully assembled.
Hew Coffee Table
This sculptural table will spark inspiration and creativity in your home. It's magnificent from any angle and is a statement piece for your home. You can choose from two finishes — walnut or black-painted ash. They're both well-crafted. The table is an arrangement of three shapes inspired by the designer Pat Kim — a pill, a teardrop, and a double bubble. The base has a tempered glass top; you can choose from an ellipse or half-moon shape. The glass is crafted to be brighter and clearer than the typical glass tabletops that have a green tint. This table is a must-have in your home if you're looking for an artfully designed, unique piece.
Our editors love finding you the best products and offers! If you purchase something by clicking on one of the affiliate links on our website, we may earn a commission at no extra cost to you.
---
---
Decorate
Access design inspiration that infuses personality and culture into your spaces.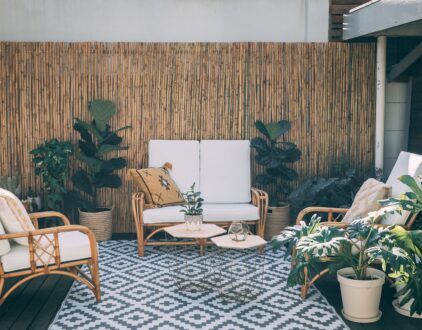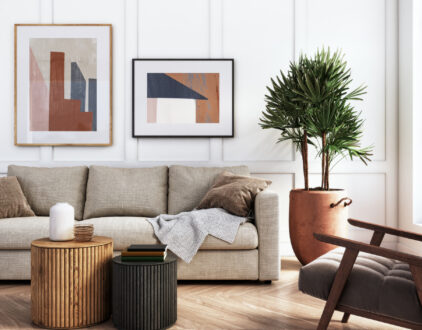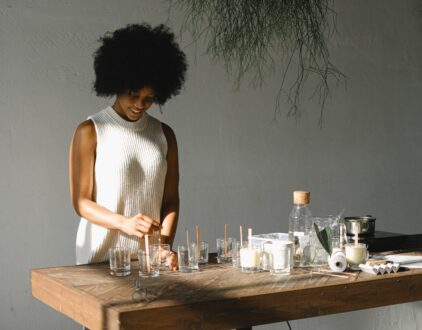 ---
Spaces
Whether it's luxury or ease, every area of your home should be as fabulous and unique as you.
FOLLOW ALONG ON INSTAGRAM
Find us on social for more home inspiration where culture, personal style, and sophisticated shopping intersect to help you create a home where you love to live.