The addition of an outdoor spa transforms your exterior space into a peaceful retreat. As the warm water relaxes the mind and body, you can drift off to a place of tranquility. Reaching that place requires solitude and privacy.
Though you can't isolate your backyard from the rest of the neighborhood, there are ways to separate your hot tub for a more secluded experience.
Keep reading for ideas that will turn your at-home spa into a deluxe sanctuary of relaxation.
Build a Fence
Divide off your outdoor space by surrounding the perimeter of your home with a fence. While a costlier and more time-consuming option, this renovation idea ensures complete privacy during your spa days. Since fences are made from many materials, you can definitely find a style that complements modern and stylish decor.
Buy a Privacy Screen
Privacy screens are the perfect solution for those who want something full coverage, but temporary. These screens come in different shapes, sizes, materials and patterns. Prices begin at $30, so they're great for all budgets and design styles. You also can shop privacy screens at your local stores, which makes them a quick and convenient choice for a last-minute renovation.
Pitch an Outdoor Umbrella
Outdoor umbrellas aren't for days on the beach or by the pool. Due to their opaqueness, umbrellas provide shade, protection from the sun's rays and privacy. Quality umbrellas are a little costly, but this option has an additional benefit of secluding from overhead. They're ideal for those with hot tubs that are lower to the ground and more easily seen.
Invest in Trees, Plants, Shrubbery
Depending on how you choose to place tall trees, plants and shrubbery around your hot tub, they can deliver complete solitude. With little to no gaps and holes, anything behind these beautiful works of nature will be hidden. There are faux options for those who are missing a green-thumb.
It's important to consider design aspects when seeking additions to your home. Incorporating texture and greenery to your outdoor space creates a lush feel that is sure to elevate your decor.
Hang Some Curtains
Another way to add texture, color and patterns to your outdoor spa area is by hanging curtains. If you're seeking total privacy, you can go with thick and heavy fabrics, but these will darken and increase the temperature within the surrounding area. Sheer fabrics will allow light to pass through, while keeping anything behind the curtain cool and away from clear view. While there are options for all budgets, make sure to choose curtains that specify outdoor use to avoid any potential damage caused by the elements.
Add a Gazebo or Cabana
Building a gazebo or cabana is expensive, time-consuming and requires some construction. Though that might sound daunting, these are perfect options for homeowners planning to stay in one place for a long time. Gazebos provide overhead privacy, while cabanas provide overhead and surrounding privacy with fabric draped walls.
Go with this if you want to feel like you're at an exclusive resort, right in your backyard.
Build a Wall
Constructing a wall allows for permanent solitude in your outdoor space. You can completely enclose your outdoor spa room and connect it to your home. You also can build an accent wall for a less confined effect. With this option, you are also meeting stillness and calm with your personal oasis as walls create a sound barrier.
Deck Out the Hot Tub
If you want to soak in peace and view the scenery, adding a deck to your backyard could be the solution for you. Moving your outdoor spa above ground level can place you out of the sight of your neighbors, depending on the height of your deck. Though you won't be entirely enclosed, decks also provide more space for entertaining guests and hosting events. The addition of a deck also can increase a home's value significantly.
---
---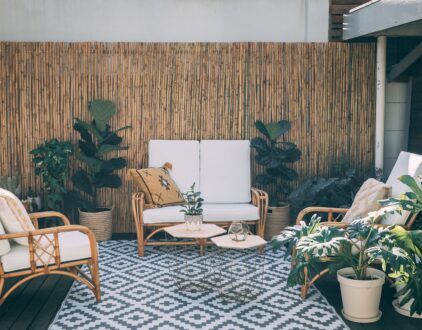 ---
Spaces
Whether it's luxury or ease, every area of your home should be as fabulous and unique as you.
FOLLOW ALONG ON INSTAGRAM
Find us on social for more home inspiration where culture, personal style, and sophisticated shopping intersect to help you create a home where you love to live.