Finding the perfect coffee table to fit the small spaces in your home can be a challenge; however, it's not impossible to find the right one. All small coffee tables have their own unique appeal, which makes them a perfect addition to any space.
Big tables do not always match with the furniture, and depending on your space needs, smaller tables may be the best fit.
Exquisite Coffee Tables for Small Spaces
View this post on Instagram
With small coffee tables, compact spaces still can have the storage you need. Downsizing the size of the coffee table also can help draw the eye to the center of the room, which gives the illusion that there is more space.
Smaller tables provide homeowners with the opportunity to enhance their interior design. They come in a variety of shapes and colors. It allows people to chose an option outside of the standard square and rectangular shapes. Tables with round shapes can make spaces look bigger when there is little room.
Small coffee tables also are perfect for storing miscellaneous household items. Homeowners can use the internal space in the coffee table to hold books, magazines, mail and more. The tables can help keep everything neat and organized.
Everyone deserves a cozy, living space. Homeowners shouldn't have to sacrifice style because they do not have enough square feet to decorate. Small coffee tables make the most out of the smallest spaces and add a beautiful accent piece to any room.
Home and Texture found some of the most exquisite ands stylish coffee tables for the small areas in your home. These tables will make your home look and feel more intimate and lavish. Homeowners will love the glamour, high quality and designs of the tables.
Jump to Products
---
Ageliki Coffee Table
The Ageliki Coffee Table by Lark Manor will make any room instantly look affluent. This drum-style coffee plateau is classy from start to finish. The minimalist hourglass-shaped design is highlighted in two finished color options: Antique Brush Gold and Antique Brush Bronze. This circular coffee table is not only stunning to look at it, but also has multifunctional uses. Users can transform the top of the table into a removable tray and use it to serve drinks.
Carson Oval Mod Rotating Wood Coffee Table
This retro 60s coffee table is a must-have in your home. The Carson Oval Mod Rotating Wood Coffee Table is a great choice for those who love a more vintage-inspired look for their space. You can make a statement without saying anything because this table will do the talking for you. Your guests will be mesmerized with this elegant rotating coffee table that can extend, providing extended table space.
Modern Glass Coffee Table
If you want a coffee table that will truly upgrade your quaint living space, then you need this modern glass coffee table set. This well-crafted 100% glass table comes in a lovely orange-stained color that looks similar to a designer pair of tortoise glasses. Each piece comes in a different size, allowing you the freedom to arrange them in any way you want and maximize the space you have available. Depending on your space, the glass can either add brightness or depth and warmth to your room decor.
Edonton Round Wood Farmhouse Coffee Table
If you are searching for a smaller coffee table that still has a warm charm to it, then you will want the Edonton Round Wood Farmhouse Coffee Table by Threshold. This coffee table provides a cottage-core appeal that will make the living area feel snugger. It has a classic, farmhouse aesthetic, which will bring people solace every time they enter the room. With its natural wood coloring, users won't have to worry about this table clashing with their decor.
Lift Top Coffee Table
When space is tight, storage is important. This lift top coffee table can solve a lot of space issues with style. With the look of a subtle, wood finish, this rectangular coffee table can work in any corner where space might be tight. The coffee table lifts up to reveal an impressive storage area that can fit books, your work computer, small boxes and more. If you work from home and don't have space for an office desk, this coffee table can be transformed into a work desk.
Our editors love finding you the best products and offers! If you purchase something by clicking on one of the affiliate links on our website, we may earn a commission at no extra cost to you.
---
---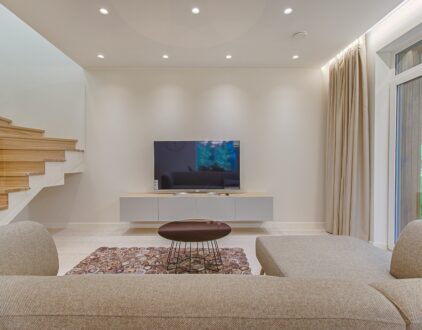 ---
Spaces
Whether it's luxury or ease, every area of your home should be as fabulous and unique as you.
FOLLOW ALONG ON INSTAGRAM
Find us on social for more home inspiration where culture, personal style, and sophisticated shopping intersect to help you create a home where you love to live.