Just because you have limited kitchen space doesn't mean you can't have a dishwasher. There are compact and portable dishwashers that make it a convenient solution for those with small kitchens. These dishwashers may have a smaller capacity compared to standard-sized dishwashers, but they still perform well and are great for thoroughly cleaning and sanitizing your dishes while saving you time, water, and money.
Here's what you should consider when choosing a compact dishwasher for your kitchen:
Size and Dimensions
Small dishwashers are designed to fit perfectly into tight spaces. They are usually more narrow and shorter than standard models. They are great for installing in small kitchens without having to sacrifice countertop or cabinet space. Measure the available space in your kitchen to ensure the dishwasher fits seamlessly.
Capacity and Load Options
There is reduced capacity with compact dishwashers compared to their larger counterparts. They're great for smaller households. It's important to consider the number of dishes you typically use and choose a dishwasher that will accommodate your needs. Some compact dishwashers have adjustable racks, allowing you to customize the appliance to fit various dish shapes and sizes.
Energy Efficiency
Look for compact dishwashers with high energy efficiency ratings. This helps reduce water and energy consumption, resulting in a smaller environmental footprint and lower utility bills. Look for dishwashers with the ENERGY STAR label. This means they met strict energy-saving standards.
Noise Level
Consider the noise level of the dishwasher. This is important if you live in an open-concept space or if the dishwasher is near living areas. Look for models with quiet operation features.
Features and Functions
Compact dishwashers are small yet mighty. Many models come equipped with multiple wash cycles, adjustable or removable racks, and energy-saving modes.
Compact dishwashers are usually a more cost-effective choice than standard-sized dishwashers. They're great for saving space, money, and water.
Compact Dishwashers We Recommend
COMFEE Portable Mini Countertop Dishwasher with 5 Liter Built-In Water Tank
This mini countertop dishwasher is ideal for tiny kitchens. You can put the dishwasher in any place without having to connect it to your tap. To get started, add water manually in the 5-liter built-in water tank. It can wash over 30 items at a time and fit 9.5-inch plates. It is suggested to use standard dishwasher powders and detergents. Do not use regular dish soap, as it will cause issues with the dishwasher. This dishwasher can thoroughly clean even the most soiled of dishes. It's also great for cleaning baby bottles and children's dinnerware sets. This dishwasher is great for apartments, houses, boats, dorms, campers and RVs.
Farberware Professional Compact Portable Countertop Dishwasher
This portable countertop dishwasher has a six-place setting capacity and washes dishes with the same power as a larger-sized dishwasher. This allows you to wash a variety of dishes that measure up to 10 inches in diameter. There is also a folding-down rack and a cutlery basket. This dishwasher is easy to connect and has accessories and adapters included to make the installation as simple as possible. There are seven washing programs: heavy, normal, baby care, light, glass, speed, and self-clean. The extra-drying function adds extra heat to the final rinse and enhances drying results. There is also a child lock so children can't accidentally start the dishwasher.
Hermitlux Countertop Dishwasher with 5-Liter Built-In Water Tank
Hermitlux's countertop dishwasher makes it easy to clean up after a meal while saving water compared to washing dishes by hand. This dishwasher can fit dishes up to 10.25" and has a four-place setting capacity. This dishwasher has five washing programs, including standard cleaning, fast cleaning, ECO cleaning, strong cleaning, and fruit cleaning. The dual high water pressure spraying arm ensures that dishes get a deep cleaning and are streak-free. This dishwasher is great for properly drying dishes and cleaning tableware, fruits, and vegetables. The built-in 5-liter water tank needs to be manually filled before use. It's the ideal choice for small spaces.
Firegas Portable Countertop Dishwasher with 5-Liter Built-In Water Tank
No installation is needed with this portable countertop dishwasher with a 5-liter built-in water tank. All you have to do is open the package and manually fill the built-in tank with water. You can also connect it to a faucet. There are six kinds of washing programs: standard, quick, power, eco, fruit, and hot air dry. It saves water and ensures your dishes are properly sanitized and sterilized. The double-tempered glass design gives this dishwasher noise isolation capabilities. There is a built-in light, which allows you to see the washing process. This dishwasher can accommodate dishes as large as 11 inches.
COMFEE Energy Star Countertop Portable Dishwasher
This portable dishwasher is great for apartments, small kitchens, RVs, and boats. It can fit up to 70 pieces of tableware and a plate up to 10 inches in diameter. It can be directly connected to the faucet or used with an adapter. There are eight washing cycles: heavy, normal, baby care, ECO, glass, speed, rinse, and mini-party. 12 washing nozzles and a 360-degree spiral spray wash ensure that heavily soiled dishes are cleaned evenly and from all angles. This dishwasher is great if you're on a time crunch and can wash dishes in 45 minutes. It's an Energy Star-compliant appliance and saves you money and water in the long run.
Our editors love finding you the best products and offers! If you purchase something by clicking on one of the affiliate links on our website, we may earn a commission at no extra cost to you.
---
---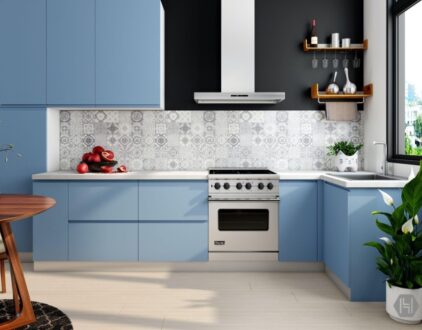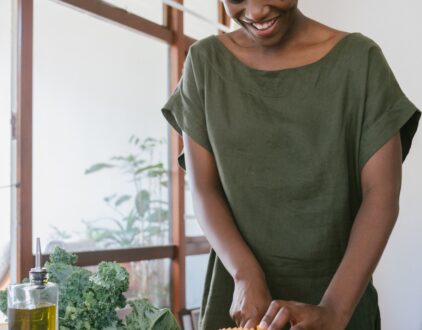 ---
Spaces
Whether it's luxury or ease, every area of your home should be as fabulous and unique as you.
FOLLOW ALONG ON INSTAGRAM
Find us on social for more home inspiration where culture, personal style, and sophisticated shopping intersect to help you create a home where you love to live.