Is there anything better than coming home to a peaceful and relaxing environment after a long day? Well, the bedroom is designed just for that. In fact, your bedroom is arguably the most important room in your entire home. It's a space meant just for you, a personal sanctuary where you can sit back and relax after a busy day. Because your bedroom is so important, it should reflect your personality and style so that you actually look forward to spending time there. Still, creating the perfect bedroom is not so easy if you're a beginner.
Luckily, if you need help designing your bedroom, Pinterest is the perfect place to start. The popular platform provides hundreds of thousands of inspirational pictures to browse through. Plus, you can pin your favorite ideas to create a board that helps you better visualize your dream space. The best part? Using Pinterest is free and easy to do! For help deciding on a bedroom design, here are seven Pinterest-worthy ideas to inspire you.
Create Accent Walls
Spice up a boring wall by turning it into an accent wall instead! You can use paint, wallpaper, or varying colors, prints, and patterns to add a touch of personality to your room.
Add a Houseplant (Or Two)
Houseplants not only add a homey charm to your space, but they also improve the air quality in your home. Plants like aloe vera, snake plants, or broad lady palms are a great way to purify the air. For a more colorful option, try flowers like Chrysanthemums or Barberton Daisies with bright, bold petals to liven up your space.
Maximize Your Shelving
To create a dreamy Pinterest bedroom, you'll need to put your shelving to good use. Place books, candles, or your favorite artwork atop floating shelves, corner shelves, or tiered shelves for a unique way to display your prized possessions.
And don't forget to decorate! You can take your shelving to new heights by decorating with string lights, mini potted succulents, or tea lights to really showcase your personality.
Make It Comfy
When it comes to creating a Pinterest-worthy bedroom, comfort is key. For example, you could arrange three or four pillows on the bed instead of just one or two. You could also decorate your bed or seating with a soft, luxurious throw blanket. Whatever you decide, incorporating plenty of soft, plush, cushy items in varying patterns and textures is the best way to give your bedroom a safe and inviting feel.
Light It Up
Because the bedroom is a place for rest and relaxation, its lighting should promote the same. To create a calming atmosphere, shop for lighting fixtures with low-wattage LED bulbs like lamps, string lights, or even candles. This helps achieve a soft, warm glow that creates the perfect retreat away from the outside world.
Install an Appealing Headboard
The focal point of every bedroom is the bed, itself. But in many cases, the actual star of the show is the headboard. A beautiful headboard can turn a dull bedroom into a luxurious safe haven, which is why choosing a quality one is important. When selecting a headboard, consider shopping for tufted, upholstered, or wooden ones that not only help anchor the bed but also add an attractive design element to your space.
Stay on Trend
Nothing can absolutely ruin a beautiful space like outdated furnishings. So when it comes to designing a Pinterest-worthy bedroom, staying on top of popular trends is important. But if keeping up with bedding trends isn't your thing, you can always revert to the classics like white, boho prints, or minimalist linens so your space never goes out of style.
---
---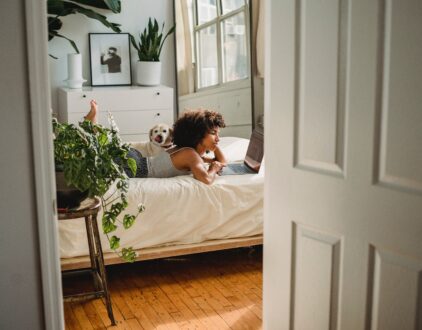 ---
Spaces
Whether it's luxury or ease, every area of your home should be as fabulous and unique as you.
FOLLOW ALONG ON INSTAGRAM
Find us on social for more home inspiration where culture, personal style, and sophisticated shopping intersect to help you create a home where you love to live.