Think of the walls in your home as a blank canvas. Mounting floating shelves allows you to display mementos, plants, books, photographs, and other objects. Shelving serves as storage for your belongings, but it can also add complexity to your walls if you carefully plan the arrangement of your shelves in the design process.
Consider shelves as decorative accents. You can use them to frame, outline, or highlight spots in your home in ways that transform your interior landscape. Unused space above your refrigerator? Want something intriguing on the wall behind your sofa besides art? Add a few shelves.
With contemporary decor, shelving is more versatile than ever. Modern shelves come in a variety of colors, sizes, materials, styles and shapes. Some are even expandable.
Check out these ideas for stylishly mounting floating shelves in any room in your home so that you can elevate those flat walls with depth and layers.
The Stacked Shelves
No matter where they are, stacked shelves demand attention. This arrangement is ideal for displaying plenty of items, but be sure to leave enough height between the shelves for your objects. Add a maximalist's touch by filling the shelves completely or style with a hint of minimalism. To create a focal point, leave a shelf empty as you see here.
The Asymmetrical Shelves
Staggering your shelves asymmetrically is perfect for framing a particular area in your home. When arranging your shelves like this, consider what is around. You can turn an empty corner into a lively design statement by utilizing all of the space nearest your shelves. For the best visual aesthetics, you should fill the shelves entirely and incorporate something that covers a portion of the blank area beneath or beside the arrangement, like a tall plant or a narrow console table. You can also get creative by stacking a pile of books or records.
The Functional Shelves
Less than enough storage in your kitchen? No problem. Functional shelving isn't just about looks, it's a necessity for smaller spaces. With this arrangement, you can leave kitchenware out in the open without worrying about unsightly clutter. The open layout also allows you to show off your prettiest dinner sets and impressive organizational skills.
The Singular Shelf
The singular shelf is meant for cohesion. Anything you place on this shelf should bring the entire room together, meaning each piece has to complement one another, too. Though you can use any shelf for storage, solitary ones are ideal for displaying something. So if you want to add wall decor to your living or bedroom without causing damage, consider placing these pieces on your shelf. Singular shelves are also great for plant parents who don't want to overcrowd their floors with planters or simply need a larger surface area for their botanicals.
The Corner Shelf
Though corner shelves have smaller surface areas, they are cute and stylish additions to any home. To bring out their flair, you can choose to pair them with something unique and interesting. However, these shelves are so fun that they shine on their own. While corner shelves are quirky and modern, their design impact is weakened when mounted individually. So, it's best to stack two or more in one corner.
The Customizable Shelving Unit
A maximalist's dream, these units are perfect for anyone who wants storage that is customizable and functional for their home. Customizable shelves are sold individually and allow you to mix and match colors, sizes and materials. They're crafted so that all the pieces appear as a singular unit when mounted. Increasingly popular, you can find these shelves and cabinetry at stores like Ikea. For those who want to experiment with shapes, design cubes with hexagons, ovals, and arches.
Take this shelving inspiration and transform dull walls into something magical. After mounting your shelves, play around with your display to curate a home that's decorated in style.
---
---
Decorate
Access design inspiration that infuses personality and culture into your spaces.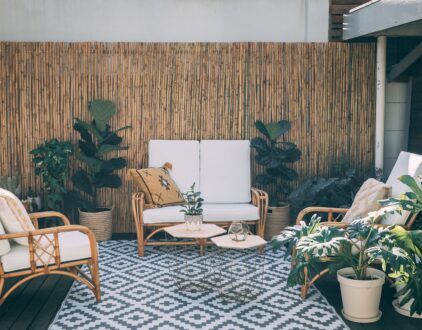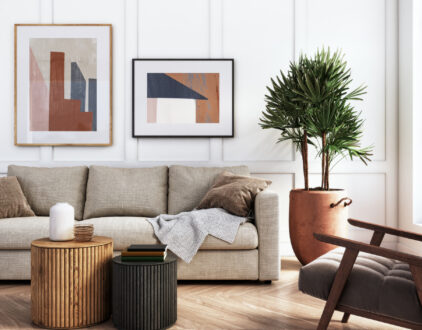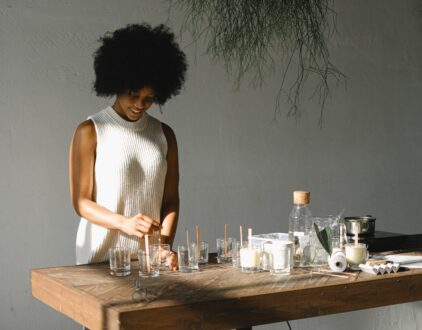 ---
Spaces
Whether it's luxury or ease, every area of your home should be as fabulous and unique as you.
FOLLOW ALONG ON INSTAGRAM
Find us on social for more home inspiration where culture, personal style, and sophisticated shopping intersect to help you create a home where you love to live.