In episode three of Home & Texture's House Tours, we're entering the eclectic and artfully curated home of David Quarles, IV. Join us as we journey through Quarles' colorful home and learn about his experiences that helped him curate a swoon-worthy space that sparks joy.
The Memphis-based interior and jewelry designer describes his home, saying, "I like to think of the overall theme of my home as a French, Spanish, and Italian, but a mid-century modern home." A natural-born explorer, Quarles couldn't decide where he wanted to live, so he took elements from his favorite destinations and brought them into his home.
Curating from a 'sense of happy,' Quarles loves having a home with a lot of light. "I just want to really embrace sunlight and what I feel inside and have it come out tenfold in my home," says Quarles to Home & Texture. As a synesthete, Quarles experiences chromesthesia, which means he responds to the sound of music through color. He uses this to pick out rooms for his home based on music. For example, one of the rooms in his home is yellow, based on the song "It's My House" by Diana Ross.
Another huge factor Quarles takes into consideration when designing his home is his culture. He comes from a Dominican, Creole, Liberian, Jewish, Indigenous American, African American, and Caucasian background, impacting the items in his home from family heirlooms to knickknacks acquired on his travels. "If there is any one thing that would be like a business card or a representation of who I am, it's my home," says Quarles.
The Heart Of His Home
While many would regard the kitchen as being the heart of the home, Quarles views his dining space as that. "It's where you break bread; it's where you have relationships formed," he explains. The designer believes friendships can be strengthened in the dining space through good food, conversation, and drinks. He poured most of his time, love, and attention into this space. The result is a vibrant space that feels intimate, cozy, and joyful.
A Moody Bedroom
The rest of his home is bright and cheery, but Quarles stepped out of his usual vibe to create a moody bedroom. Since bedrooms are meant to be a place of rest, he wanted a space that would be easy to fall asleep in. He describes his bedroom as "bringing a treehouse in the tropics."
A Place For Design And Admin Work
As an interior designer and jewelry maker, Quarles needed a home office that would be great for working on all of his passions as well as doing administrative work for his businesses. He designed an office that separates his work from the rest of his home. He plays with texture, color, and pattern play to create an office that speaks to his interests, culture, and design style.
Watch episode 3 of Home & Texture's House Tours to learn more about Quarles' space.
Keep scrolling if you want to curate a unique space like David Quarles, IV.
Jump to Products
---
Ruth's Garden Wallpaper by Chasing Paper x David Quarles, IV
Collaborating with wallpaper company Chasing Paper, Quarles designed a collection of wallpaper that honors the women in his family. The "Legacy Collection" is a love letter to the designer's culture through four patterns in multiple colorways. Each design is named after a strong woman in his family to keep the legacy going. Ruth's Garden is a great addition to your kitchen or as an accent wall in your dining room. The print has various materials to choose from, like faux grasscloth, traditional, and peel-and-stick. In addition to choosing your size, you can also choose the colorway that best goes with your home. There are four color choices: azure, midnight, violet and rose.
Mid-Century Modern Armless Rattan Accent Chair
If you take a step into David Quarles, IV's home, you'll see that the designer is heavily inspired by the disco era. He even wakes up to the sound of disco music. This mid-century modern armless rattan accent chair is similar to Quarrel's chair in his home. It's perfect for your living room area and would look amazing placed next to a green, lush plant. Composed of hand-woven rattan and wood framing, this chair is bohemian and easy to clean. In addition to being breathable, the material is durable and supports your back with its ergonomically curved backrest. It's a great addition to your home and works well with all color palettes.
Gold Bar Cart with Wine and Glass Holder
If you take a look at Quarrel's living room, you'll find a chic gold bar cart between his two rattan chairs. Bar carts are a great addition to your living room, especially when hosting guests for an evening of fun, bonding, and great vibes. We love this bar cart because it's multi-functional and can also be used as a coffee cart, kitchen cart, microwave stand, or added to your entryway. There are six s-shaped hooks that are great for hanging cooking spoons, mugs, towels, etc. A protective fence on the bottom shelf protects your wine or glass bottle from falling. The bar cart can hold up to six wine glasses and has three compartments for wine bottle storage. The piece is easy to assemble and will take you about 15 minutes to successfully set up.
Black Round Wall-Mounted Mirror
A black round wall-mounted mirror is featured in Quarles' entryway above the table. You, too, can get the same look for your entryway with this black mirror which comes in various sizes ranging from 24 inches to 48 inches. This simple and modern design is versatile and can work in any type of decor and room. In addition to being great for your entryway, it works well as a bathroom mirror, office mirror, and so on. The iron metal frame ensures that the mirror is durable and sturdy. This high-quality mirror is great for expanding the visual space of your room. It is easy to mount on your wall, and the material of the border will not fade.
Black and White Round Stoneware Footed Planter
One thing about Quarles is that he loves his plants. Take a look at any room in his home, and you'll find beautiful green plants that are well taken care of. In the living room area of his home, there's a beautiful plant in a black and white planter. We found a similar planter that you can add to your home to get the same look as Quarles' pad. This stoneware piece is intended for indoor use and can be mixed and matched with other pots and planters. It's a great addition to a colorful home, and the design is reminiscent of the 70s — Quarles' favorite era.
Modern Industrial Wide Metal Accent Side Table In Gold
Found in Quarles' living room area is a sleek, sculptural accent side table in gold. We were lucky to find a similar one, perfect for curating your living room space inspired by Quarles' impeccable design eye. The unique shape of the side table and the metal finish make for a beautiful statement piece. Place this side table next to your couch for a curated finishing touch. You can also use this table as an end table, bedroom table, or accent art piece. This modern industrial wide metal accent side table in gold is handcrafted and looks great in your living room, bedroom, and home office. It comes fully assembled and is lightweight.
Sleek Modern Iron Mushroom Table Lamp
Whether decorating your entryway table or home office desk, this mushroom table lamp is an amazing addition and reminiscent of David Quarles, IV's home. The small, iron mushroom lamp has a domed shade and column-style base. It's a mid-century modern design like Quarles describes his home to be. It adds a chic element to any room that it is added to and works perfectly in a living room, bedroom, entryway, and office space. The lamp's design is minimalist, and you can find the on and off buttons on the 80-inch black cord included with the light. Whether placed on a table on its own or on top of a stack of coffee table books, this lamp is a beautiful addition to a well-curated home.
Ochre Throw Blanket
If you tuned into episode three of Home & Texture's House Tours, you'd see that designer David Quarles, IV's favorite color is yellow. The color makes him feel happy, and it's a color he incorporates throughout his home's design. You, too, can add a splash of yellow to your home with this ochre throw blanket. Throw blankets can be used year-round and add texture to your home. Whether used on your sofa or on your bed, this acrylic-blend throw blanket has a two-toned texture and a long fringe at both ends. It's generously sized and perfect for snuggling on the couch by yourself or with your loved ones.
Toulon Cowhide Diamond Checkered Black Area Rug
Quarles is a huge fan of geometric rugs, and with good reason. These contemporary rugs add character and style to any room you decide to place them in. The braided strips of cowhide in this rug weave a graphic design to create a finish that has texture and natural appeal. This Crate & Barrel exclusive rug is handwoven by talented artisans and makes a strong visual statement to your entryway, living room, dining room, or kitchen. For long-lasting durability, this rug is crafted using 100% cowhide and 100% cotton backing. Each rug is unique, so there will be color, weave, and texture variations.
Our editors love finding you the best products and offers! If you purchase something by clicking on one of the affiliate links on our website, we may earn a commission at no extra cost to you.
---
---
Decorate
Access design inspiration that infuses personality and culture into your spaces.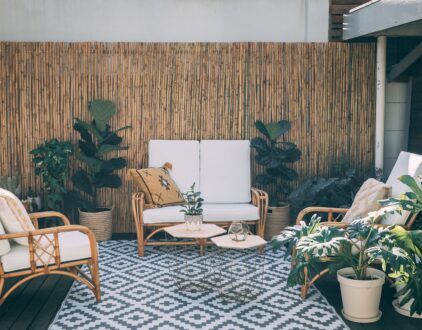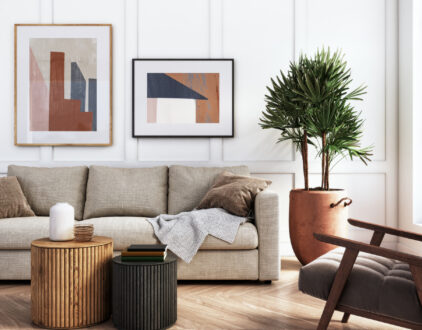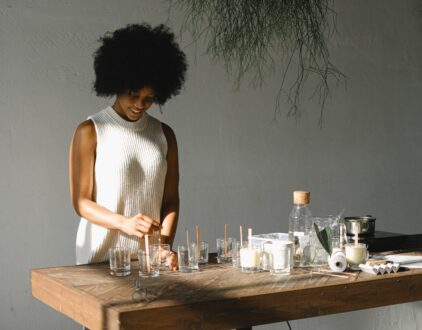 ---
Spaces
Whether it's luxury or ease, every area of your home should be as fabulous and unique as you.
FOLLOW ALONG ON INSTAGRAM
Find us on social for more home inspiration where culture, personal style, and sophisticated shopping intersect to help you create a home where you love to live.