Inspiration can be found all around us when designing a new home or renovating an existing space. Social media has become a huge part of our lives, and Instagram, Pinterest, and TikTok all have design inspiration from interior designers and creatives around the world. We love scrolling and getting inspiration from the creators and designers we follow. Getting an exclusive tour of their homes and hearing about their design process would be amazing, and we did just that with our new series: House Tours.
Journey inside some of the most stunning homes by Black and multicultural designers. Whether you're into maximalist spaces or contemporary homes, House Tours amplifies creatives and designers, sharing their design styles and cultural creativity. In each episode, you'll hear expert advice and be inspired to curate the space you've always dreamed of.
Home & Texture ventured to Memphis, Tennessee, in the first installment of House Tours. This city is vibrant, filled with history, and known for barbecue, blues music, and southern hospitality. Memphis is also home to a hub of incredible creatives, artists, and designers.
We hope you tune in to House Tours for the beautiful homes and insights, and leave with inspiration.
Meet The Designers
Carmeon Hamilton
View this post on Instagram

This Memphis-based creative is an interior designer, blogger, content creator, environmental curator, and creator behind Nubi Interiors. Carmeon's design style brings elements of nature to her home's interior. Her home truly comes to life through all of the personal accents she adds.
Genn Franks

Genn Franks is an artist to her core, loves color, texture, Black films, and Black music, and incorporates that in her home's design. She leaves no wall untouched, and her maximalist design style sparks joy and inspiration.
David Quarles IV
View this post on Instagram

Filled with color and joy, David Quarles IV is a Memphis-based interior designer, fitness instructor, and jewelry creator. His mid-century modern home is a culmination of his favorite places: France, Spain, and Italy. He curates from a sense of happiness and embraces sunlight, colors, and textures.
Laquita Tate
View this post on Instagram

Laquita Tate, an educator, interior stylist, designer, and content creator, turned her passion for design into a business. She approaches design for her clients by understanding them and designing a space they will love with pieces they already own. Her impeccable eye for color and patterns is inspiring and something we can learn a thing or two from.
Jump to Products
---
Get The Look Of The House Tours Stars
Get Carmeon's Design Style: Dark Blue Wood Bar Cabinet
This dark blue wood bar cabinet adds a sleek touch to your bohemian room. If you want to get Carmeon's bohemian chic look, add plants, beautiful art with earthy tones, vases, and a sleek, modern couch and rug. The bar cabinets have molded resin doors with a scalloped effect for texture. Its rich blue color makes it a beautiful addition to a neutral color palette. After designing the space of your dreams, invite your friends and family over for an evening with good food, incredible drinks, and memories that will last a lifetime. Take in the moment that your space is one you're proud of.
Get Genn's Design Style: Shapes and Lines Framed Wall Art
If you're a maximalist queen like Genn, adding an array of colors, textures, and patterns to your space is a must. This 2-piece framed artwork boasts beautiful, bright abstract patterns designed by Opalhouse and Bungalow. Each piece comes in a flat-edge frame, making it easy to display right away. You can create a gallery wall with these pieces or hang the works alone. If you want to get Genn's maximalist wall style, we suggest hanging these works with other colorful artwork. You can mix the sizes of the art, the mediums, and the color palettes. Remember that more is more; no part of your wall should be left blank.
Get David's Design Style: A Song for Mollie Wallpaper
This Chasing Paper x David Quarles, IV "Legacy Collection" is David's love letter to the strong women ancestral names in his family that helped shape his legacy. The collection features four patterns in various colorways. A collaborative collection, these wallpaper designs proudly showcases David's strong perspective. This Song for Mollie wallpaper will brighten any room in the color of "Soulful Sunrise." The effects wallpaper can have on a room is remarkable. If you're inspired by David's joyful home and want to spark joy in your space, this wallpaper is perfect. Just add a disco ball to this room for the full David effect.
Get Laquita's Design Style: Black and White Patterned Upholstered Office Chair
In addition to having an excellent eye for color, Laquita thrives in rich, moody spaces. Curate your office space to match Laquita's love for moody decor with this black and white patterned upholstered office chair. The French-industry style chair has a low profile and is armless. It's an excellent chair for completing your work while maintaining a chic aesthetic. The adjustable seat and swivel can be set to suit your preference. The bold graphic black and white pattern goes with any color palette. You can choose to add the chair to a dark color palette or a colorful, eclectic design; either way, it will add a finishing touch to your office space.
Our editors love finding you the best products and offers! If you purchase something by clicking on one of the affiliate links on our website, we may earn a commission at no extra cost to you.
---
---
homeownership
Home is a safe place where relationships flourish and the cornerstone of neighborhoods. We believe it's the setting that surrounds your phenomenal story.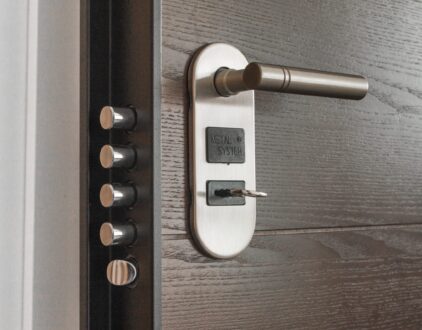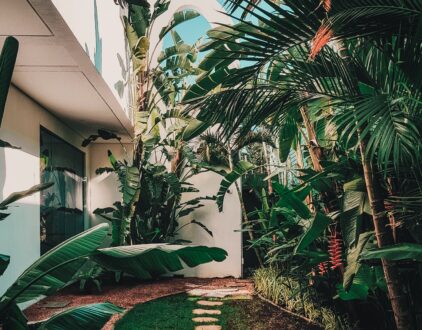 ---
Spaces
Whether it's luxury or ease, every area of your home should be as fabulous and unique as you.
FOLLOW ALONG ON INSTAGRAM
Find us on social for more home inspiration where culture, personal style, and sophisticated shopping intersect to help you create a home where you love to live.