Televisions are a household necessity for catching up on shows, entertaining guests, and movie nights with the fam. However, they often present a design dilemma. Televisions don't always align with a carefully curated home aesthetic. The good news is that you don't have to sacrifice style for the sake of entertainment. There are clever ways to make your TV blend seamlessly into your home decor.
Make it part of a gallery wall.
Making your TV part of a gallery wall is one of the easiest visual solutions. Surround your televisions with frames of artwork, wall sculptures, and family photos. These pieces will draw your eye away from the television, making it another frame among many.
Place it behind sliding doors or panels.
Sliding panels or barn-style doors make a great stylish and practical TV cover solution. When you're ready to watch a show or movie, slide the doors to the side. Whenever the television is not in use, close the doors for a polished look. Opt for doors that complement your room's decor, such as wood for a rustic touch or sleek panels for an elevated modern vibe.
Implement custom cabinetry.
For a more seamless look, opt for custom cabinetry or built-ins. Create a unit where the television can sit behind cabinet doors or in a cabinet that perfectly fits its dimensions. Add bookshelves or other storage around it to turn the area into a functional and stylish feature wall.
Use a TV mirror.
Mirror TVs are a luxe option where the television screen transforms into a mirror when turned off. These are on the pricey side, but they're the ultimate way to disguise your TV. There are also custom framing options, so your mirror TV can be as simple or extravagant as you'd like.
Disguise it as artwork.
Some wall-mounted TVs now come with an "Art Mode," which allows you to display artwork when the television is not in use. You can also install a large-scale painting or print on a hinge and swing it away when it's time to watch TV.
Place it behind a room divider.
A chic, foldable room divider also provides an easy solution. This is perfect for open floor plan homes and studios. When you want the TV to be hidden, place the divider in front of it. Pick a divider that complements your room's aesthetic.
---
---
Decorate
Access design inspiration that infuses personality and culture into your spaces.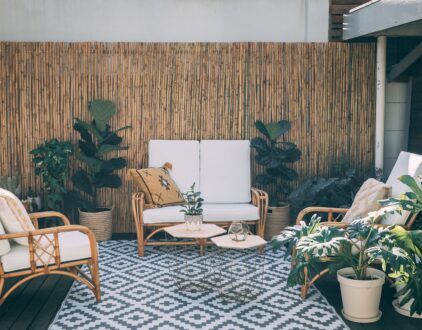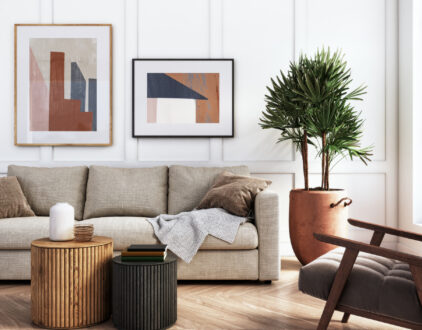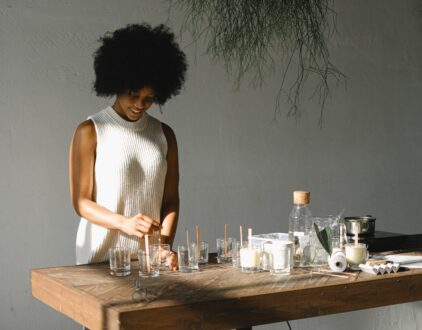 ---
Spaces
Whether it's luxury or ease, every area of your home should be as fabulous and unique as you.
FOLLOW ALONG ON INSTAGRAM
Find us on social for more home inspiration where culture, personal style, and sophisticated shopping intersect to help you create a home where you love to live.