As we settle into autumn, decor like pumpkins, maple wreaths, and spiced lattes are at the top of the bestseller lists. While transitioning your home to embrace the season, you might focus on sprucing up the living room, kitchen, and other common areas. However, with the wind chill moving in, your bedroom could use a makeover, too. Fluffy faux fur pillows, heavyweight duvet covers, and warm throw blankets are go-to bedding choices this time of year in earth tones, such as sage, stone, and terracotta, to match the outdoors. You can mix and match these hues or make a statement with a monochromatic look. Need some inspiration before you redecorate your peaceful nook? Here are seven bedding examples for cozy fall vibes.
Earth Tone Bedding Colors
Earth tones refer to any shades found in nature. Often called neutrals, some of the most common earth tones are beige, tan, khaki, rust, terracotta, sage, and olive.
Photo Credit: Vlada Karpovich
Orange
This dusty orange linen duvet and pillowcase set calls to mind desert sand, caramelized fruits, and scents of cinnamon. The white sheets allow the rich hue of the top layer to stand out. The same color as pumpkins and the fallen leaves, this pairing is right on point with an autumn bedroom look. Likewise, the wooden accents and dried details, like the pampas grass in the corner, enhance the fall vibes even more with minimalistic touches.
Photo Credit: Lina Kivaka
Muted Ocean and Seagrass
A muted ocean duvet and pillowcases paired with cool seagrass sheets and a gray fabric headboard demonstrate how to decorate in earth tones for the chilly months without being too cliché. The color combination creates a cohesive look and feel, while those fluffy pillows make you want to snuggle right into bed. Moreover, this looks like the most comfortable bedding setup to cozy up to on a sick day. A set like this could take you all the way through winter and the beginning of spring. Accordingly, grab your diffuser and fragrance oils of sea salt and ocean air or eucalyptus and lemongrass for the ultimate crisp experience.
Photo Credit: Samuel Regan Asante
Pale Rose
As soon as a chill hits, people reignite their obsession with pumpkin themes during the fall, but don't forget about gorgeous cranberries. Straightaway, these matching pale rose sheets and cushiony duvet remind us of holiday punch and seasonal mimosas with a rosemary topper. The monochromatic color palette gives the bedding a uniform look that complements the deep wooden frame and furnishings. However, if the furniture in this room were all white, the cohesion could appear a little bland. So, keep your entire design in mind when going for one single color.
Photo Credit: Nine Koepfer
Beige or Natural
Linen sets are perfect for fall because of their natural and rustic quality. Although this barely beige monochromatic bed isn't well-made, the ripples in the fabric look as if they belong. The concrete wall, long-stemmed plants, and wicker potter add to the boho charm of this bedroom. Unlike the example above, incorporating color in this set might feel out of place with the room's plain ambiance.
Photo Credit: Anthony Tran
Deep Ocean and Sage
Serene, warm, and fun are just a few words that come to mind when looking at this bedroom. The minimal yet charming string lights, green mirror, and bedside terrarium accent the room perfectly and speak to the homeowner's personality. Equally, the two sage green pillows, flat deep ocean duvet, and the choice not to have a headboard let us in on the owner's style, too.
Photo Credit: Vlada Karpovich
Patterned Gray and Beige
Outside of the patterned gray throw, this bedding setup matches nearly every piece of this room. Sometimes, that can take away from the overall look, but here, the beige linen pillow, beige curtain, and oak wall-length headboard give off the total package. The throw and white sheets are definitely necessary to offset the beige and keep the design from getting to that bland point. Surprisingly, one of our most-loved additions in this space is the white vase and single-stem pampas grass.
Photo Credit: Beazy
Ivory and Sage
Wool bedding can be hot and heavy, which is just what you need for those nightly drops in temperature. The white duvet and sage green throw match the curtains that appear like a kind of headboard behind it. The patterned throw pillow is the perfect accent to elevate this design and make it more interesting. It also has that unique find quality that feels like it once lived at a vintage thrift.
---
---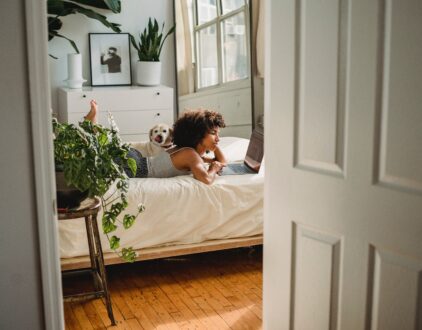 ---
Spaces
Whether it's luxury or ease, every area of your home should be as fabulous and unique as you.
FOLLOW ALONG ON INSTAGRAM
Find us on social for more home inspiration where culture, personal style, and sophisticated shopping intersect to help you create a home where you love to live.