The change of seasons suddenly fills the air with notes of your favorite nostalgic candle scents, and you're finally reaching for those warmer layers you've been eying on the top shelf of your closet all summer long. Fall is ready to settle in! And at home, it's even more special. Embracing the cozy vibes of autumn makes your living space feel warm, inviting and in tune with the changing season. Get your home ready with these tips and fall decor finds for transitioning your home into autumn.
Embrace Warm Color Palettes
Swap out the bright and airy summer hues for warm, earthy tones. Add shades of deep orange, rich burgundy, and cozy brown to your decor. These colors really bring out the feeling of fall.
Cozy Textiles and Fabrics
Fall is all about comfort and coziness. Put away those lightweight summer fabrics like linen and cotton in favor of warmer options such as cashmere, flannel, velvet, and faux fur. Drape your living room furniture with soft blankets and plush pillows in autumnal colors to create a snug ambiance.
Decorate with Seasonal Accents
Arguably the best part of fall besides the baked goods and flavorful beverages is the seasonal fall decor. Add elements like pumpkins, gourds, and fall leaves to your space. You could place a beautiful fall wreath on your front door, arrange a centerpiece with mini pumpkins and candles on your dining table, and scatter decorative leaves throughout your living space.
Layer Your Lighting
The right lighting can set the perfect mood for fall. Consider adding layered lighting to your home. Combine ambient lighting with task lighting and accent lighting to add plenty of depth. Use table lamps with warm-toned lampshades, string lights, and candles to add a cozy glow to your space. Dimmer switches can also be a great addition to adjust the lighting as per your preference.
Create a Seasonal Scent
Invest in fall-scented candles or diffusers with fragrances like cinnamon, pumpkin spice, and apple cider. The delightful scents will instantly transport you to the heart of autumn and create a warm and welcoming ambiance.
Here are eight products that will help you seamlessly transition your home decor this fall season:
1
Pre-Lit Fall Garland
This nine-foot garland is a true showstopper, guaranteed to add some seasonal magic to your home. With its warm and inviting peach color, it's the perfect accessory for your fireplace, door frame, or stairs. What sets this garland apart is its attention to detail. It's generously decorated with a stunning mix of artificial maple leaves, pumpkins, pinecones, and mini berries. But that's not all—this garland comes with battery-powered warm white LED lights that effortlessly enhance its beauty. Imagine the warm and inviting ambiance they'll create in your home during those crisp fall evenings.
2
Brylanehome Pre-Lit Glass Pumpkin On Stand
This gold fall decor piece is designed to steal the spotlight. Made with precision, these pre-lit pumpkins boast a gorgeous mercury-like finish, giving them an enchanting allure. Whether you place them as glowing centerpieces on your dining table or scatter them as anywhere-accents throughout your home, these pumpkins will undoubtedly elevate your autumn decor. These pieces are sold individually, but they truly shine when paired together. The warm, inviting glow emanating from these pumpkins is powered by three AA batteries, making them simple to set up and enjoy. Made from a blend of iron, glass, plastic, and equipped with efficient LED lights, these pumpkins are not only visually captivating but also durable and energy-efficient.
3
Pre-Lit Fall Wreath
This 30-inch pre-lit wreath is designed to transform your front door into a vibrant and attractive entryway, making your home feel like a warm embrace for your closest family and friends. Made with care, this wreath features a natural vine base overflowing with lifelike maple leaves that capture the essence of the season. The addition of beautiful sunflowers brings a sense of warmth, while natural-looking pumpkins add flair and charm. To complete the look, pinecones are thoughtfully included, enhancing the wreath's natural appeal. Each element on the wreath is meticulously decorated by hand and securely fixed onto the base for a long-lasting and beautiful display.
4
WoodWick Pumpkin Butter- Large Hourglass Candle
This candle not only adds sophistication to your space but also fills it with rich, nuanced scents that evoke a sense of nostalgia and warmth. The Woodwick Large Hourglass Candle in Pumpkin Butter is the quintessential autumn scent. It combines the delightful aroma of fresh pumpkin with the comforting notes of warm spices and vanilla. It's like capturing the essence of fall in a jar, creating an inviting atmosphere that welcomes you home. What sets this candle apart is the innovative Pluswick® Innovation wick. As it burns, it produces a distinctive crackling sound that adds an intriguing element to your sensory experience. This crackling sound, reminiscent of a cozy fireplace, enhances the overall ambiance, making it perfect for relaxation or setting the mood during gatherings.
5
Tache Fall Orange Farmhouse Super Soft Micro Fleece
This cozy blanket brings a versatile cabin farmhouse style to any room, adding a pop of vibrant color that's perfect for fall and beyond. People are raving about it, rating it as one of the top fall decorative accents, and for good reason. This blanket isn't just about looks—it's all about comfort and convenience too. It's the go-to choice for movie nights, whether draped over your bed or couch. Plus, it's lightweight and easy to take on the go—perfect for car rides, picnics, and travel adventures. And the best part? It's made from a soft and warm material that'll keep you snug during chilly fall evenings.
6
KXMDXA 3 Piece Bedding Set
Made from 100 percent polyester, this bedding set offers a luxurious and silky feel that's perfect for elevating your bedroom decor. The package includes one duvet cover and two pillow covers, making it a complete and convenient choice for your bed. This set is not only stylish but also practical, creating a cool fall vibe for your bed that is both comfortable and visually on-brand for the season. Maintenance is also easy with this bedding set. Just machine wash it with cold water, and there's no need to worry about bleach. For drying, use low heat, and you can iron it on a medium setting for a crisp look.
7
Gureui Pumpkin-shaped Throw Pillow
This plush cushion is designed to bring warmth and whimsy to your living space or Halloween gathering. It doubles as both a throw pillow and a plush toy. Its surface is as soft as it gets, thanks to the plush exterior, while the inside is generously filled with PP cotton for a fluffy and plump texture. You can also pick from a variety of colors and sizes to suit your decor or personal preferences. Whether you're snuggling up on the couch or adding a little autumn to your decor, this pumpkin is up for the task.
8
Modern, Luxury Brown Chevron Velvet, Polyester Throw Pillow
These pillows are designed to breathe fresh life into your home with their chic aesthetics and irresistibly soft touch, elevating your living space to new heights of loveliness and style. These charming throw pillows are not a one-size-fits-all deal; they come in a variety of four sizes and a delightful palette of 12 colors to cater to your unique decor preferences. Made from top-quality, eco-friendly polyester, both the pillowcases and inserts are not only durable but also environmentally conscious. The strong, invisible zippers make using and maintaining these pillows easy without compromising their aesthetic appeal.
Our editors love finding you the best products and offers! If you purchase something by clicking on one of the affiliate links on our website, we may earn a commission at no extra cost to you.
---
---
Decorate
Access design inspiration that infuses personality and culture into your spaces.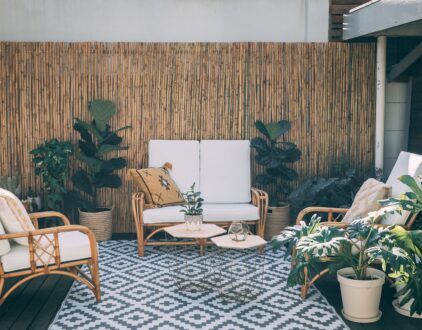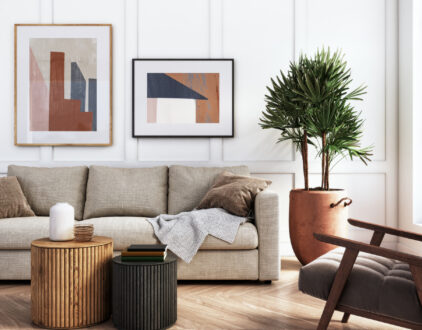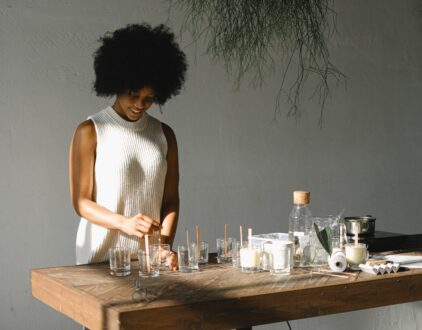 ---
Spaces
Whether it's luxury or ease, every area of your home should be as fabulous and unique as you.
FOLLOW ALONG ON INSTAGRAM
Find us on social for more home inspiration where culture, personal style, and sophisticated shopping intersect to help you create a home where you love to live.