Now that H&M offers home goods, you now have another home decor retailer to add to your list. We did the hard work for you and found the must-have home goods from H&M that are sure to be the perfect addition to any room in your house.
Home Decor at H&M
View this post on Instagram
The H&M Home Instagram account is a total vibe. You can get a preview of their latest collaborations, upcoming sales, and future pieces they will stock.
Now, if you are already a fan of shopping at H&M, then you already know that their home goods section is practical, modern, and sustainable. The home goods we love are pieces that can be foundational pieces for any home and include bedding, kitchenware and decor.
Comfortable and Sustainable Home Goods
A lot of the H&M home goods are made with recycled materials. This is great for consumers who are more environmentally conscious and want to shop without contributing to a large carbon footprint in society. Recycled materials tend to stand the test of time and when you no longer want the goods, you can always donate them.
Shopping at H&M
What are you waiting for? Now you can shop with a clean conscious that the home goods you purchase are not just safer for the environment but are practical enough for your home. H&M home goods give you the flexibility to upgrade your interiors without having to be committed to a specific design look. We also love the expanding children's room items as well.
Scroll on to take a look at the exciting home goods we love from H&M:
Jump to Products
---
Tufted Wool Rug
If you are looking for a beautiful, versatile rug that will instantly brighten up a room, then this Tufted Wool Rug from H&M should be on your list. Set on a natural white color with an abstract design that highlights blue, yellow, green, and red colors, this sophisticated and lively rug can be placed in any room in the home. The living room is an obvious place to place this beautiful rug, but we also think the hallway and bedroom will be a great location, too. This wool rug only comes in one large size and can only be professionally dry-cleaned.
Light Pink Blackout Curtains
Have you been looking for some attractive blackout curtains? Well, today you're in luck because we found these gorgeous curtains that will keep the light out all while complementing your current decor. These 2-pack Blackout Curtains from H&M come in three color options but we are obsessed with the light pink ones. The curtains are stunningly draped and the material is made out of high-quality woven fabric. For those hot, sunny days, these wide, cased heading curtains will curb not just the sunlight from coming in, but also help keep your cool air in. These curtains are the perfect answer for nurseries or other rooms you may need a little bit more privacy in.
Marble Cake Stand
Imagine having this beauty in your kitchen! This stunning Marble Cake Stand from H&M is a striking duo-toned, two-tiered cake stand. Perfect for breakfast pastries, tea time, and brunch, this marble cake stand will be impressive for any occasion. The gold-toned stand gives this cake stand the right amount of luxury appeal that makes it an ideal centerpiece for both the kitchen and dining room. Standing almost one foot tall, you can also use this cake stand to serve finger sandwiches, cupcakes, and other delicious eats.  To maintain its sheen, it's best to hand wash this when needed. Be aware that this is not microwave or freezer safe.
Baby Crib Duvet and Pillow
Finding the perfect baby crib items can be a hassle and overwhelming. But this Baby Crib Duvet and Pillow from H&M is a wonder set made out of breathable, organic cotton to ensure your bundle of joy remains comfortable and safe. This duvet and pillow set is only available in white but customers are raving that their little ones love it. The duvet is finely quilted and the pillow is hand-sewn to give your baby the ultimate head support. This set could also make a thoughtful baby shower gift. The materials used for this set are made from recycled polyester so it's equally good for the environment.
Linen King/Queen Duvet Cover Set
Who doesn't want a luxurious linen bed set for their home? This Linen King/Queen Duvet Cover Set at H&M comes in nine colors. From muted colors like white and beige to more tantalizing colors such as sage green and pink, this linen set guarantees to be soft and long-lasting. You'll love that duvet covers have their own metal snap fasteners ensuring that they don't roll up. Linen bed sets are perfect for people who find themselves feeling hot at night. With a 104 thread count, you will never overheat at night again and your sleep will be more sound. Your body will thank you.
Our editors love finding you the best products and offers! If you purchase something by clicking on one of the affiliate links on our website, we may earn a commission at no extra cost to you.
---
---
Decorate
Access design inspiration that infuses personality and culture into your spaces.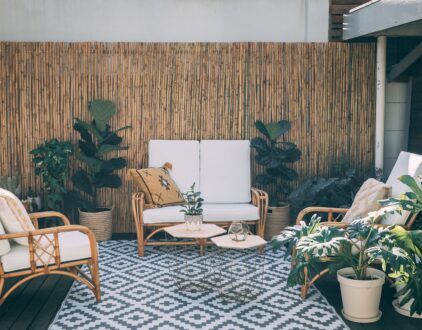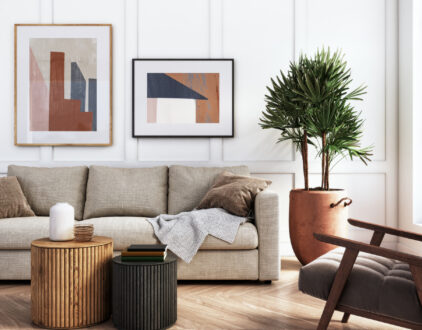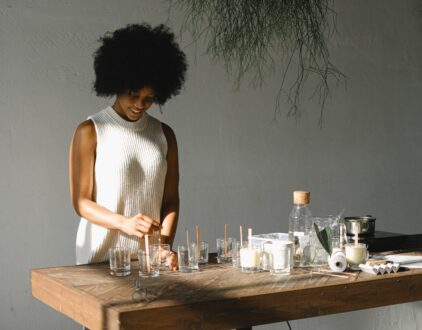 ---
Spaces
Whether it's luxury or ease, every area of your home should be as fabulous and unique as you.
FOLLOW ALONG ON INSTAGRAM
Find us on social for more home inspiration where culture, personal style, and sophisticated shopping intersect to help you create a home where you love to live.