Adulthood is an interesting concept—nights venturing out on the town are more frequently replaced by relaxing evenings in, and trips to Home Depot or Lowes introduce a whole new thrill of possibility. If doing little projects around your home brings you joy then Labor Day is, ironically, a great opportunity to take on projects you've been putting off to spruce up your space.
Whether you're looking to refresh the aesthetics, enhance functionality, or increase your home's value, there's a DIY project for every room both inside and outdoors. With a little planning and creativity, you can transform your home into a more comfortable and visually appealing environment in just one weekend. Check out these ideas for every room with these Labor Day home improvement projects.
Declutter and Organize: Maximizing Space and Minimizing Chaos
If you're not emotionally ready to take on any major projects, don't sweat it—literally. Start small by decluttering and organizing your space. Maximizing storage and minimizing clutter can make your home feel larger and more comfortable, and may even inspire you to take on bigger projects in the future! Begin by sorting through your things and identifying items you no longer need. Invest in storage solutions like shelving units, under-bed storage bins, and closet organizers.
Revamping the Kitchen: From Cabinets to Countertops
A few changes can breathe new life into the heart of your home. Give your kitchen a makeover by refinishing or repainting cabinets, upgrading hardware, and installing new countertops.
Try a modern color palette for your cabinets, like crisp white or deep navy, and complement them with sleek, durable countertops such as quartz or granite. Don't forget to update your kitchen's lighting fixtures to enhance both functionality and ambiance.
Luscious Landscaping: Transforming Your Outdoor Space
Create an inviting outdoor oasis by adding colorful plants, cozy seating, and ambient lighting. Your backyard can become the perfect retreat for relaxation and entertainment. Start by assessing the layout of your outdoor space and envision how you'd like to use it.
Plant a mix of perennial flowers and shrubs for year-round appeal, and incorporate outdoor seating and dining areas for hosting gatherings. Install string lights or solar-powered lanterns to add a magical touch to your evenings outdoors. With a little landscaping, you can extend your living area to the great outdoors.
Bathroom Beautification: Upgrades for a Relaxing Retreat
A well-designed bathroom can become your personal sanctuary for relaxation and self-care. Upgrade your bathroom with new fixtures, mirrors, and lighting. Incorporate storage solutions to keep the space organized and spa-like. That rain shower head or freestanding bathtub you've always wanted? Go for it.
You can also update your vanity with stylish yet functional fixtures, and swap out your mirrors for ones that reflect natural light to create a bright and open atmosphere. Maximizing storage space with built-in shelves or cabinets can help maintain a clutter-free environment.
Elevating the Ambiance: Lighting and Fixtures
The right lighting and fixtures can dramatically change a room's atmosphere. Add dimmer switches and statement fixtures to create a cozy and inviting ambiance.
Pendant lights can serve as eye-catching focal points above kitchen islands or dining tables. Floor lamps and sconces can provide task lighting while contributing to the overall aesthetic. Chandeliers in living rooms or entryways can make a grand statement.
Flooring Facelift: From Carpets to Hardwood
Whether you're upgrading high-traffic areas or giving your entire home a flooring facelift, this change can transform your space's aesthetic and function.
Replace worn-out carpets with hardwood or laminate flooring for a sleek and modern look. This can instantly add value and elegance to your home. Hardwood floors are not only aesthetically pleasing but also durable and easy to clean. Choose from a variety of wood species and finishes to match your desired style. If you prefer the look of wood without the maintenance, laminate flooring is a cost-effective alternative that mimics the appearance of hardwood.
Adding Curb Appeal: Front Porch and Entryway Upgrades
By creating an inviting and well-maintained exterior, you'll create a warm welcome for both guests and yourself every time you arrive home. Enhance your home's curb appeal by sprucing up the front porch and entryway. Add potted plants, a fresh coat of paint, and a welcoming doormat.
The front entry is the first impression your home makes on visitors, so make it count. Consider updating your front door with a bold color that complements your home's exterior. Incorporate seasonal decorations to add charm and character to your entryway.
Safety Upgrades: Secure Your Home with Smart Solutions
Invest in smart home technology for added security. Install smart locks, security cameras, and smoke detectors to keep your home and loved ones safe.
Install smart locks that can be locked and unlocked using a smartphone app. Place security cameras in strategic locations to deter potential intruders and keep an eye on your property. Smart smoke detectors send alerts to your phone in case of a fire, enabling faster response times. By incorporating these smart solutions, you'll enhance your home's safety and provide an additional layer of protection.
---
---
Renovate
From minor tweaks to major overhauls— these are the insights that add style and comfort to your home.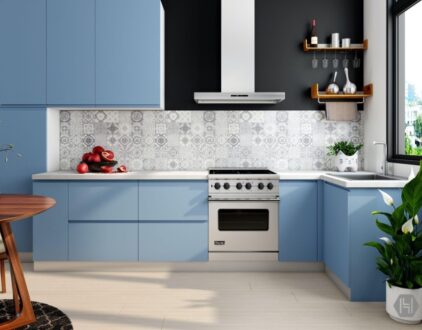 ---
Spaces
Whether it's luxury or ease, every area of your home should be as fabulous and unique as you.
FOLLOW ALONG ON INSTAGRAM
Find us on social for more home inspiration where culture, personal style, and sophisticated shopping intersect to help you create a home where you love to live.