Planning a wedding is challenging. From creating invitations to selecting a venue, preparing for the big day can be downright exhausting. To combat this, many people have their wedding reception at home. Celebrating your marriage from the comfort of your home can save you a lot of time, energy, and money. So instead of worrying you can spend your energy creating the wedding of your dreams.
Advantages Of Planning a Wedding Reception at Home
There are many advantages to having your wedding reception at home. The first and most obvious reason is that you can save a lot of money. Booking a venue can cost quite a lot of cash, with many starting at $5,000 for traditional receptions. Instead of flushing out a chunk of your savings for a place to commemorate your love, why not celebrate at home for free?
Another benefit to celebrating your love at home is the flexibility. When you celebrate at home, you have more control over everything, from the setup to the schedule. This means you can conveniently plan your reception according to your personal preferences. As a result, you can enjoy the wedding you've always dreamed of having.
Having your wedding reception at home is also great because you can create more meaningful memories there. Your home holds a lot of meaning, and celebrating your love in a familiar and comfortable space can make the experience even more memorable.
How To Prepare Your Home for an Intimate Wedding Reception at Home
Preparing your home for your wedding day can be overwhelming—but it doesn't have to be. In fact, there are many positives to kicking off the start of your married life at home. With the help of a few tactful tips, you can have the wedding of your dreams. Here are nine tips to prepare your home for an intimate wedding reception.
1. Declutter and do a deep clean.
The first step in preparing your home is to start creating space. This means cleaning, decluttering, and organizing so that you have room to work with.
2. Evaluate your space.
Take a look at your available space to determine how many guests you can accommodate, including space for seating and dancing. Then, start creating your guest list accordingly.
3. Enact safety measures.
To ensure you and your guests are safe, secure your space by removing hazards such as faulty electrical wires or cords and inadequate lighting.
4. Plan for parking.
If you have little to no space in your neighborhood, try contacting local businesses with empty lots so your guests have a safe place to park their cars.
5. Consider where people will use the restroom.
If you have a long guest list, you probably need more bathrooms. Fortunately, you can rent a portable restroom for less than 100 bucks.
6. Accommodate for the weather.
Always have a backup plan in case the weather changes. Consider renting a canopy or marquee to accommodate guests during extreme weather.
7. Designate space for food and entertainment.
Create a space for your guests to eat and drink. This includes making room for catering to set up and serve. You should also create space to accommodate music and entertainment such as a DJ, live band, or dance performance.
8. Prepare for emergencies.
In case of an emergency, you should always be prepared. Stock up on first aid supplies such as cold packs, adhesive bandages, and antiseptic wipes. Additionally, you should develop a plan for what to do in case an emergency — i.e. a natural disaster or medical emergency — actually arises.
9. Inform your neighbors.
Let your neighbors know about your wedding ahead of time in order to minimize disruptions. You can share contact information with each other so that they have a way of contacting you should they have any concerns.
---
---
Decorate
Access design inspiration that infuses personality and culture into your spaces.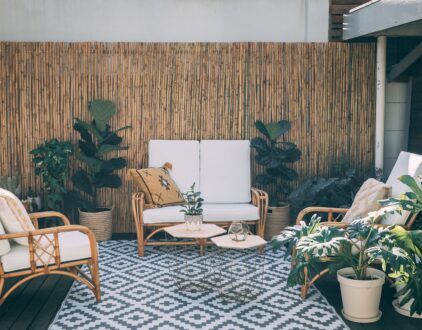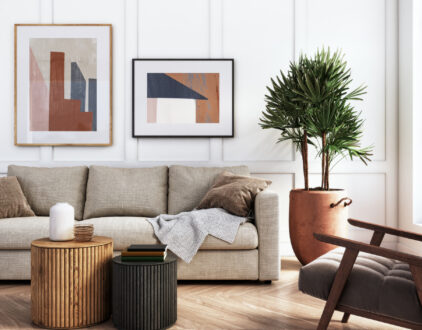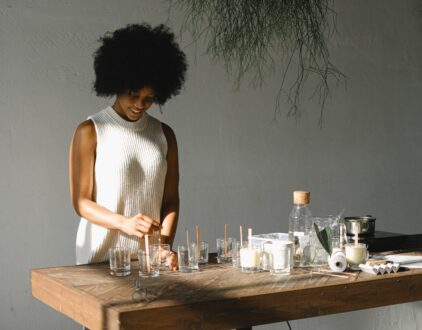 ---
Spaces
Whether it's luxury or ease, every area of your home should be as fabulous and unique as you.
FOLLOW ALONG ON INSTAGRAM
Find us on social for more home inspiration where culture, personal style, and sophisticated shopping intersect to help you create a home where you love to live.