It can be challenging for large families to create enough space to accommodate more than one child, but it is possible. Fortunately, a shared bedroom is a room designed for that very purpose.
When space is limited, families create shared bedrooms where multiple children can live together. They provide a number of benefits, from practicality to even teaching life skills.
Benefits of Creating a Shared Bedroom
The most common reason for families to create a shared bedroom is a lack of available space. Designing a room so two or even three children can live comfortably is a great way to save money on constructing additional rooms.
Having a shared space can also promote a more positive relationship between siblings. When two or more people regularly spend time together, they can develop strong bonds. This is an ideal option for encouraging genuine camaraderie between siblings.
For families with young children, having a shared bedroom can teach your little ones life skills as well. For example, being encouraged to live in a space together naturally facilitates compromise, which is an important lesson to learn in life. It also teaches them how to share, so they can be better prepared to do so with friends and other people outside of the home, too.
Siblings who live together also learn about open communication, which is a helpful skill to acquire. Plus, effective communication can help them better understand each other to form a strong connection between siblings.
How To Design a Shared Bedroom for Siblings
With a bit of careful consideration, a shared bedroom can become a healthy place for children to learn and grow together. Here are six ways to design a shared bedroom:
Divide the Space Visually
When designing a shared space, consider each child as their own individual. Make use of rugs, bookshelves, or wall dividers to create personal spaces for each child.
Bunk Beds or Loft Beds
Ensure each child has their own space for sleeping by adding bunk beds or loft beds to save valuable floor space.
Color Scheme and Themes
Select a color scheme that both children can appreciate in order to create a safe space where your little ones can feel at home.
Individual Storage Solutions
Sharing a space can feel stifling. To prevent this, create separate storage spaces for each child to access their belongings. This way, your children can maintain their individuality, plus learn better organization.
Personalize Each Bedside
Let your children have a say in how they want to decorate their bedside. They can personalize the area with their favorite books, toys, or trinkets.
Collaborative Artwork
Children love arts and crafts, so get crafty with your kiddos by creating cool art that they can use as decor for their room.
Respect Individual Privacy
Establish and maintain strict rules about respecting personal space and privacy so your children learn to share their space harmoniously.
---
---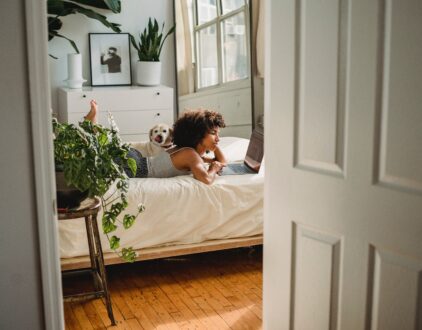 ---
Spaces
Whether it's luxury or ease, every area of your home should be as fabulous and unique as you.
FOLLOW ALONG ON INSTAGRAM
Find us on social for more home inspiration where culture, personal style, and sophisticated shopping intersect to help you create a home where you love to live.