Are you tired of constantly worrying about your home fabrics getting ruined? Spills, stains, and wear and tear are common issues everyone faces. But don't worry, there are plenty of fabrics that are practically indestructible when thinking about what furniture to add based on your lifestyle and aesthetic preferences.
The Marvelous World of Microfiber
If you're looking for a fabric that combines style and resilience, microfiber is a clear winner. These fabrics, typically made of polyester or nylon, consist of ultra-fine fibers that give them a distinctive look and exceptional durability. Why microfiber? Its tightly woven structure makes it so that liquids and spills stay on the surface, allowing you to wipe them away effortlessly. No more stressing over that accidental red wine spill during movie night.
Microfiber is also an excellent choice for homes with kids or pets who tend to make messes. Its resistance to staining and ease of cleaning make it a stress-free option for busy households. Plus, it comes in a bunch of colors and textures, making it a versatile choice for various interior styles.
Rugged and Reliable Canvas
Canvas isn't just for painters; it's a fantastic choice for upholstery as well. Known for its sturdiness, this fabric is designed to withstand wear and tear. Canvas is a popular choice for outdoor furniture, but it can also make a statement indoors. Canvas is not only durable, but it's also versatile. Plus, it adds a touch of rustic charm to your home decor.
Canvas is particularly well-suited for homes with a penchant for the outdoors. Its ruggedness ensures that it can handle the demands of active lifestyles. Whether you have a cozy cottage or a modern apartment, canvas can seamlessly blend in while providing the durability you need.
The Tough-as-Nails Denim
Denim isn't limited to your wardrobe; it can also be a great option for furniture upholstery. This rugged fabric is known for its strength and resistance to fading, making it a top choice for families with active lifestyles.
Denim is durable and also easy to maintain. It can withstand frequent washing, making it an excellent choice for slipcovers and cushions. Plus, it gives your home a trendy, relaxed look.
The charm of denim lies in its casual appeal. It's the fabric of choice for those who want a laid-back, comfortable vibe in their living spaces. Whether you're furnishing a den, a family room, or a kid's play area, denim upholstery can handle the wear and tear of daily life while looking effortlessly cool.
Leather: The Classic Choice
Leather has a reputation for having a smooth, buttery soft feel that's resistant to stains and spills. Leather furniture can last for generations if properly cared for. Additionally, leather ages beautifully, developing a rich patina over time. It's a versatile choice that complements both classic and contemporary interiors.
Leather upholstery is an investment in luxury and longevity. While it may come with a higher price tag, its durability and timeless appeal make it a wise choice for those who value quality and style. Whether you're furnishing a formal living room or a chic urban loft, leather upholstery adds a touch of class that never goes out of fashion.
The Practicality of Polyester
Polyester is a synthetic fabric that has come a long way in terms of quality and durability. It's budget-friendly, easy to clean, and resistant to wrinkles and stains. It's an ideal choice for households with a tight budget. Plus, they are highly resistant to fading, so your furniture will look great for years.
Polyester's versatility makes it great for a wide range of home decor styles. Whether you prefer a sleek modern look or a cozy traditional ambiance, polyester upholstery can adapt to your design preferences without breaking the bank. Its stain resistance and easy maintenance make it a practical choice for families and busy households.
---
---
Decorate
Access design inspiration that infuses personality and culture into your spaces.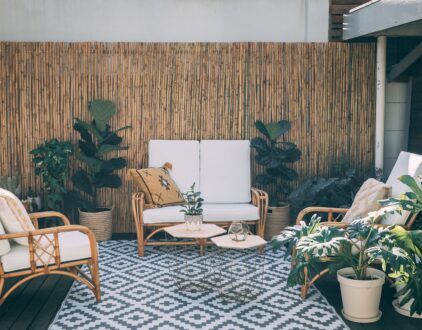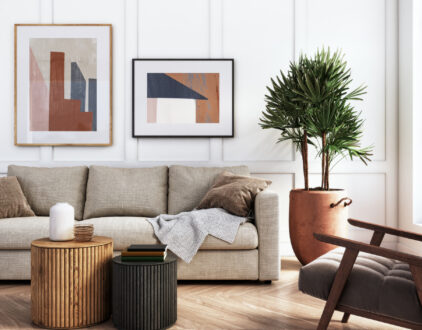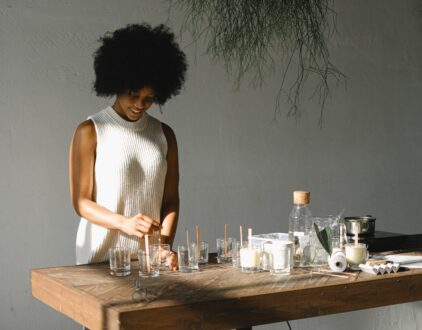 ---
Spaces
Whether it's luxury or ease, every area of your home should be as fabulous and unique as you.
FOLLOW ALONG ON INSTAGRAM
Find us on social for more home inspiration where culture, personal style, and sophisticated shopping intersect to help you create a home where you love to live.