Thrifting furniture is a great way to find unique, one-of-a-kind pieces for your home without sacrificing your bank account. They can often add an eclectic flair to your home's interior. But what if you don't love the piece's material, pattern, or color? The good news is that you can change aspects of the pieces you thrift to make them into the furniture of your dreams. Reupholstering thrifted furniture is a great way to breathe new life into a piece. Whether you're choosing a new color or texture for a piece, there are things you should know before reupholstering furniture that you find at the thrift store.
Check The Frame of the Piece
Before purchasing a piece of furniture from the thrift store, it's important to check if the frame of the piece is in good shape. If the frame is damaged or weak, you should leave it in the store because it may not be worth reupholstering. However, if the frame of the furniture is in good shape, you should move forward with reupholstering.
Factor In Cost and Material
Sure, the cost of the piece you scored at the thrift store seems like a steal, but don't forget to factor in the cost of reupholstering. If you're hiring a professional to execute this project, it's important to note that it could be quite expensive. You should do research and find out the cost of materials and labor. Material costs can add up quickly depending on the size of the furniture and the fabric.
Choose The Right Material
Reupholstering with the right fabric is crucial. Not all fabrics are suitable for all types of furniture. When choosing the material for your furniture piece, you should factor in the piece's overall style and the fabric's durability, color, and texture. Test the fabric before purchasing to determine if it's comfortable, high-quality, and fits your design style. You should also find out if there's additional material needed, like foam, batting, and tools.
Make Sure The Furniture Is Clean and Bug-Free
You never know what you're going to get while thrifting. This is why it's important to make sure you thoroughly inspect and clean your thrifted find. Doing this will avoid finding any unwanted pests during the reupholstery process.
Accurately Measure Your Piece
It's important to accurately measure your furniture find to ensure you purchase the right amount of material. When measuring, make sure to document the width, depth, and height as well as any curves and angles of the piece.
To DIY or Not?
If you're an avid DIY-er, you should assess the level of difficulty of reupholstering your piece. Some pieces may be more complex to reupholster than others and require special techniques to execute. Being realistic about your DIY skills is crucial when it comes to reupholstering. If the project seems too difficult, you should hire a professional.
---
---
Decorate
Access design inspiration that infuses personality and culture into your spaces.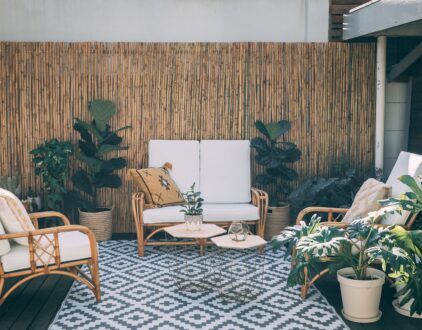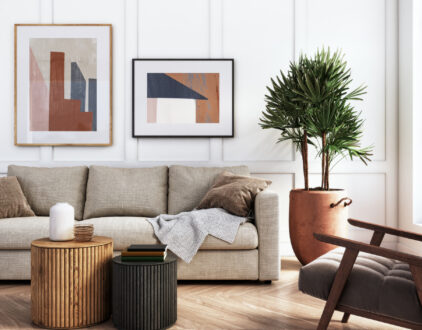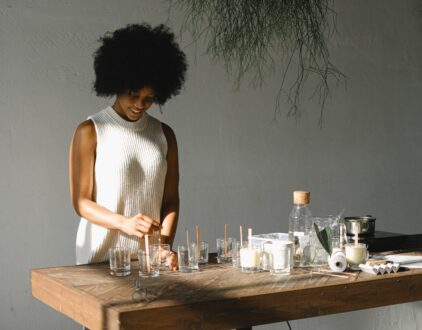 ---
Spaces
Whether it's luxury or ease, every area of your home should be as fabulous and unique as you.
FOLLOW ALONG ON INSTAGRAM
Find us on social for more home inspiration where culture, personal style, and sophisticated shopping intersect to help you create a home where you love to live.