In today's living, maximizing space utilization is essential, especially when it comes to small living areas. Sectionals offer a practical solution that combines comfort, versatility, style and sometimes storage. Explore the benefits of sectionals for small spaces and learn valuable tips on choosing, styling, and maintaining these space-efficient furniture pieces.
Benefits of Sectionals for Small Spaces
Sectionals have gained popularity due to their numerous advantages in compact living spaces.
Space-saving Design
Sectionals are designed to optimize space utilization by efficiently utilizing corners or tight areas. Their L-shaped or U-shaped configurations provide seating for multiple people while minimizing the floor space required. This unique design can help transform your space visually and maximize seating capacity without overwhelming the room.
Versatility and Functionality
One of the key advantages of sectionals is their versatility. They can be rearranged to fit different room layouts or functions. Modular options offer flexibility in terms of configuration, allowing you to adapt the seating arrangement based on your needs. Some sectionals even include additional features like built-in storage compartments or pull-out beds, making them multi-functional and ideal for small living areas or guest rooms.
Choosing the Right Sectional for Small Spaces
Selecting the perfect sectional for your small space requires a few steps:
Measure Your Space
Before purchasing a sectional, measure your room to ensure it will fit appropriately. Consider the dimensions, including length, width, and height. Leave enough clearance for easy movement around the furniture and ensure it aligns with the overall aesthetic of your space.
Consider Configurations and Modular Options
Evaluate different sectional configurations based on the shape and layout of your room. L-shaped, U-shaped, or curved sectionals can provide a better fit, depending on your available space. Modular sectionals offer the flexibility to customize and reconfigure the seating arrangement as needed.
Choose Materials and Upholstery
Consider the materials and upholstery options for your sectional. Opt for lightweight materials and avoid bulky or oversized designs that can make your space appear smaller. Choose fabrics or leathers that are durable, easy to clean, and complement your existing decor.
Jump to Products
---
1
HONBAY Convertible Sectional Sofa
This sectional sofa is designed to provide you with a cozy seating experience while optimizing your living space. With its nice and firm cushions, you can sit back and relax without worrying about sinking in. The more you sit in it, the better it feels, ensuring long-lasting comfort for you and your guests. Designed specifically for smaller spaces, this compact sectional sofa offers a space-saving solution without compromising on comfort. Assembly is a breeze with easy-to-follow instructions and no tools needed. Within just 20 minutes, you can have your sectional sofa set up and ready to enjoy.
2
Shintenchi Convertible Sectional Sofa Couch
Designed with small spaces in mind, this convertible sofa is the ideal solution for your small living area. The cushions are designed to provide optimal support, so you can relax without worrying about sinking in. It features an extra-wide chaise lounge, allowing you to stretch out and unwind in maximum comfort. When friends come over, you have the flexibility to place the ottoman on either side of the sofa at random, creating the perfect seating arrangement for any occasion. Crafted for convenient shipment, this sectional sofa can be easily assembled without the need for any tools.
3
Best Choice Products Tufted Faux Leather 3-Seat L-Shape Sectional Sofa
This stylish sofa is designed with a modern-contemporary flair and features a faux leather upholstery that will effortlessly complement any living space. The modular design of this sectional sofa offers versatility and functionality. It comes with a matching ottoman bench that can be used to kick your feet up for relaxation or pushed against the sofa to create a large chaise lounger. Whether you're entertaining guests or simply enjoying a cozy night in, this sectional can accomodate any occasion. Comfort is paramount, and this sofa delivers just that. The soft foam cushioning provides a plush and comfortable seating experience, while the supple faux leather upholstery feels luxurious to the touch.
4
JUMMICO Convertible Sectional Sofa Couch
Experience the coziness and convenience that this couch will bring to your home. Crafted with a modern linen fabric and a solid wood frame, it's not only breathable but also stable, providing long-lasting use. Comfort is key, and this sofa makes sure to prioritize it in the design. The seat cushion is filled with high-density foam and inner springs, offering both comfort and durability. You can relax and unwind knowing that this couch is designed to provide optimal support. The L-shaped combination is designed to fit into corner walls, maximizing your space and providing additional seating options. The seat and back cushion covers are also removable, making cleaning simple.
5
Belffin Modular Sectional Sofa with Double Chaise Velvet
This sofa is designed with clean double lines, matched pillows, and smooth upholstery, showcasing a simplistic contemporary design concept that prioritizes both style and practicality. One of the standout features of this U-shaped sectional sofa is its movable seats. This means that the sofa can be easily converted into an L-shaped configuration with a chaise or even into beds. The versatility allows you to adjust the layout of your room according to your needs. Additionally, the ottoman can be placed anywhere you desire, adding to the flexibility and convenience.
6
LLappuil Modular Sectional Velvet Oversized Sofa Couch With Storage Seat
The sectional sofa is made of an upgraded anti-scratch and waterproof fabric, offering enhanced protection against damage or spills caused by playful pets and kids. The wider built-in wooden frame and stronger wooden legs further contribute to the sofa's durability. You can have peace of mind knowing that your sofa is resistant to everyday wear and tear. Each seat cushion is filled with high-resilience foam, which provides excellent support and a comfortable feeling for your body, ensuring a cozy seating experience. You can relax and unwind without any discomfort. As a bonus feature, it offers extra storage space under each seat.
Our editors love finding you the best products and offers! If you purchase something by clicking on one of the affiliate links on our website, we may earn a commission at no extra cost to you.
---
---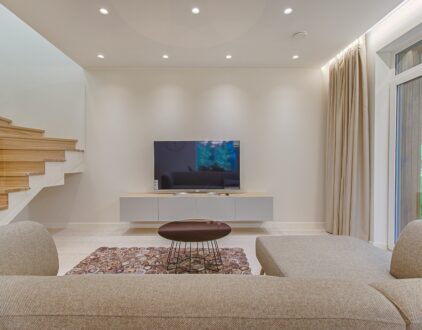 ---
Spaces
Whether it's luxury or ease, every area of your home should be as fabulous and unique as you.
FOLLOW ALONG ON INSTAGRAM
Find us on social for more home inspiration where culture, personal style, and sophisticated shopping intersect to help you create a home where you love to live.