The world of home decor is ever-evolving. Blending style with cutting-edge technology has become the latest frontier for homeowners who are looking to create personalized living spaces. Artificial Intelligence (AI) has been a hot topic this year, and it's leading the transformation in home design, offering opportunities to infuse our homes with technology from voice-controlled lighting systems to virtual interior design assistance. AI-driven home decor and design is revolutionizing the way we live and interact in our homes. Using AI in your home isn't just about integrating technology with aesthetics. It's about curating a home environment that attunes to your needs, presence, and lifestyle.
Whether you're a tech enthusiast who loves exploring new innovations or a novice who is interested in the latest home design trends, here's how you can incorporate AI into your home to create a space that is visually stunning, smart, and functional.
Smart Lighting Systems
Add a personal touch to your home's vibe with AI-powered lighting that adjusts to your mood, weather, or occasion. Through voice commands, you can choose colors and brightness that sets the perfect ambiance.
Voice-Controlled Accessories
AI voice assistants allow you to have control over the curtains, mirrors, and accessories in your home. With the command of your voice, you can control the pieces in your home.
Sustainable Living Through AI
Use AI-driven thermostats and water systems to optimize consumption in your home. This is a great way to align luxurious living with environmental responsibility.
Intelligent Furniture
Choose furniture that adapts to your comfort preferences. This brings a new level of luxury to your home. There are desks, chairs, and sofas that remember your preferences and are stylish and convenient.
AI-Enabled Kitchen Appliances
Whether it's a coffee maker that brews your favorite blend before you wake up to ovens that perfectly cook your meal, AI-enabled kitchen appliances combine efficiency with culinary excellence.
Smart Security Systems
Smart security cameras and door locks add an extra layer of safety to your home. You can receive alerts about your home and control access remotely. AI makes home security streamlined.
Personalized Entertainment Experiences
AI-integrated entertainment systems learn your preferences and then recommend movies, music, and shows based on them. You can turn this into a personalized theater.
Automated Gardening Systems
If you're a plant parent, AI-enabled gardening systems are great for monitoring soil health, water levels, and sunlight to ensure your plants get the best care.
Health and Wellness Monitoring
AI sensors can track the air quality, humidity, and health stats in your home. Having these intelligent systems can help create a living environment that aids in well-being.
Virtual Interior Design Assistance
AI-powered design tools allow you to redesign your space virtually. You can visualize what your space will look like before committing. Have fun experimenting with layouts, colors, and furniture without the physical labor.
---
---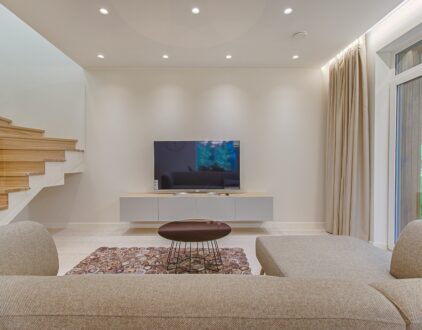 ---
Spaces
Whether it's luxury or ease, every area of your home should be as fabulous and unique as you.
FOLLOW ALONG ON INSTAGRAM
Find us on social for more home inspiration where culture, personal style, and sophisticated shopping intersect to help you create a home where you love to live.