Leah Alexander is a visionary. She isn't easily impressed by design trends, and she will tell you. As the founder of Beauty Is Abundant, which is a full-service interior design firm based in Atlanta, Alexander helps people not only create everlasting moments for their homes, but also fall in love with their space.
Alexander wants homeowners to buy with intention, preserve quality and understand the measurements of decor pieces, so that they can find the perfect furniture for their homes. In a recent interview with Alexander, she talked about decor trends, wellness, decluttering and how to make a grand impression with your home's entryway. Alexander also highlighted some Black interior design firms that everyone should be familiar with.
View this post on Instagram
Home & Texture: Have you heard of the latest trend "tidycore"? It's a trend where people buy lots of organizers to camouflage their clutter. What do you think of it, and what are the best ways to declutter your home?
Leah Alexander: Anything interior design related that ends in "core" is a pass for me. It's kind of the buzzy equivalent of fast fashion and an attempt to boost consumerism. I would say buy less, including less organizational tools. Buy less, donate and purge.
When you do buy, [do so] with intention. Those are the best ways to declutter. Storage is so important, but when you have more things than you need [or] more things [than] the space can accommodate, there will be clutter.
H&T: What's an overrated home trend?
LA: A home trend that I'm seeing is this gorgeous natural stone called Calcatta Viola. This is one of the construction-related installed hard surfaces within the home, but Calcatta Viola is the stunning marble. At my firm, we call it the "Instagram marble" because out of all of the stunning natural stone and quartz options, this one has been done to death. We want something more timeless and less repeatable [because] there's just so much of it out there.
View this post on Instagram
H&T: What should active homebuyers preserve in an older home and what they should rehab?
LA: I would say never cover brick, and avoid painting it. I would discourage ripping up salvageable hardwood. I would avoid damaging or ripping up intricate wall molding or crown detail, like baseboards or anything intricate, especially when realtors tell you it's an original to the home.
H&T: What do you enjoy seeing in homeowners backyards for the season and what do you feel are must-haves?
LA: I love seeing outdoor furniture that almost looks like it could be inside, [and] that is going to perform throughout the seasons. We recently did a roof terrace in Atlanta, and we had this stunning sectional sofa that was outdoor performance fabric, but truly looked like it could be in this client's primary living room.
It just adds so much timelessness. There's a maturity to it instead of your plastic folding chairs [or] your plastic lawn chairs that's giving more like a red cup kind of summer. If you buy outdoor furniture, [then make sure it] looks like a true outdoor livable dining room that facilitates that indoor-outdoor living, instead of things that kind of feel disposable.
View this post on Instagram
H&T: Who are some of your favorite Black interior designers and brands?
LA: There are only 2 percent of [Black-owned interior design firms] in the industry. For me,  I'm passionate about bigging up other Black interior designers. Brigette Romanek is one of my absolute favorites. She recently had a project on the cover of Architectural Digest, and she's really elegant [and] smart designer. My friend, Adair Curtis, of JSN studio has a phenomenal design approach. It's elegant and elevated in terms of home decor art.
I'm [also] loving a company called Effortless Composition. I bought some ceramic pieces that are unusual styling bowls that I filed into the shoot. Lizzette Monet is one of my favorite sources for pillows for the home. Also, K-apostrophe is an LA-based artist who has artwork for the wall, but then she also has blankets.
H&T: Can you explain your design style in three words.
LA: I would say [my] design style [is] dialed in, expansive and fresh.
H&T: How would you finish this sentence: "All homes should have a …"?
LA: An entryway moment for entry and exit. I would recommend a premiere mirror or some sort of shelf or hooks. You just need something for your things when you enter the door.
We all have things: mail, dog leashes, keys, groceries, purses, etc. You want some sort of organization there, and if you can, place a console table or a lamp [there] for nice coziness. Having a lamp on to welcome guests is a nice warm welcome. Being thoughtful about that entryway moment is going to make how you feel when you leave your home and how you feel when you come back.
This article has been edited and condensed for length and clarity.
---
---
---
Spaces
Whether it's luxury or ease, every area of your home should be as fabulous and unique as you.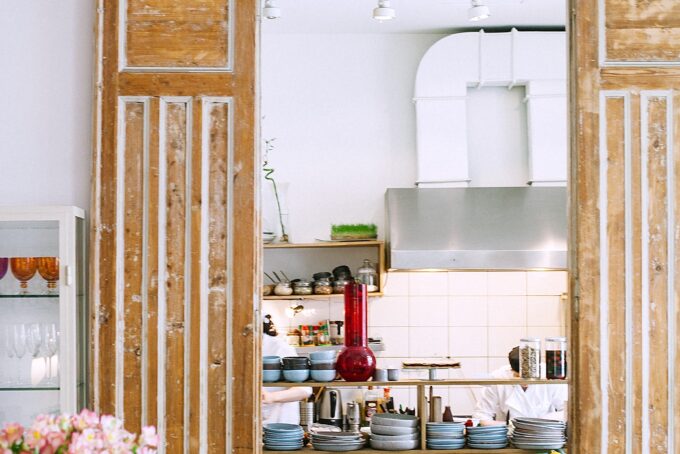 FOLLOW ALONG ON INSTAGRAM
Find us on social for more home inspiration where culture, personal style, and sophisticated shopping intersect to help you create a home where you love to live.