As a mother, community activist, and Director of Community Partner Programs & Engagement at Airbnb, Janaye Ingram has a jam-packed schedule. Although she spends her days as a leader, strategizing ways to fight discrimination on the Airbnb platform, her favorite part of the day is unwinding with her parents and her daughter Jaia. "We cozy up on the couch, catch up on each other's day and watch the news and Jeopardy together," Ingram tells Home & Texture.
A member of a multi-generational household, Ingram prioritizes comfort and functionality in her home. "I live in a multi-generation home that I share with my 3-year-old daughter and my retired parents, and I also work from home — so functional is a must these days," she explains.
We had the opportunity to chat with Ingram about how her role at Airbnb influences her design choice, how motherhood changed her approach to decorating, and tips for Airbnb hosts to level up their hosting game.
Home & Texture: As the Director of Community Partner Programs & Engagement at Airbnb, do you pull any home decor inspiration from listings on the platform?
Janaye Ingram: I'm definitely inspired by decor when I'm staying at an Airbnb or when I'm searching through listings on the platform. I draw inspiration from how furniture is arranged or styled in the listings and put my own spin on it.
Shortly after I bought my home, I stayed at a listing in Washington, DC, and loved the silver accents in their bedroom, so I looked for similar styles. My nightstands and bed pull in the silver accents through nailheads and borders, and silver accents bring the look together.
H&T: What are some things you look for when booking an Airbnb while traveling?
JI: I often book Airbnbs when I travel for work. Strong Wi-Fi and an iron are a must.  I love to find spaces that have a dedicated place for me to work and a nice living space.  Because I often don't get to watch TV when I'm at home, I like to find an Airbnb that has a TV and sitting area that I can relax in at the end of my day.
When I travel with my family for vacations, our Airbnb needs to cater to the needs of all family members. This means having enough space for my daughter to play and providing a comfortable and separate area for two seniors who want to enjoy their own space.
We want to feel at home, so I appreciate spaces that feel inviting and cozy with open floor plans, fully stocked kitchens, and great reviews. I prefer places that have a personal touch and avoid excessive white or neutral decor.
An automatic plus for any Airbnb listing is the presence of children's toys, as it saves me the trouble of bringing toys from my home and ensures that my daughter will have enjoyable playtime during the stay. For instance, I recently had a wonderful experience staying in a Joshua Tree home that provided kids' toys, which added to the overall ease and enjoyment of our trip.
H&T: Any tips for Airbnb hosts looking to up their hosting game?
JI: First and foremost, prioritize open and clear communication with your guests. It means the world to me when a host asks me about my visit and then adds personalized touches. It makes guests feel welcomed and valued.
Maintaining a clean and well-maintained space is crucial, as it contributes to a positive guest experience. Think about what you like when you're at home and add those touches: a full-length mirror, an extra blanket for the couch in case it gets chilly, some basic cooking spices and oils, and a comfortable chair and workspace.
Show off your community: I love reading through local guidebooks that hosts have created. There's nothing like checking in to find your host has left a bottle of wine or coffee, tea, or chocolate from a local business. Let your personality show in your listing. I recently stayed at an Airbnb in Toronto and loved seeing framed photos of my host's dog.
H&T: How would you describe your design style?
JI: My style is chic, contemporary, and functional. It includes pops of color, nailheads, and metallic fabrics and accents. I've been fortunate to travel to several countries, and I've decorated my home to reflect that. When I travel, I keep my eye out for meaningful mementos that reflect the experiences I've had and the people I've met. During my days as a grad student on a tight budget, I would pick up smaller statuettes and figurines from places like Senegal and Morocco, which still adorn my home today.
As I've grown older, I seek out local artwork from talented artists in countries like Brazil, Cuba, and Ghana. It makes me smile, and feels meaningful to bring these unique pieces back to my home.
H&T: How has motherhood changed the way you approach decorating your home?
JI: Before becoming a mom, I had a cream sofa and lots of glass elements in my decor. Those days are behind me now! I've embraced a more practical approach, opting for a durable, stain-resistant dark blue sofa that can stand up to a toddler climbing all over it. Instead of a coffee table, I have an ottoman that I've covered with dark blue faux fur that my daughter loves to climb on.
As any parent knows, with a toddler in the house, storage has become crucial. We've added dedicated storage spaces for toys, ensuring our entertainment center in the living room contains cabinets to neatly store her playthings. When the doors are closed, her toys remain hidden from view, keeping the space organized and clutter-free.
H&T: As a working mom, what are some must-have home items to unwind?
JI: My go-to source of relaxation is tea. It helps me unwind at the end of a long day. I'm partial to Harney and Sons Hot Cinnamon Spice Tea. I also love Trader Joe's Candy Cane tea, which you can only buy during the winter holidays. I stock up on boxes every November to have them on hand for the rest of the year! There's also a Black-owned tea brand, Dorpare, that has amazing ginger-based teas that are great after a meal or in the evening.
I've set up a lovely tea station in the kitchen, complete with multiple tea sets, including a special one I acquired during my visit to Tokyo. This station makes the process more convenient and enjoyable — it turns making tea into a ritual.
You can keep up with Ingram on Instagram.
---
---
Decorate
Access design inspiration that infuses personality and culture into your spaces.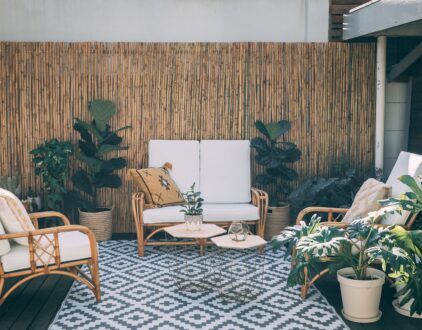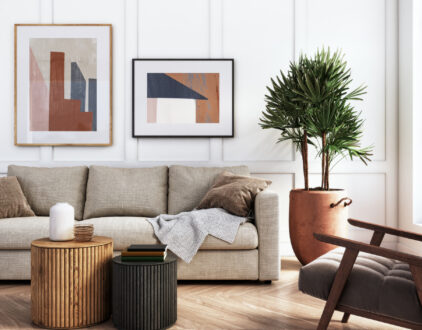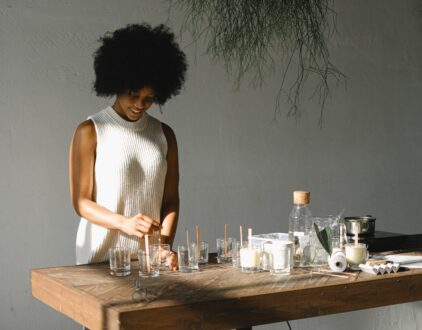 ---
Spaces
Whether it's luxury or ease, every area of your home should be as fabulous and unique as you.
FOLLOW ALONG ON INSTAGRAM
Find us on social for more home inspiration where culture, personal style, and sophisticated shopping intersect to help you create a home where you love to live.